Apple iPad is the one of the coolest gadget to have not only for its productive value but also for the ulterior unlimited entertainment it can provide. Apple iPad has very nice battery back up which makes it the most trusted device to carry around for travel and also on day to day basis. Albeit, there are hundreds of time pass apps and games available on iPad but conventionally TV seems to be the best entertainment package of our times. So, looking for TV apps on iPad is almost a natural instinct and keeping this in mind many Software companies have made exclusive iPad TV apps to get the most out of your device's entertainment faculty.
In this post we have collected 5 best iPad TV apps that will enhance your watching experience on the iPad.
Netflix
All you have to do is install this app and you are ready to enjoy streaming unlimited TV shows and movies with this free app. You can always resume watching on your iPad from where you left off on your TV or computer and also browse thousands of movies on your iPad.
Hulu Plus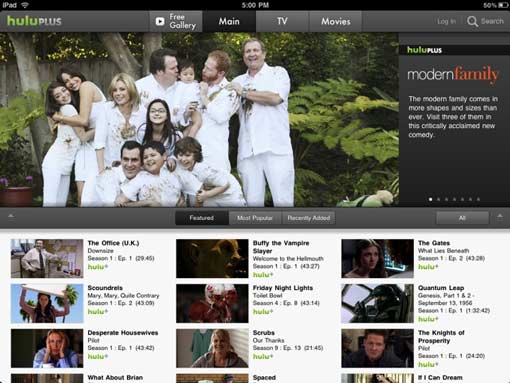 You can subscribe to HULU Plus and enjoy watching unlimited movie and TV shows. With this app you also enjoy up to 720p HD resolution with multi-bitrate support for the optimal viewing experience for your screen resolution and network connection speed. TV channels and episodes are the strongest forte of this App unlike Netflix which is more of a Movie app.
Crackle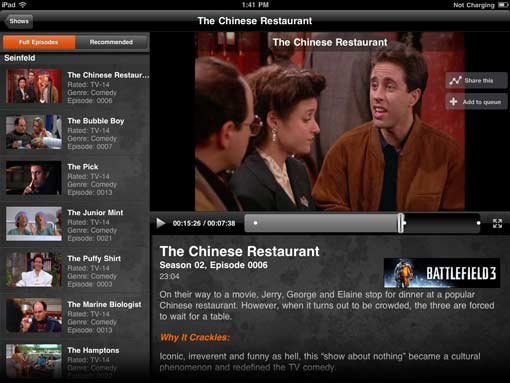 Another free app for your iPad from Sony and as you would expect comes with many ads and older content but nevertheless it still is a descent app to have. Every month 20 new movies and TV episodes  from different genres like action, comedy, crime, horror, thriller, sci-fi and anime are added.  More so, the app is also equipped with AirPlay to maximize entertainment.
 XFINITY TV by ComCast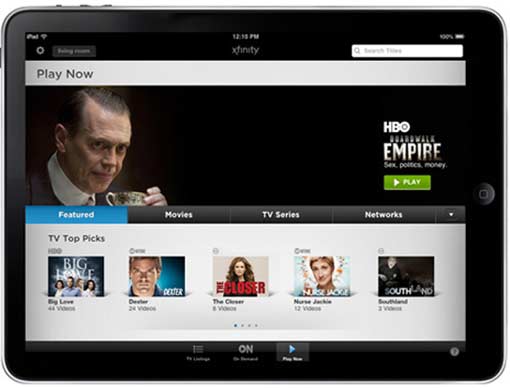 Apart from usual TV and movie experience this app allows you control your TV and DVR remotely. You are also able to enjoy premium channels like HBO, Starz, Showtime, Cinemax and cable channels like TNT, TBS, Cartoon Network and BBC America but at some extra bucks. If you have already subscribed to Comcast then this app is best for you otherwise it is going to break the bank.
Clicker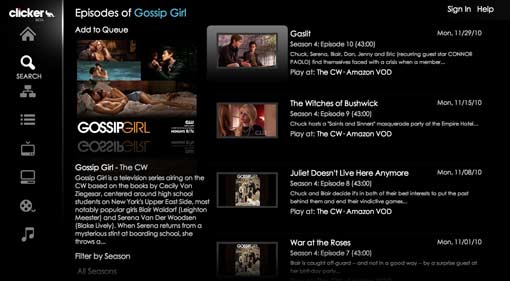 Clicker is a free TV app that actually integrates all the other apps like Netflix, Hulu Plus, Adult Swim, VEVO (music videos), and Crunchyroll (anime and drama) to let you enjoy the best of TV, Movie and Music on your iPad. Not only this, you can also save shows from across the web and and then add them to your Universal Queue to watch later. You also get the feature of sharing what you watch and also know what your friends are watching.
Those are the 5 best iPad TV apps for watching your favorite TV channels on your favorite multimedia device. If you own an android phone or tablet, you might like Android TV apps too.