Just when you thought the technology is saturated and "It can't get better than this", something astonishing comes by and you wonder how you ever lived without it. This goes true for smartphones and specifically Android cell phones. The possibilities of increasing productivity, leisure, entertainment and ease using your Android smartphones is only limited by the number of Apps available which in fact is very low. This fact is further accentuated by the open source nature of Android OS which gives developers enough opportunity to make apps for almost everything. So, talking about Android Aviation apps does not come as a surprise but the way these apps simplify the complex concepts, features and functionality in one single app is quite enthralling.
Android Aviation Apps are useful for  pilots, students or trainees which can be used to log hours, check the weather and even do some pre-flight planning. In this post we have collected 7 Best Android Aviation Apps.
1. Intellipilot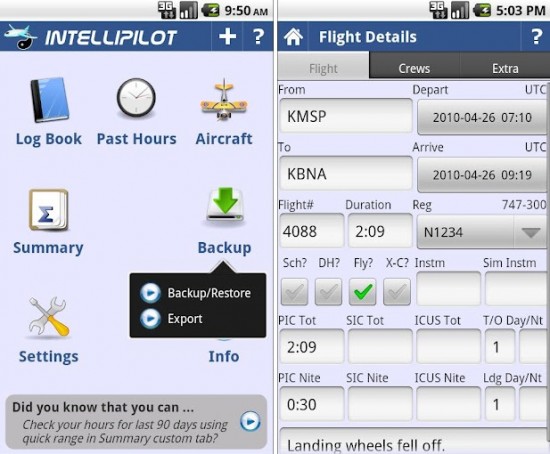 IntelliPilot is an intelligent app to manage you flight details like departure/Landing time, crew details, aircraft registration, aircraft type and airport details/map and auto complete for airport codes and flights. The app can also be used to backup the log information and to export all the information in CSV format. The app also provides summary of hours, days, weeks, months and automatically calculates day/night or take off/landing time.
2. Aviation Weather from NOAA/NWS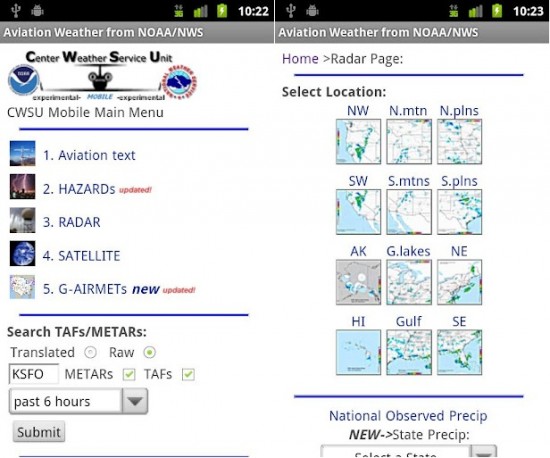 This app gives accurate weather update from aviationweather.gov which is sure a toll you would like to add to your aviation arsenal. The app presents necessary information like Weather graphics, radar, satellite, and METARs/TAFs/PIREPs beautifully on your Android device.
Aviation Weather from NOAA/NWS
3. AirWX Aviation Weather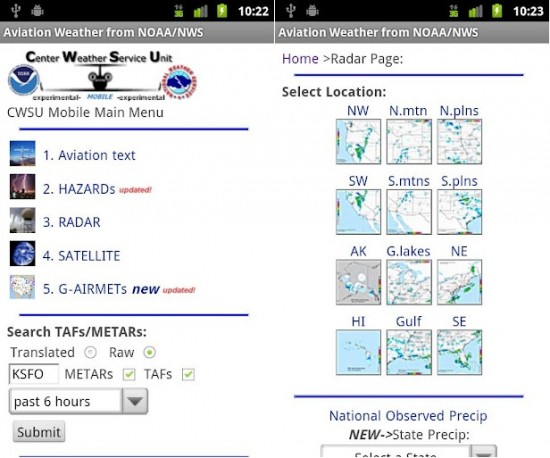 AirWX Aviation Weather is a paid android aviation app that keeps you updated with real time weather conditions  without ruining the aesthetics with banner adds. In addition the app also has some flight calculation tools, E6B flight calculator and many Federal Aviation Administration documents like VFR, IFR and approach FLIP charts up its sleeve.
4. WingX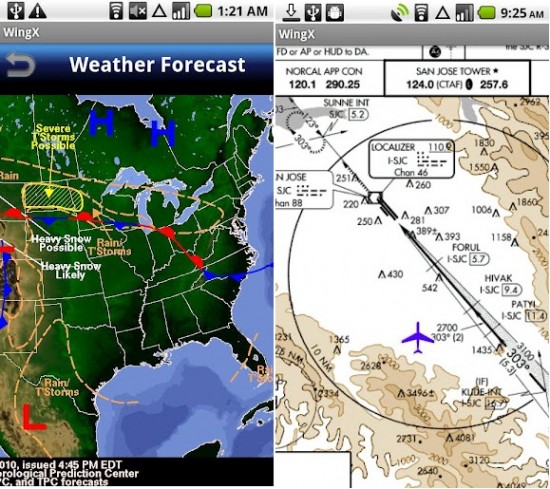 WingX requires and annual subscription but the features it provides justify this hype. The app is an award-winning solution with A/FD, AOPA, charts, weather, planning. You get access to live weather updates with animated radar, Federal Aviation Administration documents, a very in depth route planner, the AOPA airport directory, a digital E6B flight computer, IFR charts and many other features.
5. Avilution E6B Flight Computer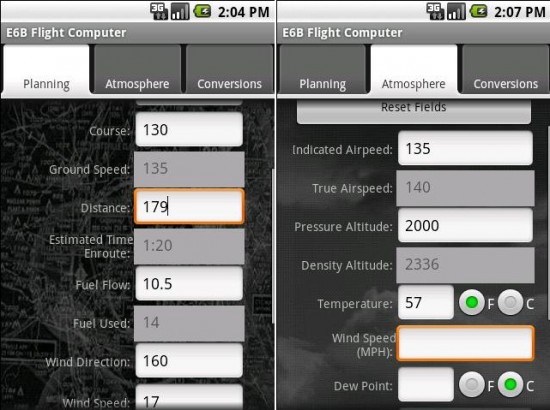 This E6B program was developed pilot so it knows the intricacies when it provides powerful features on an easy to use interface. You just simply enter what you know and the E6B provides  all the parameters it knows on how to compute!. This brilliant app also lets you calculate stuff like wind correction, route time, fuel burn and more.
6. Aviation Tools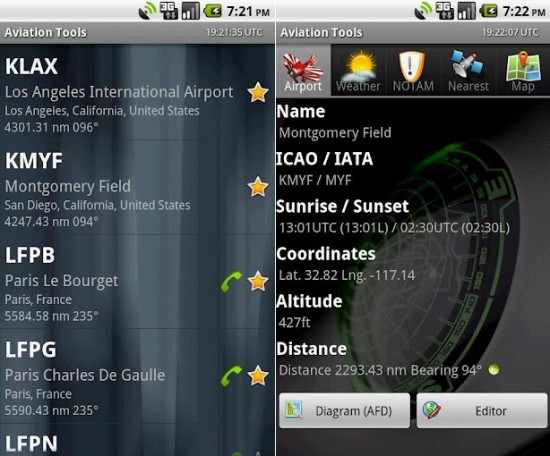 A free version of this app gives you access to useful information like METARs, TAFs, NOTAMs, AFD and more. You can also find nearest airports, check weather, download documentation, call ATIS directly from the application, Calculate sunset and sunrise and get access to pre-loaded world wide database.
You may also like Android TV apps and qHD wallpapers we posted before.