Among all the many things Android bought into the market of Smartphone's, freedom and complexity are the most prominent features that it endowed on its users. The open source nature of Android has paved a way for plethora of apps to be downloaded that take the Smart phone experience to a whole new level.
Android Media Players are a class of these apps that enrich multi-media, especially video experience on Android Smartphones. These media players besides providing smooth and quality multi-media experience on smartphones also add other creative and enticing features.
1. MoboPlayer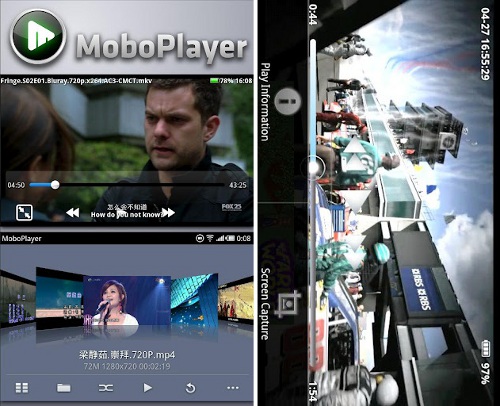 MoboPlayer is the top ranked multi media player for Android devices because of its ability to play almost any video format without the need of conversion. Mobo player also features other brilliant features like nice playback experience, famous subtitle format support, multi audio streams, multi-subtitles, continuous play lists and much more.
2. Vplayer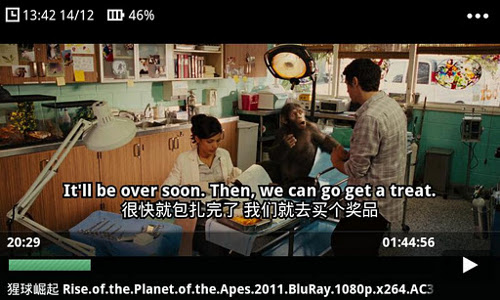 Vplayer is a young but promising multi-media player for Android which plays almost every type of Video formats like MKV/AVI/MOV/FLV/TS/M4V/3GP but there is a lot of fiddling with settings you have to do before watching them. The strongest forte of this App is that it features great streaming for quality Youtube and Vimeo experience.
3. mVideoPlayer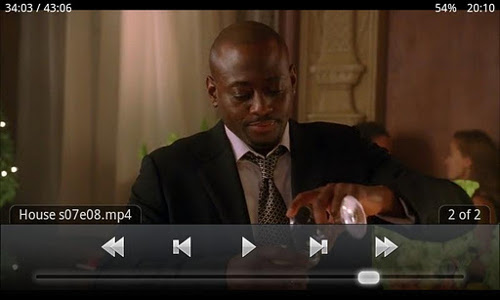 mVideoPlayer is another famous multi media player app for Android that plays smoothly most of the video formats without conversion and also supports many subtitle types like srt, ssa, ass, sub/idx, mpl, smi, txt, sub, sami and internal MKV subtitles. Overall, the controls are intuitive, responsive and you can also see a lot of on-screen information while the video is playing such as time and battery.
4. RockPlayer Lite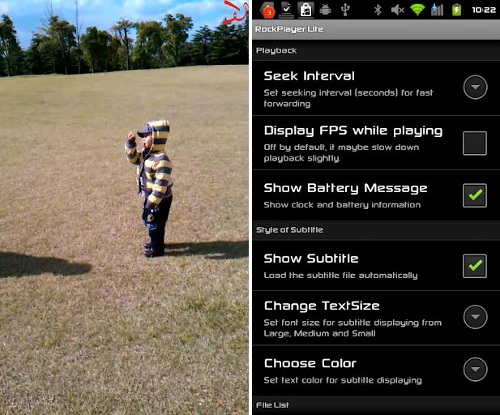 Besides playing almost all types of video formats smoothly without converting this multi-media player Android app also is capable of streaming videos from YouTube or Vimeo. It has nice functions and responsive multiple features embedded.
5. RealPlayer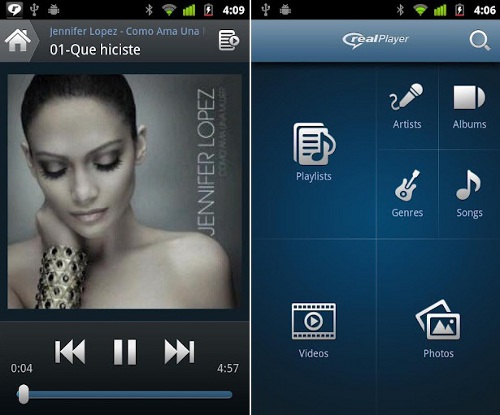 RealPlayer is a serious multi-media player with extra managerial functions. RealPlayer enhancing photo, audio and video viewing experience on your Android device with its intuitive interface and responsive features.  Other features include playlist editor, widgets, searching, content folder selection, fast scrolling, and much more.
6. VLC Stream & Convert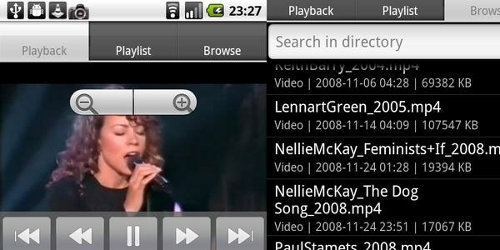 This is more of an advanced remote player for Android that helps you to browse for Videos on your Hard Drive remotely and play it on computer or any other supported device. With the help of this app you can also control playback, volume, fullscreen remotely from your phone. The software can also be used to convert Videos into Android supported formats for enhanced and smooth playback.
7. Zimly Media Player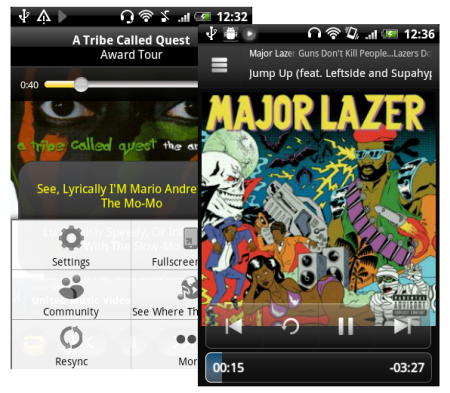 The unique feature of this cool media player for Android is that you can actually customize the interface as you desire for exquisite looks and functionality. The player also detects and adds media automatically to the Player library from the SD card. It supports (audio) mp3, ogg, acc and (video) mp4, 3gp encoded files and brings them together on one managed screen where from you can easily create playlist and edit your multi-media files.
8. Meridian Media Player Autonomy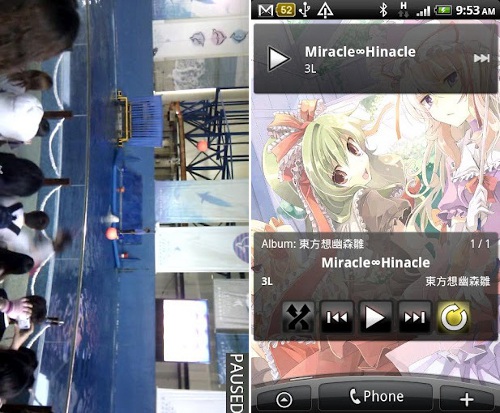 Another multi-functional media player for your Android device to enhance your audio and video experience with its fully customizable user interface.
Meridian Media Player Autonomy
9. arcMedia Pro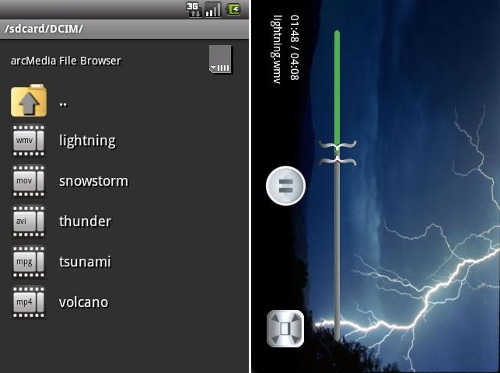 arcMedia is a quality media player app fro android which with its additional codec support plays most of the video formats including avi, divx, flv, mkv, mov, mp4, m2v, m4v, rmvb, ts, wmv, vob, xvid. With the help of this app you can also Stream or download your Media files from internet or a local network and share it across Wi-Fi or Wired connection.
10. Cubed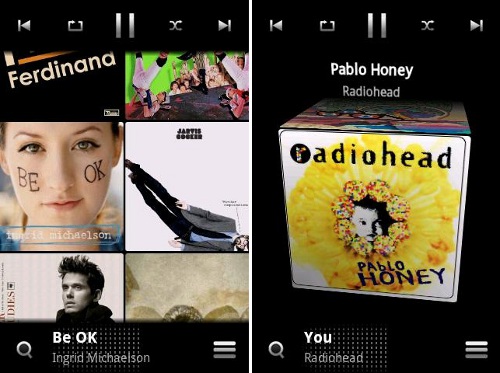 Cubed is an audio player with extensive and enormous visualizations of music library. There are four visualization including the Cube, app has some more additional features and is adds free.
11. VitalPlayer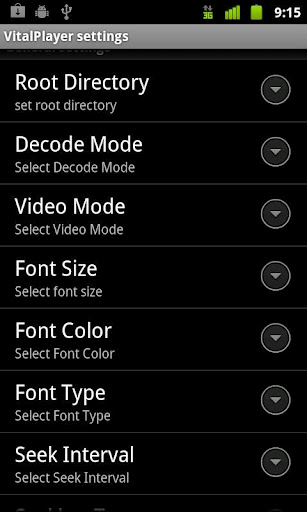 This multi-media player for Android exclusively supports almost all type of audio and video codec which add up to a powerful and smooth multi-media experience on your Android device. Other features include, brightness adjustment, screen capture, scree lock/unlock, streaming support and much more.
12. doubleTwist Player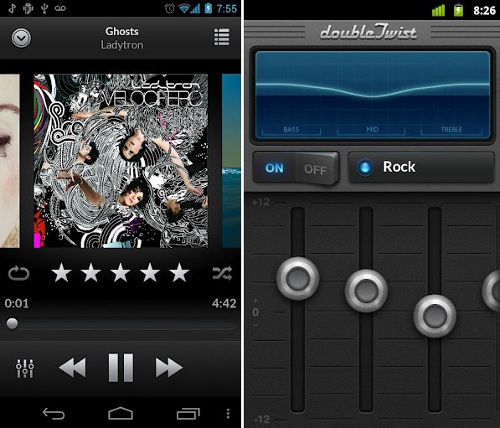 doubleTwist Player has been exclusively and especially developed to combine all the features of iTunes for Android users.  The blends the music, podcast, radio, video and other features under one simple intuitive and exquisite app. You can sync it with your computer and also directly download artwork for your Albums from the Phone.
13. YouTube for Android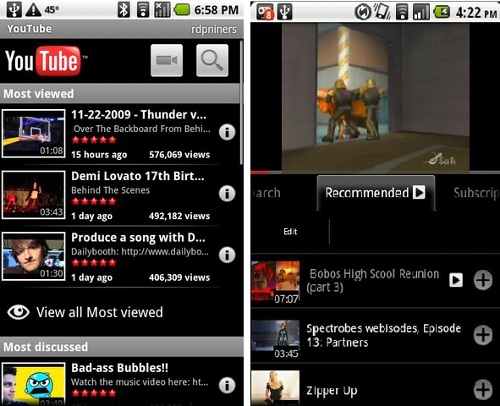 The latest and best so far App officially from Youtube for Android has a beautiful User Interface design with personalized home screen video feed. Some new player controls and screen rotate have also been thrown in for enhanced video experience.
14. MX Player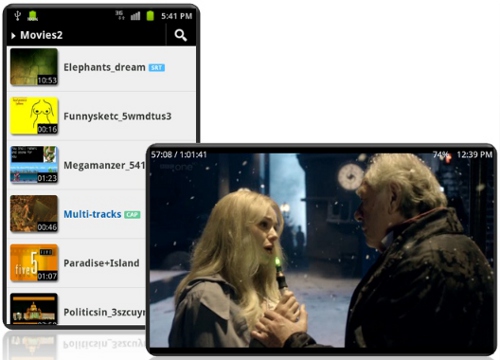 With its pioneering multi-core decoding this player shows a huge improvement with dual core device, 70% to be more accurate. It also has enhanced subtitle functionality and playback features with full support to Android 4.0 Ice Cream Sandwich.
15. VEVO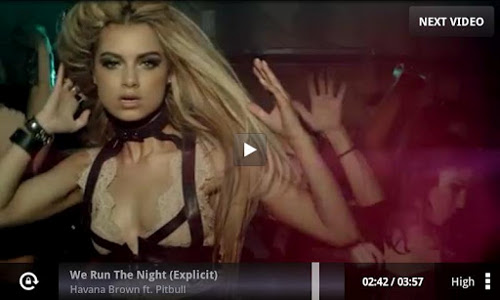 VEVO is an free app to watch music videos on your Android device which also delivers high quality music presented beautifully on Android screen via its exquisite App design. You can also use its Voice Activated system to find your favorite artist or song.
These apps will play most of the popular video formats. If you own an iPad, check how to play video formats on iPad and check qHD wallpapers for android too.