Apple iPad is a full entertainment house especially due to its reliable battery backup and despite the presence of numerous apps and games, the old video visualizing seems to be the most preferred entertainment source. By default Apple iPad plays .m4v.mp4 and .mov files, but some people may find problems playing such files too. This problem mainly arises due to two factors, either there is a problem with the website you're getting your videos from or alternatively there might be a resolution incompatibility. The later can be adequately corrected by opening the desired video in QuickTime and then re-saving it to 720p which work fine with the iPad.
Also you can convert the Videos to formats supported by iPad using different software like AVIDEMUX 2. AVIDEMUX 2 actually helps you to watch files like AVI, DivX or MKV on your iPad by changing the wrapping of these files, which means that only the cover of your video is changed and not the exact content. The result of all the processes listed here will let you enjoy a  moderately smooth and quality video experience on your precious iPad. Depending on the quality of video output you want to attain on your iPad you can maneuver through a variety of  settings to get the desired result but the more you stress on quality, the more time it will take to convert.
The third method by which you can watch most of the video formats on your iPad is to download apps that will precisely do just that. There are a variety of apps available varying in number of formats they can play and also the cost , these apps are easy to install and run most of the video formats smoothly on your iPad. We have collected a couple of the best such apps in this post.
Azul Media Player for iPad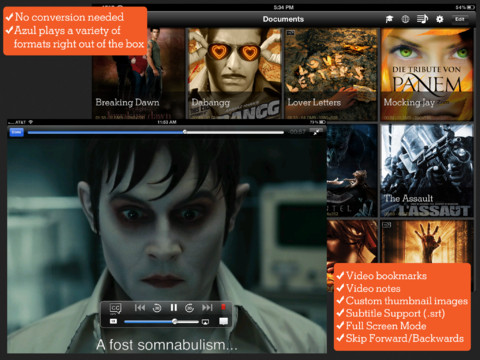 Azul media player is one of the most used video players on iPad and plays extensive video formats like 3gp, sf, avi, divx, dv, flv, gxf, m2p, m2ts, m2v, m4v, mkv(non-hd), moov, mov, mp4, mpeg, mpeg1, mpeg2, mpeg4, mpg, mpv, mt2s, mts, mxf, ogm, ogv, ps, qt, ts, vob, webm, wm and wmv.Besides this the app also allows you to connect your iPad to a TV to enjoy video experience on a larger screen. You can also put  a pass-code lock to videos you don't want your kids or colleagues to watch.
Price: $1.99 |  Azul Media Player
YXplayer for iPad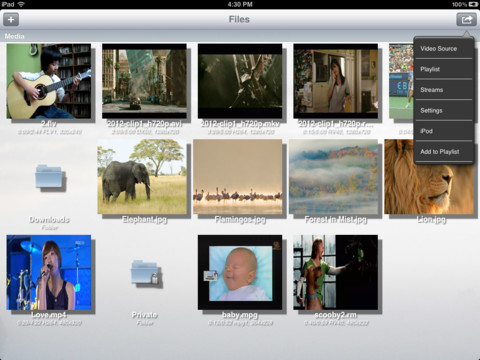 This powerful video player for your iPad allows you to enjoy superior quality audio and video experience on your iPad and supports formats like Mpeg1/2/4, H264, Divx/Xvid, RM/RMVB and WMV7/8/9 with audio support for Mp3, AAC/AAC+, WMA, AC3, PCM files. You can also quickly connect to a TV output to enjoy superior playback on a bigger screen. In addition the YXplayer can also be used to  view pdf, word, powerpoint, excel and html files.
Price: $4.99 | YXplayer for iPad
We hope you liked this resource on iPad videos and video formats.