With the battle between the mobile OS giants getting hotter with Google launching its Android OS and the Research in Motion (RIM) appearing with Blackberry OS 7.
It's getting real hard for costumers to decide which app to choose from. In this post we will discuss about Blackberry and Android, with their features and what they has to offer you, assisting you in making right choice.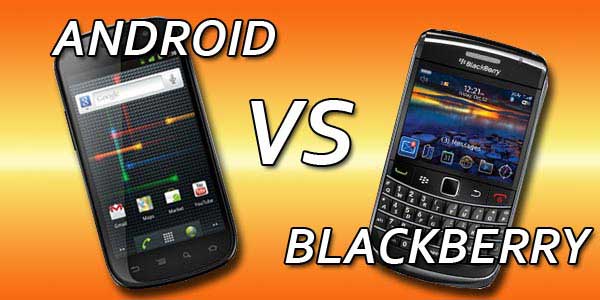 You might also like to check our earlier posts about qHD wallpapers, best Android Phones, BlackBerry Wallpapers and cheap android Phones.
Android
If you look ahead android is new kid in the block. It was released in 2007 by Google and after that it had acclaimed a lot of appreciation. It has raised a lot in just small span of time. Here are some pro and cons that you could find with android devices.
PROS
Wide range of hardware support
If we talk about the hardware, then android offers more flexible hardware supports. Android is found in wide range of smartphones coming from different manufacturers. Sony Ericsson, Samsung, HTC, Motorola etc offers wide range of android smartphones, with different configurations. You are provided with a number of choices even by the same manufacturer, based on your budget, your feature preferences, and phone specifications. So, you are loaded with a lot of choice.
Software
In case of software also android has multiple advantages. Android allows to run multiple software applications at the same time. Another feature called ActiveSync allows you to sync all your data like your contacts, messages, mails etc with your computer, once you pair your device with a system. Blackberry also allows sync but you will have to install the software to avail that.
Open source nature
The feature which makes an android device looks different is its open source feature. This means all the programmers and developers from anywhere around the world could access its source code, from google. Google provide its source code as a Linux kernel distribution. That means a programmer could come up with his own version of the android or could develop and repair the previous version.
Application support and app market
Android provides with apps for almost anything you need. It has a well-built android market from where you could download your favorite app. There are a number of developers, who are working independently to develop apps for android market. So, thousands of apps are added every day.
CONS
Availability of poor quality apps
Google doesn't screen any app that are added to the android market. This leads to inculsion of poor quality apps, i.e. useless apps. You can find most of the apps are compromised on the quality standard.
Poor battery life
Most of the android phones suffer with the problems of poor battery life. Most of this can be attributed to the number of software and apps that runs in the background. Most of the android phone's battery didn't last more than a day.
Changing versions
Typical life of an android phone is very low, Google is advancing in its OS with a high rate, and if you buy a phone now it is most likely that Google will come up with the next version of the android in just a couple of month.
Blackberry
Blackberry has been in the market for a long time. It has made itself popular among the corporate houses much more than the common people. But blackberry is also gearing up to counter its rival android.
PROS
Hardware support
The black elegant QWERTY keyboard gives blackberry its distinct look. The QWERTY keypads are still considered to be the best for messaging and mailing. It allows you to type faster and quicker, with more accuracy. This QWERTY keypad is not found in any of the android devices, this gives blackberry a upper edge. The blackberry hardware is rugged and durable but still manages to give great looks.
Data compression and security
Most of the corporate houses chooses blackberry because of its feature of data encryption and compression. Blackberry provides the secure encryption for your data. The blackberry phones are also known for their data compression features. They can compress data up to half of the original size. That means you will have to spend less time on internet to send them.
Push mail feature
This is one of the best features offered with blackberry. The messages and the mails are displayed as soon as you receive them. The messages and mail boxes are updated automatically in matter of time. With the blackberry's push mail, you can access you mail box in no time. The sending and receiving emails are also a matter of seconds.
Battery life
Blackberry provides a better battery life than the android devices. Even if you use your blackberry roughly for a whole day then also it will have some juice left at the end of the day. But in case of android, even with normal use battery doesn't last more than a day.
CONS
Insufficient apps store and lack of apps
Following the lead of apple blackberry launched its own apps store under name BlackBerry App World with much excitement. But in reality the app world is far beyond even near its goal. The app world mainly lacks in the number of apps. The apps store doesn't have proper apps and even it has not been able to attract developers. The poor interface is also disappointing.
Sluggish browsing experience
Among the contenders blackberry has the slowest response time when it comes to web browsing. Even with the high data compression facility the browsing experience is still sluggish. It takes a lot of time if it comes to loading of pictures or images.
Business oriented interface
The blackberry interface gives more of a corporate look than, a user friendly one. Blackberry in its lure of creating the better phone for the corporate market had surely overlooked that fact that a simple user will not want any of the corporate features in their phone. So, in all blackberry lacks in creating a device for average person.
PlayBook vs. Kindle Fire Chart
All in the box
Both android and blackberry are decent OS and have their own pros and cons. Both have similar functionality but user experience may differ. Compare them according to your need and select what suits you best.
Here is a video to wrap things up. It shows a comparison between a Motorola Droid running Android OS going against Blackberry Storm running the BlackBerry OS. It isn't much but it should give you a brief head-ups as to what you should expect from these phones.