There are many such situations where one feels it necessary to block a phone number. May it be those noisome pesky telemarketers, insurance agents, ex-boyfriend/girl-friend or may be just because you feel like staying under the hood for a while. Whatever the case,  there is always a solution and this article we will help you to block a Phone number using techniques depending on the cell phone model and your carrier.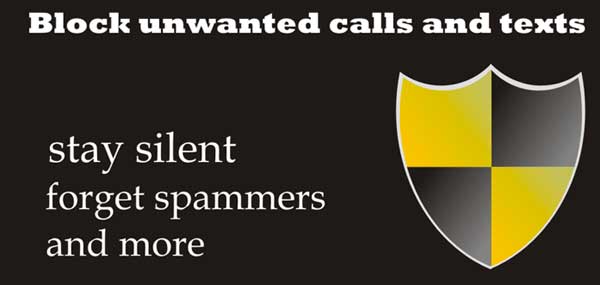 Official Phone Number Block
If you are looking for a solution to put an end to the telemarketers who bug you all the time then there is an official solution for that. If, for example you are living in USA you can register in National Do not call registry and save yourself of all the headache caused by these phone calls. You can also simply call 1-888-382-1222 from your number to do the same. These National Do not call registry service are available in every country with different phone numbers.
Handset Phone Number Block
Keeping in mind the customer needs Cell phone manufacturers have enabled their Cell phones with in-built Phone block software or downloadable phone number blockers that help you to keep specific number at bay.
Nokia: If your phone is Symbian you can download software named Blacklist.
Samsung: Almost all Samsung Cell phones have a feature named "Block List" that enables you to divert any specific number to voicemail without ringing your Phone.
Sony Ericson: You can reach the in-built Phone block option in you SE cell phone by going to Settings > Calls > Manage Calls > Accept Calls > Only from list, and then pressing 'Edit' to choose the numbers.
T-Mobile G1 : G1 Mobiles allows you to block numbers by a Block option that can be reached in Contact List.
BlackBerry: BerryWAV provides an efficient software to help you Block some specific numbers on your Blackberry. The software is named Efficient Call Blocker and allows you to block Specified number plus customize the message you want the other party to hear.
iPhone: There is no software as such which enables you to block specific number, but BlackList  is the only straight forward app which costs $1.99 and frees you from thousands of telemarketers. However, if you havea JailBroken iPhone there are plenty of neat apps that allow you to block specified numbers. Like MCleaner & iBlacklist. You can easily search for these apps on your Cydia app. You might also like our best cydia apps list.
Android: CyanogenMod 7 has the blacklist feature built-in. Many of the other ROMs have this functionality built-in too. However, if you are running an official android version you like to check the BlackList app by Anttek Inc. As with all apps these days, there are two versions of Blacklist. One is an ad-supported free version while the other is an ad-free paid app.
Network Specific Block Services.
Trapcall
This service is currently only available on Cell Phones running with AT&T, T-mobile, Verizon and Sprint carriers. This service along with Blocking phone numbers also allows you to unmask numbers, record calls etc.
Carrier Help
Different carriers allow their customers to use Phone blocking option but with extra tariff. This method is found most appropriate in case you are ready to apply all the other methods listed previously.
AT&T:  AT&T provides a premium service at $4.99/month called "Parental Controls" which allows you to block phone calls or messages from specific phone numbers.
Verizon: 5 phone numbers can be blocked by using Spam control on Verizon. You can access the Spam control by going to VerizonWireless and then loggin into your account. And then go to "My Services" and choose the Spam control from where you can select 5 numbers you wish to block from calling or even texting you.