If you have [store]jailbreak on iPhone[/store], then you might be searching for the best of the cydia apps to make to most out of your iPhone. Cydia provides loads of apps to enhance usability of your iPhone. In this post we will look at 100 apps that you have should have on your iPhone.
To download any of these apps, fire up your Cydia app and do  a quick search with the name of the app written below. Most of them should be easy to find. For others, you have to add their respective sources. These are a lot of source lists available in Cydia too. If you have any problems finding an app, we would love to help.
Since there is no Jailbreak available for the iPhone 4s 6.0 and the iPhone 5, the number of new cydia apps has reduced drastically. We will make sure to add more once they come out.
Updated List- 6 March, 2013
We have added some of the latest cydia apps to make this list upto date. Hope you enjoy these too:
Grooveshark: Find almost any song and play it on your iOS device. You can also save the songs for listening to them offline.
Cyntact: Add small image thumbnails to contacts and displays them in the 'Contacts' app.
IconBounce: Helps you make dock icons Randomly bounce and Rotate for an added eye-candy.
Zephyr: Add iPad-Like Multitasking Gestures to iPhone or iPod Touch with this tweak.
IntelliID: Shows you the called information of people not in your contact list.
SiriPort: Allows you to Install Siri on iPhone 4 / iPod Touch 4G.
Swype: Adds the awesomeness of Android Swype keyboard on iOS. Swype is one of the most popular touch keyboards for any device.
Vexillum: With this apps, you can change color, font of Notification Banners.
Respring iOS5: This cydia tweak lets you respring your iOS device very fast. It is essential when you regularly change themes and settings on your device.
WeeTrackData: Allows you to display internet data usage in Notifications Center app. Especially useful if you don't have an unlimited data connection and want to keep tabs on you data usage.
MusicBanners: Allows you to display banner on lock-Screen Notifications for track changes.
Simplexity Appswitcher: Improves Multitasking on your iPhone.
Contact Privacy: Prevents rogue/shady apps from uploading your personal contacts.
MyAssistant: Improves the power of Siri. Turns it into a real assistant.
ProTube: Lets you down and watch YouTube videos in multiple formats and sizes.
Springtomize 2: Helps you to customize your iDevice with a slew of various options.
RecognizeMe 2.0: Facial Recognition capability On iPhone. Probably one of the best apps you will ever find.
SlyCam: Have you ever wanted to take photos directly from Notification Center, with this tweak you can.
MirrorWidget: Adds mirror to Notifications Center.
Bulletin: Easily Access Notification Center from Lockscreen.
FolderLock: Allows you to add password to Folders, Settings, Multitasking on iPhone.
MultiIconMover: Allows you to move multiple icons at one go.
AirBlue: Send or receive files via bluetooth on iOS 5.
Sara Dictation: Works like Siri Speech-To-Text.
Sara: Best Siri alternative for iPhone, iPod touch and iPad.
WallpaperLog: Display your Syslog as your wallpaper.
AndroidLoader: Android Style Scrolling and Music Applications.
SiriLovesLyrics: Makes Siri find lyrics for your favorite songs. Useful if you love to listen to music and see the lyrics at the same time. Works something like the SoundHound app but only better (in some ways).
Multitunes: Sync iPhone with multiple iTunes libraries at the same time. Useful if you switch between different computers regularly. You can sync to different libraries at work and at home
SiriLaunch: Access Siri from Notifications Center. Not super useful, but an added option.
1. 3G Unrestrictor
As the name suggests the 3G unrestrictor is a 3G restriction removing application available exclusively on Cydia for obvious reasons. Most of the iPhone apps are not allowed to download large files over 3G network (iPhone had a 10 MB restriction limit over 3G which was later bumped to 20 mb. Also see my3G app below). 3G unrestrictor removes the 3G data usage restriction that haunts most of the iPhone apps.
This application works by tricking iPhone into thinking that it is working over a wifi network rather than being connected to a 3G one. This app works perfectly with skype and other programs that restricts 3G. You can have your hand on this wonderful apps for just $3. They recently came out with the 5.0 version which has even more goodies.
2. Multiflow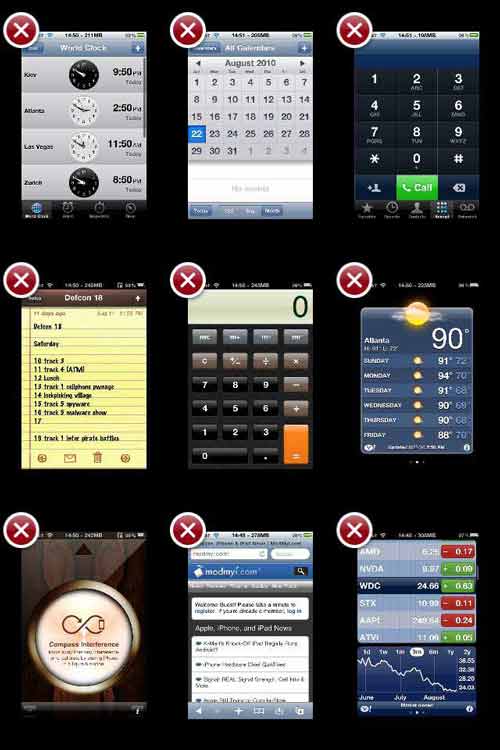 It shows all the open apps( up to 9)  in single screen and helps you in managing switching from one task to another.
3. SBSettings Cydia App
SBSettings is one of the most essential apps for your jailbreaked iPhone. It allows you to manage wifi, 3G, brightness and lot more. It brings various switches directly to your home screen from settings apps. It's a faster way to manage the settings of the iPhone such as wifi, 3G, Bluetooth etc instead of using iPhone app. You can also add button to your status bar thus, thus you could manage settings from there also. It's a must have app for all jailbreakers.
4. Synchronicity Cydia App
It allows you to use your phone when it is syncing with iTunes. Instead to looking idly at the blank screen of your iPhone while it is syncing with iTune, by using this app you can make calls, open any app, etc. The version 2.0 costs $2 at cydia store.
5. Wi-Fi Sync for iPhone
Wi-Fi sync is one of the apps for iPhone. It allows you a consistence wireless synchronization with iTunes with touch of a button and rules out the USB cable completely. You can sysnc your device from anywhere you want. Wifi sysnc is completely compatible with Mac 10.5/10.6 windows XP, windows vista and windows 7.
To use WiFi sysnc you have to download and install a free application on your computer and then purchase and install the app on your apple device. This app cost $9.99 on cydia store.
6. WinterBoard Cydia App
Winterboard is great free cydia app that let you customize your iPhone. It provides a hook for graphic artist to create and customize themes in any apple OS, including third party software downloaded from apple apps store. It allows user to add multiple themes together under a priority order. It also allows user to modify .artwork files without even hacking its original file or disturbing its content.
7. Dreamboard
Dream board can be treated as an alternative to the winterboard. It is actually a innovative theme manager mainly designed for iOS 4.0 and above. Dream board completely overhauls the look and feel of your iOS. Dreamboard allows you to place anything anywhere; you change the position of widgets and even apps.
Dream board also allows you to toggle between a numbers of themes in a matter of second. Simply launch the app, choose the best theme and apply it's so simple. Unlike springboard it does not need to be restarted every time you need to bring on some change. It also includes a complimentary copy of endroid which is actually a HTC theme.
It is also compatible with iPad but it has been found that there are certain issues with some of the themes, they might not work on iPad and older generation devices.
8. iFile
It is actually a file manager and a file viewer, which works under user root. It works well with iPhone, iPod and even iPad. It gives user a smoother and faster navigation through the file system on your iPhone. It also provides the user with the facility to view different types of files like, movies, sound, text, HTML, PDF, Microsoft office documents, compressed files etc directly.
In case if you are viewing some PDF file it allows you to jump to a particular page in no time. It also supports zip and compressed packing and unpacking. You could also send these files via email attachments and it also enables user to bookmarks folders and files. Moreover it also consists of a built in web server, that could be used to connect and download/upload different files.
9. MiWi
It's a marvelous applications that lets you use your iPhone as a wifi hotspot so as to share the internet connection with the other iDevices, computers or laptops. It has 40 and 140 bit WEP security to prevent others from retrieving your wifi hotspot. It can also enable USB and Bluetooth tethering on your iPhone. The most important thing is it consumes less battery. It also shows up the incoming and outgoing bandwidth. It is available for $9.99 at cydia rock apps store.
 10. Mcleaner
You can call Mcleaner as a kind of blacklist app for the iPhone. It could allow you to arrange and blacklist or white list your callers. Its main purpose is to manage the sms and calls for your iPhone and rejects those which you don't want. It can be used to filter incoming and outgoing calls on your preference. It also provides the user with the facility to create different profiles, to change their preference quickly. It provides password protection to protect the privacy of user and save all the blacklist data in secret password protected log file.
11. Cycorder
Cycorder allows the iPhone to explore its full camera potential. It records at the maximum speed of the iPhone camera i.e. 6-15 frames per second. It depends only upon the lightening conditions. There is no delay when press stop and view the resultant video.
The Cycorder records in MJPEG format, which is the same format used by most of the point and shoot digital cameras with video recordings. The video is recorded at 384X288 and aspect ratio 4:9. The quality of the recording is far better than the one provided by the iPhone camera, which use a lose compression algorithm to obtain the small video sizes.
12. Safari download manager: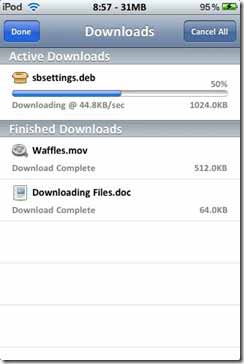 Safari download manager is a powerful extension that can add powerful and highly configurable download manager to the iPhone's default browser. It lets you download multiple files simultaneously and and gives you full control over the downloaded files.
13. Open SSH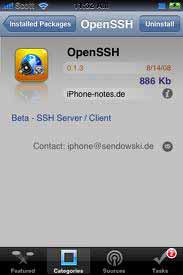 It provides encrypted sessions between the devices by using SSH protocol.
14. Five icon dock
This is a simple application by Jay Freeman. It allows users to add five icons into the dock
15. Auto Location
This is an automatic solution for all your GPS needs. It automatically enables and disables the locations services. When you switch on any of the location based serives like GPS. This application automatically will detect the need to provide the location services and hence will enable the same, if you are not using the location service then it will switch it off.
16. VLC media player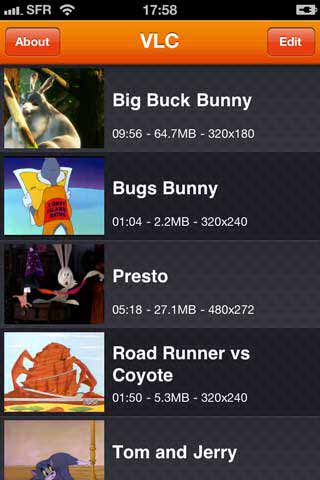 This is one of the best media players, it can play nearly every video.
17. Mobile Terminal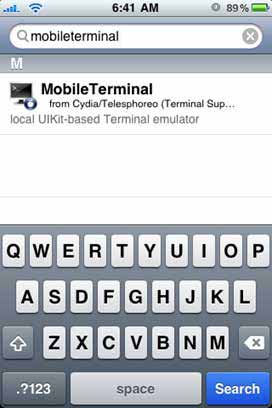 It is a terminal emulator application for iPhone by Allen Porter.
18. Lockdown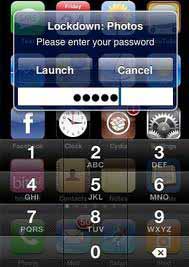 This good cydia app protects all your applications with password. It also contains a lost password feature, in case you forget your password.
19. Installous
Its helps you to search and download applications directly to your device without connecting it to any PC or Mac. It is not available with Cydia without adding a 3rd party source. Go to setting >> Sources >> Add Source and put this as your source: http://cydia.hackulo.us and then search for the Installous app on Cydia store.
Editor's Note: Installous has become a sort of warez site for listing all the paid apps and they provide the downloads for free. We don't endorse piracy. Please buy the apps you like.
20. Barrel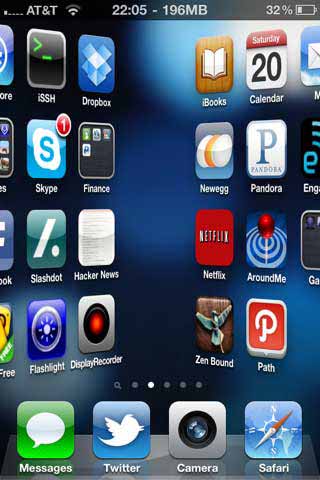 This tweak allows you to add 3D cube effect on your icon pages. In the settings you can select the depth of the 3D effect.
Update: [highlight color="yellow"]20 Best Cydia Sources for Jailbroken Devices[/highlight]