We all love to see designer iPad cases and some that are even made from Levi's jeans and other clothing. But, Designer Frederick James has gone a bit too ahead of himself and designed some iPad cases I am sure no one would like to use.
Check : [highlight color="yellow"]30 Best Designer iPad Cases[/highlight]
These iPad cases are not only gross, but wrong at so many levels. Clothing used to make these cases once belonged to the famous scam artist, Bernie Madoff. He is incarcerated and serving a 150 year sentence, a maximum possible sentence. This guy was an American stockbroker, money manager and former non-executive chairman of the NASDAQ stock market. He plead guilty and is known to be an operator of the largest Ponzi scheme in history.
Frederick James, the famous designer, took his closet full of used clothing and turned them into "fashinable iPad Cases". Not only did these clothes belong to a person who scammed hundreds of people of their money, but they are insanely priced too. What could have been a $20 case is priced at $500. The money isn't being raised for a charity either. You would imagine they priced it high to raise money to help people that were scammed by this person.
Admittedly, the designer iPad cases won't help protecting your iPad from damage due to falls, neither will they guarantee "no scratches". Doesn't stop it from being priced between $250 and $500.
The fact that they were sold out as soon as designer Frederick James put them on their website makes us want to loose hope in humanity. I mean, why would anyone want to buy an iPad cases like this.
The collection is promoted as The Bernie Madoff collection and you have to get on a waiting list right now in order to buy one. Apparently, most of the clothing has been made into designer iPad cases but "a few more sweaters and pants" are still remaining to be turned into iPad cases.
Question remains, who buys the stuff that used to cover a person's body. A selfish, greedy, con man and unethical person at that. Below are some more photographs of the designer iPad cases sold from this collection.
J. Crew Khaki Pants Designer iPad Case
Cost: $250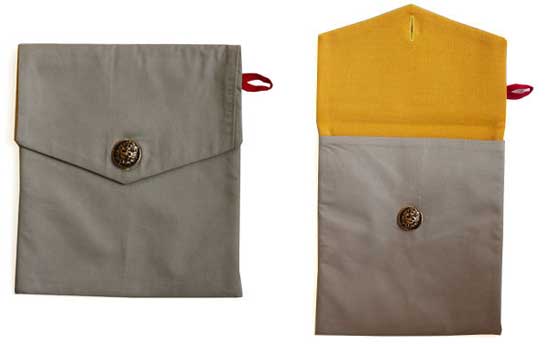 Costing $250, this iPad case is made from J. Crew Khaki Pants.
Ralph Lauren Polo Chino Blue Pants iPad Case
Cost: $350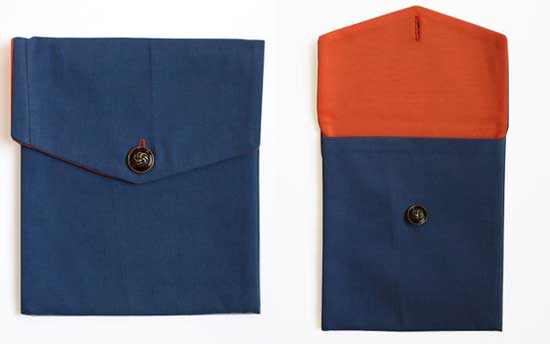 Designer iPad Case Made from Banana Republic Gavin Khaki Pants
Cost: $250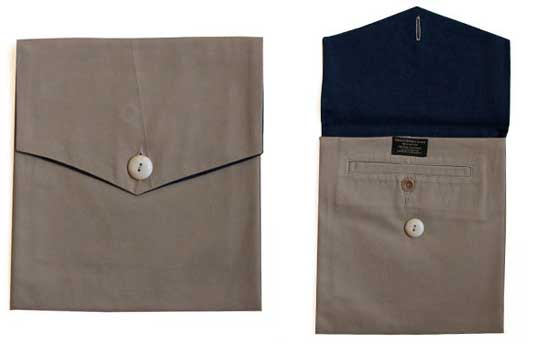 Agreed, the iPad cases from this designer do look attractive. But in this case, it is not about the style or the money or iPad cases, it is about ethics.