Apple is famous for designing devices that are made to an impeccable level of perfection. The Apple iPad is no exception. Apple's devices from the beginning have not really changed at all.
Be it iMacs, Mac Pros, MacBooks, iPhone or the most intricate Tablet, the iPad, the goal has always been the same: To create something that gives best performance while at the same time is a status symbol.
While most of the Apple fans buy their products for their performance and sleek design, people buy iPad for that luxurious look and feel.
So, it's no surprise why people go on searching for designer covers for iPad and artists go on fulfilling their customer's needs with superior quality iPad Cases.
In this post we have collected some of the best cases available to add a "wow" factor to your Apple iPad.
All of these iPad cases add an extra layer of luxury to your device while at the same time securing it from abrasion and bumps.
If you like this post, you might also want to check our earlier posts regarding iPad stands and more iPad cases that are not so expensive.
Designer-Label Cases
Who doesn't like iPad cases, or any piece of accessory for that matter, designed by big name brand and designers of the world. Louis Vuitton, Gucci and Burberry are some of the most wanted products everyone wants to buy.
Louis Vuitton Luxury Case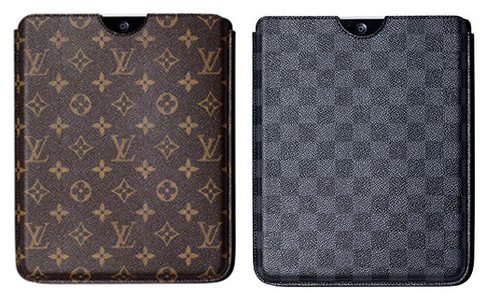 The first runner of the show is none other than, the most elusive Louis Vuitton. Louis Vuitton has always been about Luxury and leather. They have a good number of covers available for the Apple iPad.
The designer range varies from covers, pouches, smart covers and flip cases with a varsity in color combination from Damier White to Monogram Brown. The rate start from $35 to and goes all the way to $1000. The rate and design have been deeply thought of, taking in mind the sensitivity and taste of each customer.
Price: $295 | Product Page
Hard Graft  Tilt iPad Case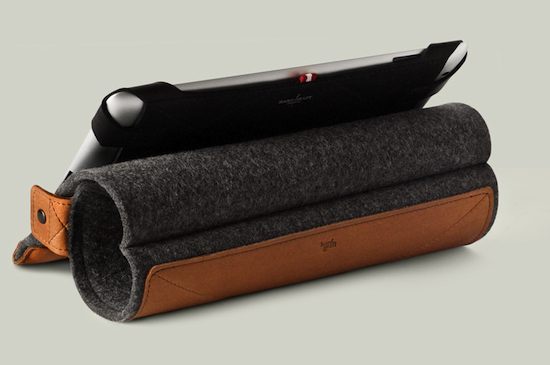 If you are looking for something magical, exquisite or colossal, for your iPad, your search ends right here. This iPad case is a blend of magic and wisdom.
It is made from semi-vegetable tanned leather which adds beauty to this iPad case as it ages. From inside it is covered with 100% 'Made in Germany' wool which feels magnificent and cleans the fingerprints from the screen of iPad at the same time.
Price: $89 | Product Page
Gucci Case for iPad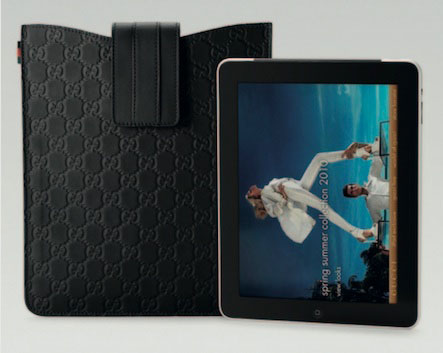 Yeah! Gucci, the name is a statement in itself. The iPad cases made by Gucci are just way too unfathomable with their signature monogram pattern and swanky leather which adds to your style more than anything.
Although, the cover costs the same as a 16 GB iPad, everyone knows money is no matter when it comes to making an impression.
Price: $450| Product Page
Oscar de la Renta Clutch for iPad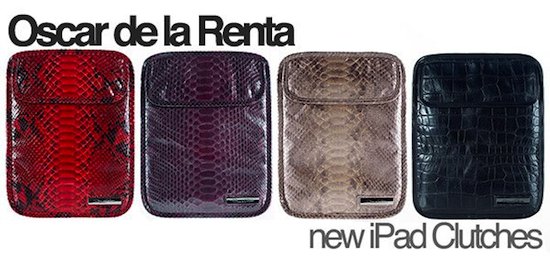 Oscar de la Renta Clutch needs no introduction. One of the most renowned designers brings you a colossal cover for iPad. Oscar de la Renta lives and breathes fashion and combines it with function with these exotic and upscale iPad Clutch designs.
Price: Starting $290 | Product Page
Burberry Case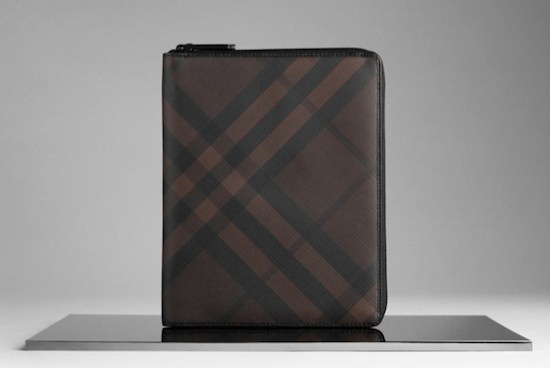 Burberry allows you to choose from a different variety of designs and models. You can buy smart covers, flip cases etc. with exuberant designs and awesome functionality.
If you buy one of these, you will be buying a durable, strong iPad case that just happens to be a fashion accessory.
Price: $375 | Product Page
Leather iPad Cases
The words Style, elegance, luxury come naturally to our mind when we think about Leather. Leather has found its way into millions of hearts through apparel, car interiors, wallets, hand bags etc..
Now this same stylish, exquisite material has once again conquered the hearts of iPad owner with brilliant Leather iPad cases. These safe guard your expensive gadget and at the same time make a statement with its immaculate looks. So, we have continued the iPad designer case post with these unique Leather iPad cases.
Now that you have invested your money on iPad and whether you have it with yourself right now or it is on its way via mail, you definitely want to protect it.
There are many designers out there who have already begun and are still in the process of giving you an iPad case that fits your desire of looks and protection.
Out of all those cases, a gentle man's choice has always been elegant leather. In this article we will be making you familiar with all the leather cases made by different manufacturers to fit your personal taste.
Tuff-Luv Multi-view Napa Leather Case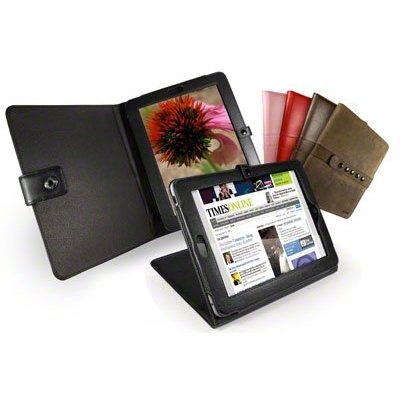 This typically dyed Napa leather case has been especially made to take care of aching wrists and back, which happens due to continuous slouching on your iPad.
Tuff-Luv has designed snap-stand iPad case that enables you to adjust your iPad in most comfortable positions.
Price: $38.99 | Product Page
Tuff-Luv Bi-Axis Napa Leather case cover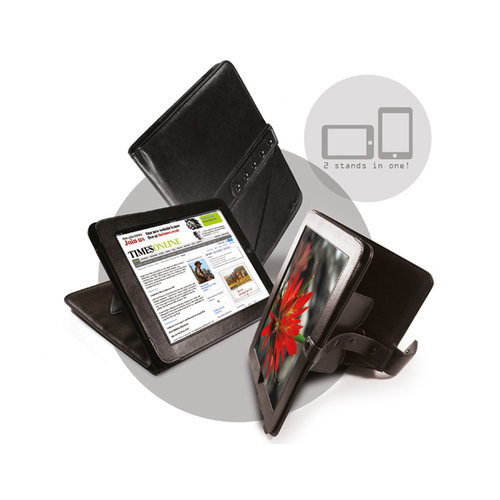 This case is somewhat same to the case above but adds only a wee bit of more comfort by having an option of positioning your iPad in portrait or landscape view.
Price: $56.99 | Product Page
Targus Hughes Leather Portfolio Slipcase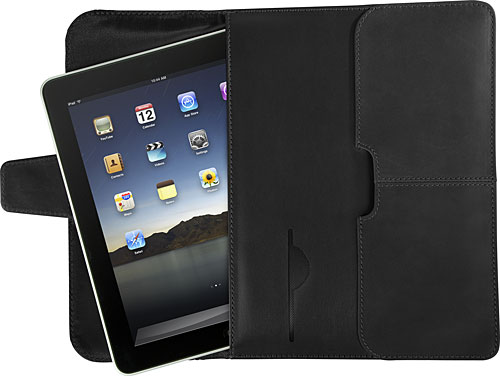 This sophisticated iPad slipcase is made from oil-tanned leather material which gives it a finishing propitious look of an executive portfolio.
Whether you are using the iPad between meetings or using Targus Hughes Leather Portfolio Slipcase as an extra cover, it always looks professional enough.
Price: $29.99 | Product Page
Simplism Shoulder Leather Case – Chocolate Black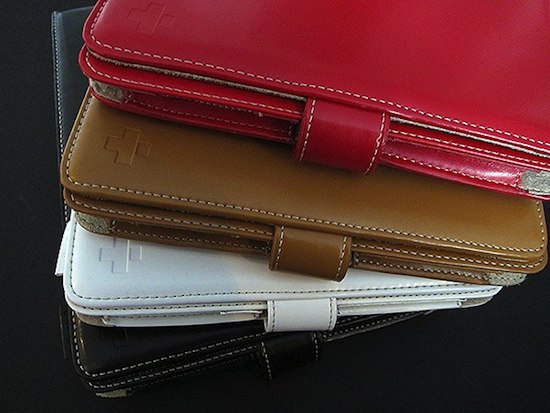 This stylish leather case comes with many features like a removable shoulder strap and can be flipped to 180 degrees which comforts you by allowing you to use iPad without removing it from the case.
An extra feature of this iPad case is its ability to prevent iPad from potential shocks with the help of pre-installed cushioning plates. Also, the back cover is slightly bigger than the iPad. Thus, preventing the corners as well.

Price: $59.99 | Product Page
DMS Deluxe Leather Multi-view Case/Folio with Stand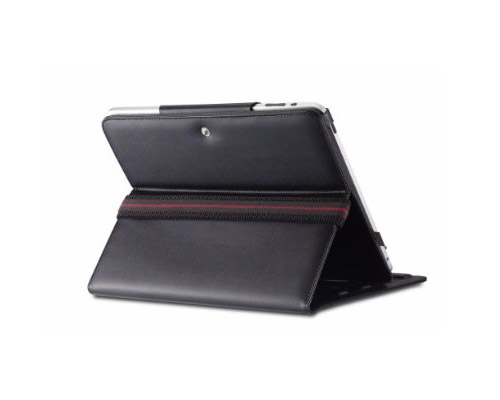 With light vibrant colors, the DMS Deluxe Leather Multi-view case is a heart-throb. It has a 13 settings adjustable stand, and a snap button tab that keeps the iPad safe in its pouch.
Price: $4.65 | Product Page
Griffin iPad Leather Case Folio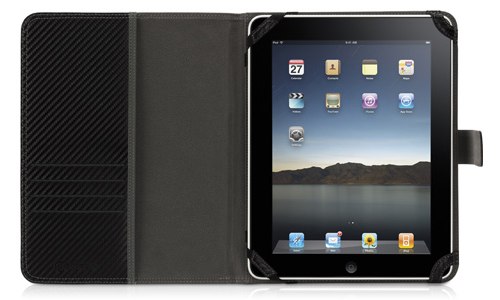 Made by Griffin, The Elan passport is a slim, book-like, one piece portfolio. To secure the cover when closed, the case comes with a tab closure.
It also contains card pockets in the inner cover to ease your professional desires. If you buy it from Amazon, An iPad Black Silicone case and a iPad screen protector (Dermapad) come absolutely free with it.
Price: $19.95 | Product Page
MacManus Leather Case for iPad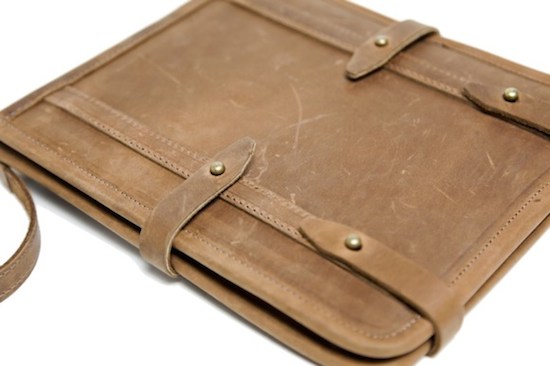 Apportioning the dual effect of cleaning and protecting the iPad with the help of Micro-fiber from the inside and intensifying the exquisite look from the outside with elegant unique Khaki and Red stripe leather, The MacManus Case makes quite an impression.
To secure the iPad in the case, flexible straps are installed at each corner. Also, the cover has card and document pockets and the manufacturers claim that it can also be used as a stand. At price point of, $19.99 the case is a good buy for most.
Price: $250 | Product Page
CaseCrown Blue Leather  iPad Case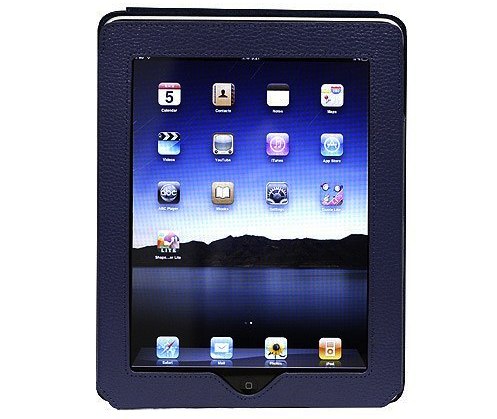 This leather iPad case has a nice bluish tone and can be converted into a stand easily. The case is made from faux leather and protects you iPad from scratches, bumps, fingerprints.
You don't have to remove the iPad from its cover for charging. It also has slots in the interior framed on elastic bands  to carry cards, IDs, and papers during travel.
Last, there is a reinforced buckle button to keep your iPad secure inside.
Price: $24.92 | Product Page
Nippon Leather iPad 2 Case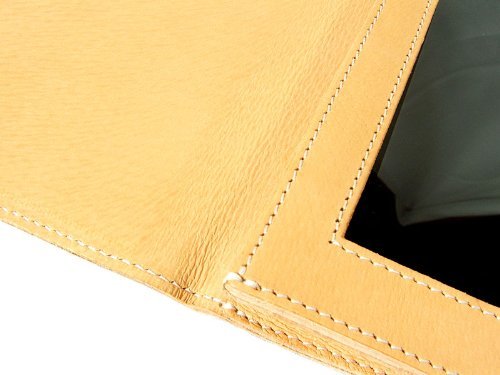 This case is handmade from thick bovine leather. This case has a unique suspension system that protects your iPad in-case it falls corner-first.
The case is fitted loose on your iPad which acts as a defense mechanism and protects your iPad from damage due to friction or minor bumps. Overall, this case provides solid protection and elegance at the same time.
Price: $69.90 | Product Page
NeoGear LuxeLeather iPad Case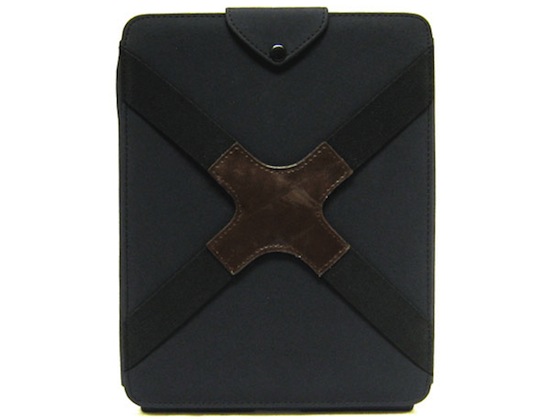 This iPad cases is made from durable leather. From the inside, it has micro-fibre lining to prevent your iPad from scratches.
The case has a hand strap from behind which eases the iPad usability and allows different viewing angles on the go. This iPad case can be used during travel as well as during quick business presentations.
Custom cut-outs have been made to direct access to all iPad ports.
Price: $12.99 | Product Page
Targus Folio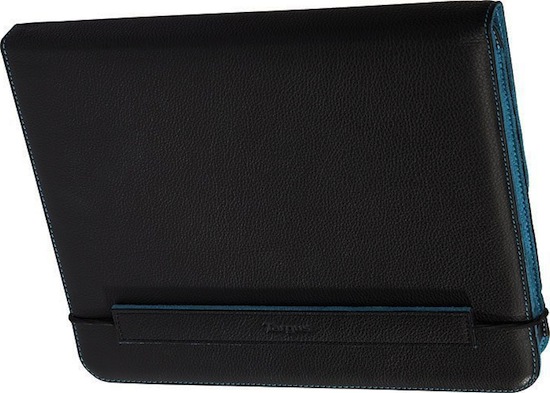 This case is made from best quality grain leather and comes in three colors; beige, brown and black . The stitching is perfect and in paragon with the interiors.
The case can be flipped into two positions to make typing and reading more comfortable. The case is perfectly cut-out to allow access to all of the ports.
However, few edges remain exposed and the case is little bulky too. Overall, the product is good to go since it is made by the trustworthy Targus.
Price: $49.99 | Product Page
CaseMate Walkabout Leather Case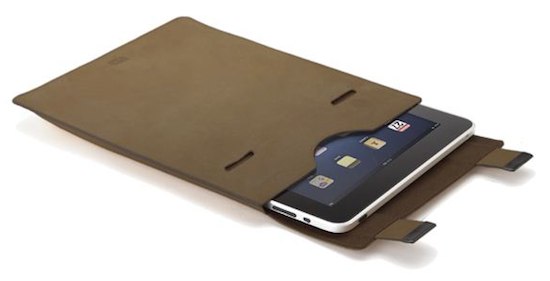 This case is made of soft, supple, hand-crafted brown leather with durable stitching and is finely cut-out with direct access to all of the ports.
The leather used in its making is tough enough to protect your iPad from bumps and to add to this degree of security magnetic clasps have been added.
Price: $29.99 | Product Page