So, you are planning to buy an iPad or you have already bought one and now you probably are searching for a case to protect your iPad. Of course you do not want the iPad to loose its "Charm". Fortunately, you have come to the right place. The market is flooded with versatile iPad cases and depending on your personal preferences, you can buy any type of iPad case you want.

iPad and all the other shiny gadgets are prone to scratches and accidental bumps due to their light weight and small dimensions. Leather case for an iPad is always a good option because it is resilient to such conditions and has pretty impressive life span. You can buy simple leather cases which are cheap and plain with blue or black color or you can step into a next level of sophistication and chose whatever design you may like with quality and durability of leather but great looks. However, you have to pay few more bucks for these sleek toys.
Each design and every color you choose for your iPad will define how people look at your iPad. Buying an iPad itself shows that you are a "techie" person and appreciate perfectly designed stuff and adding colors and sophistication to iPad by installing these iPad cases will increase the precision of who you are. Choosing bright colors will show that you want to be noticed while changing between swirling exotic sketches and quite plain ones will Ostend your vibrant and vivacious qualities, readily transmitted, as you lug along your iPad in those wonderfully enticing iPad cases.
We have summed up 105 case that will make your iPad look even cooler. One of them will surely match your taste depending on whether iPad is just another toy at home, business partner, show off, and so on.
You might also want to check our earlier post about iPad stands and the PadPivot iPad stand we wrote about earlier.
Leather cases
1.Vaja-Messenger-Bag for iPad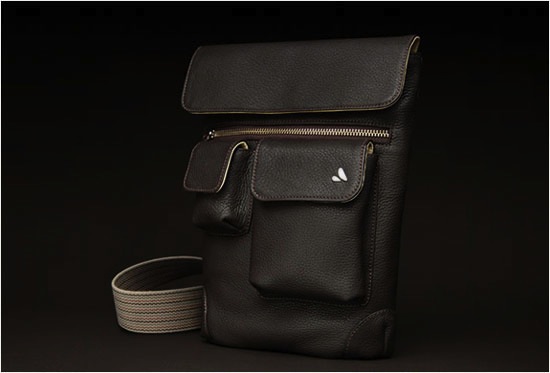 Externally made from genuine leather this Vaga case although a little expensive is one of the best carrying cases that will not only equip your iPad with protection, elegance and style but also with an extra space for all the other accessories.
Price: $280 | Vaja Messenger Bag
2.Twelve South BookBook for iPad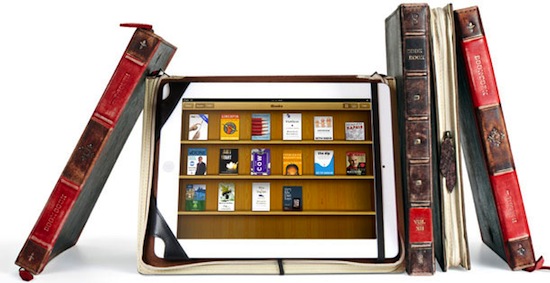 Hand made from quality leather this hardback case for iPad adds a vintage look to your iPad/iPad2. With this case you feel like you're holding a book which eventually contributes to iPad's protection and sleek design. It is definitely a shilling iPad case you should try.
Price: $69.99 | BookBook for iPad 
3. Hard Graft  Tilt iPad Case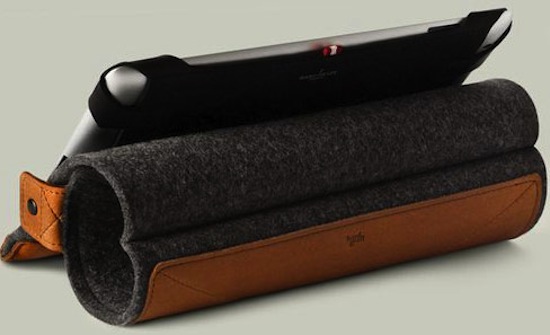 Light weight, style and functionality are some of the many qualities of this semi-vegetable tanned quality leather case. Inside, the case has a soft wool lining to protect you iPad from scratches, dust and bumps  in a spiffy manner.
Price: $99 | Hard Graft  Tilt iPad Case
4. Kenton Sorenson Leather iPad case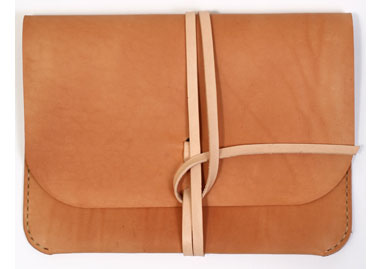 This iPad portfolio from Kenton Sorenson is hand made in Wisconsin exclusively from genuine oiled and conditioned  leather. It also as a leather strap closure which combines form and function.
Price: $190.00 | Kenton Sorenson Leather iPad case
5.  SGP iPad Leather Case Vintage Edition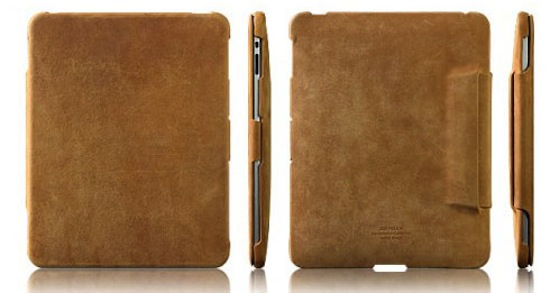 This case is made from  100 percent full-grain leather with no magnetics or sewing to interfere. It holds your iPad in a classy and protective manner and does not spoil your iPad by adding unnecessary  bulk.
Price: $100 |  SGP iPad Leather Case Vintage Edition
6. Temple Bags Leather iPad case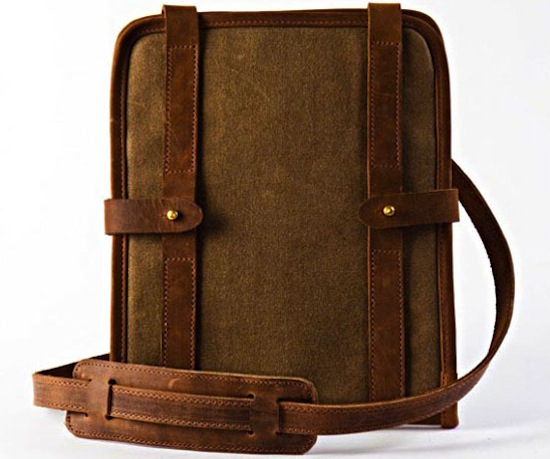 This case from Temple bags is made from classic pure leather that not only protects your expensive iPad but also adds some style and elegance while you're at it. With this case you are able to view your iPad in both vertically and horizontally plus the extra padded shoulder strap helps carrying iPad conveniently.
Price: $250 | Temple Bags Leather iPad case
7. Sena's Case folio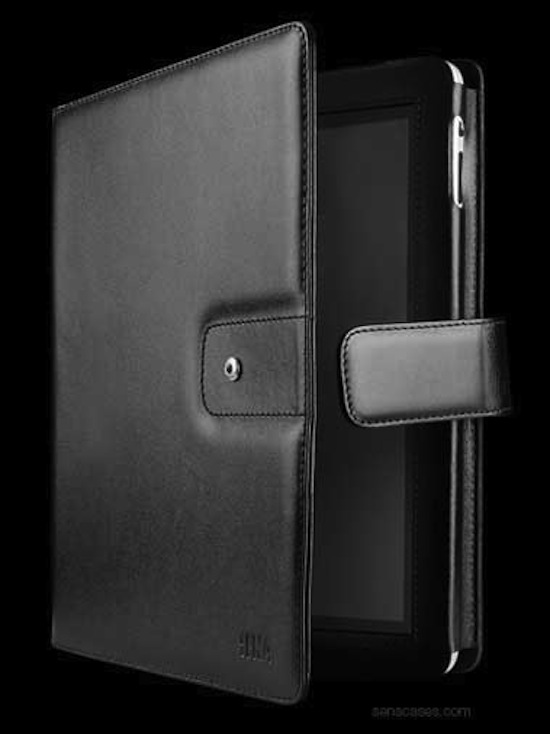 This book style leather folio from Sena is made from quality leather and has a collapsible integrated back stand to help you enjoy viewing your iPad.
Price: $99.9 | Sena's Case folio
8. Targus Hughes Leather Portfolio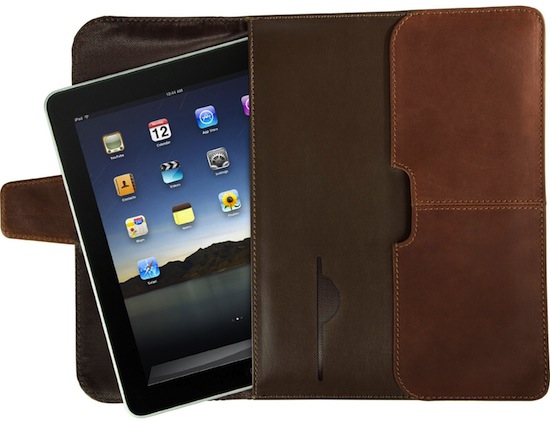 Made from durable tanned leather, this case from Targus secures iPad with its magnetic closure and soft inner Twill Lining.
Price: $77.00 | Targus Leather Folio
9. Vaja Special Edition Mamut Suela Brown Leather Case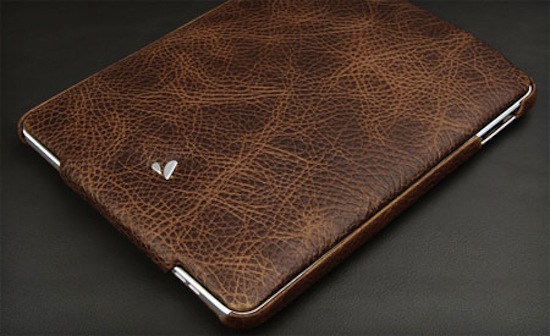 This case is precisely made to allow access to all ports and the flap is detachable so you don't have to get your iPad out. It is made from full grain cowhide leather to give your iPad protective and spiffy looks.
Price: $200 | Vaja Special Edition 
10. Urbano iPad Leather Zip Case – Vintage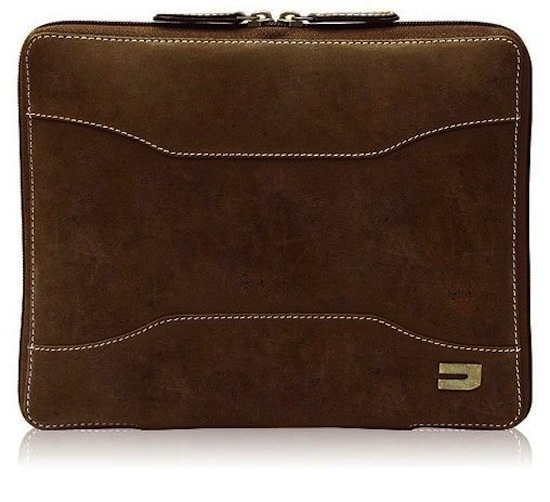 Genius and skills are put together to complete this case from premium cows hide leather. Interior is luxurious and helps protect your iPad from scratche, dust, bumps and the  YKK zippers and metal puller make it easy to operate.
Price: 78.59 |  Urbano iPad Leather Zip Case – Vintage
Designer iPad Cases
11. Gucci iPad case
This iPad case from Gucci equips your iPad with protection, style and elegance with its striking canvas pattern exterior.
Price: $250 | Gucci iPad case
12. Louis Vuitton iPad Case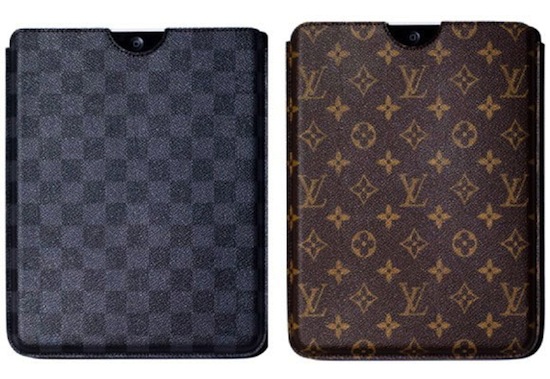 Available in classic monogram and Damier Graphite and has the designers initials all over it. It is more like a sleeve and does not provide protection you would expect from a case whose price is equivalent to your iPad.
Price: $366 |  Louis Vuitton iPad Case
13. Burberry Stiched Rafia iPad Case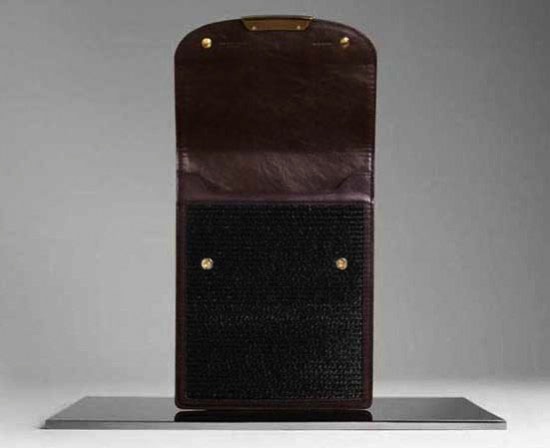 This case has a Polished metal plaque engraved Burberry Prorsum logo and Rafia ribbons that are individually plated and cross stitched wit soft leather to equip your iPad with safety and style.
Price: $750 | Burberry Stiched Rafia iPad Case
14. Oscar de la Renta Clutch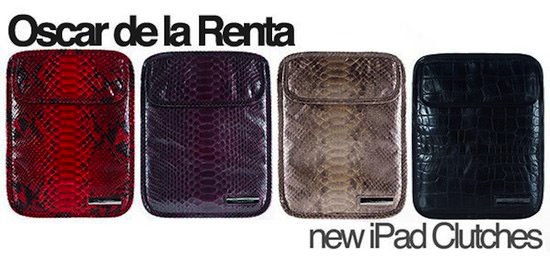 Oscar de la Renta Clutch needs no introduction. One of the most renowned designers brings you a colossal cover for iPad. Oscar de la Renta lives and breathes fashion and combines it with function with these exotic and upscale iPad Clutch designs.
Price: $290 | Product Page
15. Buberry Smoked Check iPad cover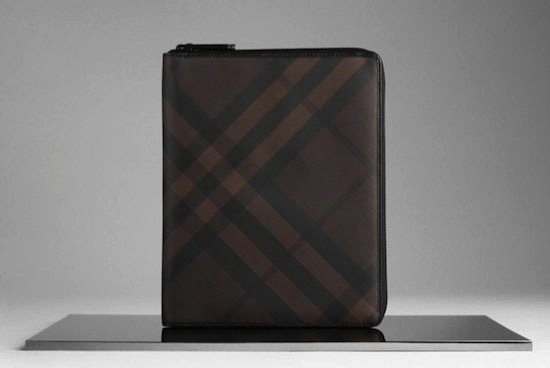 This case from Burberry is made from smoked check coated canvas with smooth leather trim. It also has a zip around closure on three sides with large leather zip pull for easy accessibility.
Price: $425 | Buberry Smoked Check iPad cover
You might also like expensive designer iPad cases and retina iPad wallpapers. If you like stands, check our iPad stands post or make your own DIY iPad stand.