If you care much about the status quo and find it logical enough to buy an accessory for your Apple iPad that exceeds its own value then you are at the right place. Brands like Prada, Burberry, Louis Vuitton , channel etc have designed some of the exclusive (and expensive) iPad cases that put you in a different category of iPad owners. While some of these cases are listed as "Most ridiculous iPad cases " by some bloggers others are indeed genuine and deserve some extra dollars.
In this post we have collected 10 most expensive iPad cases made by designers that will intrigue with their style and perplex with price.
You might also want to check HD iPad wallpapers and best iPad stands.
Louis Vuitton
To begin with, Louis Vuitton is more of a slip-case and does not provide the level of protection that you would expect from a $366 case. Although, it almost equals the cost of your iPad it is still the cheapest or to be more accurate, "Less expensive" than iPad cases offered by other brands. It is available in classic monogram and Damier Graphite and has the designers initials all over it.
Price: $366 | Louis Vuitton Monogram Case
Burberry Stiched Rafia iPad Case
Although this case out costs iPad, it has a Polished metal plaque engraved Burberry Prorsum logo and Rafia ribbons that are individually plated and cross stitched wit soft leather to equip your iPad with safety and style.
Price: $595 | Burberry Stiched Rafia
Yves Saint Laurent CHYC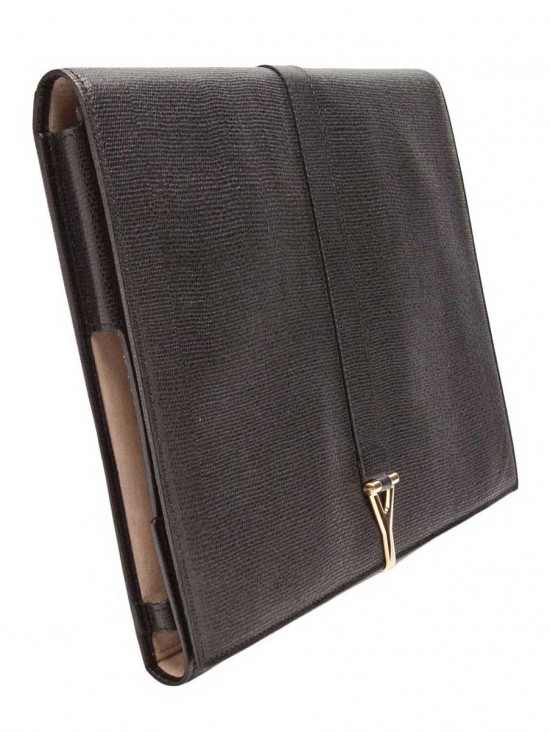 This iPad case is made from textured leather and aids competent protection with the help of its book inspired design. The case scintillates fashion and elegance which is substantiated with gold-toned "Y" buckle embellishment. The product is made in Italy and automatically intrigues people with its unique simplicity. Yves Saint Laurent also offer other iPad cases which are less expensive and versatile.
Price: $750 |  Yves Saint Laurent
Dior Homme iPad case
Expected to be out at the rate of around $900 this Dior Homme iPad case has aesthetics and marvel typical of Dior Homme. The case comes in leather or classic coated canvas. Design idea has been primarily applied keeping in view the simplicity and compactness of a book.
Price: ~$900 | Dior Homme iPad case
Chanel iPad case
Chanel iPad Case, formally known as the Chanel "Mallette en cuir noir", typical of its brand name is an exquisite looking case made from finest grade leather and its elegance is markedly increased with quilted stitches dragging a lot of attention and envy. Although, the product is substantially over rated but judging by the loyal customer base of Chanel the product may be of vivid interest to many people.
Price: $1,555 | Chanel iPad case
Alexander Amosu's iPad Case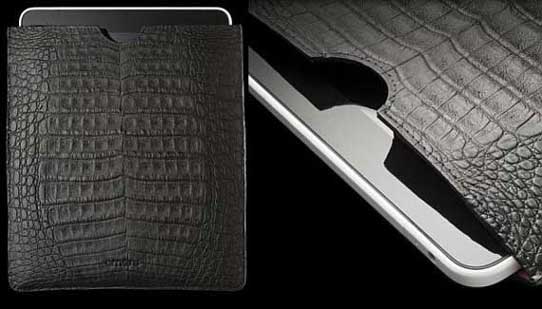 Alexander Amosu is a London based entrepreneur and primarily was motivated for designing elegant covers and cases  by his keen interest in technology and mobile phones. The designer has provided customers with a platform where they can design an sophisticated Custom iPad case using their creative impulses. Users can select different patterns like crocodile, python and ostrich with different color options. If that wasn't enough,  users can also have their names or company logo's on the iPad case.
Price: $2,620 | Alexander Amosu's iPad Case
Celine's iPad Case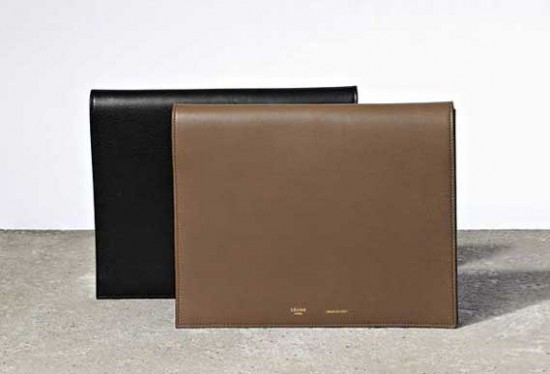 This case is exclusively made from high quality leather crafted in Italy by France based luxury fashion house. The edges are smooth and the case overall provides an ulterior protection. They have also equipped the case with space for incorporating small documents and cards on the go.
Price: $3,100 | Celine's iPad Case
Domenico Vacca's iPad Case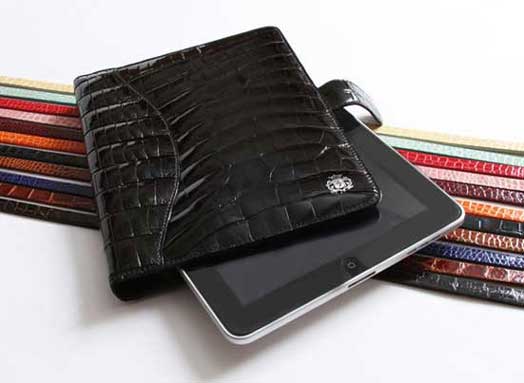 This case is made from superior quality alligator skin just like the Tod's iPad case coming up next in this post. It is designed by Domenico vacca an Italian fashion house.  Domenico vacca allow you to choose from a range of 25 different colors at  $3,900.
Price: $3,900 | Domenico Vacca's iPad Case
Tods's iPad cases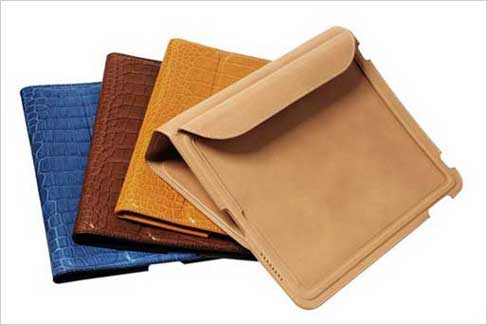 Tods's aloow you to choose from an array of iPad cases with a variety of patterns handmade in Italy from the world's finest grade alligator skin, and will be available in brown, blue and tan from Tod's boutiques worldwide at an all time low price of $4900. Really? Even if the case can magically transform into a sofa-cum-bed I still wouldn't even imagine buying such an overpriced case.
Price: $4900 | Tods's iPad cases
David August's iPad Case
David August's is the same person who designs custom wardrobes foe celebrities like Arnold Schwarzenegger, Sylvester Stallone, Will Smith, Robert Downey Jr. and other well known billionaires. Keeping that in mind behold the David August's  hand cut and stitched in Italy iPad case. The case comes in variety of exuberant 20 different colors and shades.
Price: $6,900 | David August's iPad Case
We hope you liked reading about these designer iPad cases as much as we loved writing about them. You might also like our list of 30 cheaper designer iPad cases. If you own an iPad and don't mind following a DIY guide, perhaps you can build-yourself a DIY iPad stand. Let us know whick case you like (or hate) the most from this list.