Now that you have bought iPad you would be looking for something that Apple did not put into your package. Yeah! We are talking about iPad Stands. Although, many would like to buy an Expensive stand for their expensive iPad, there are also those who like to stick to innovation and creativity and some cool iPad stands with a little effort and even less money.
In this Post we have collected 5 Do it Yourself iPad stands (DIY) which are easy to make and looks colossal.
If you like this post, you might also want to check our earlier posts regarding best iPad stands and designer iPad cases.
1. DIY Pencil Stand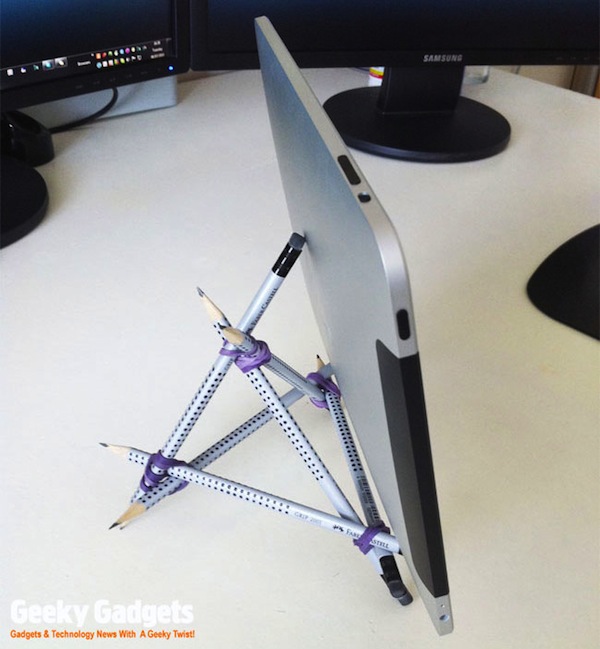 First up is this prodigious Pencil iPad stand made from Six pencils, 4 rubber bands and little touch of creativity. This iPad stand works both in portrait as well as landscape. This type of stand is suitable for workplaces. The pencil is fixed with soft- erasers at the end to prevent you iPad from scratching.
2. Chopstick iPad Stand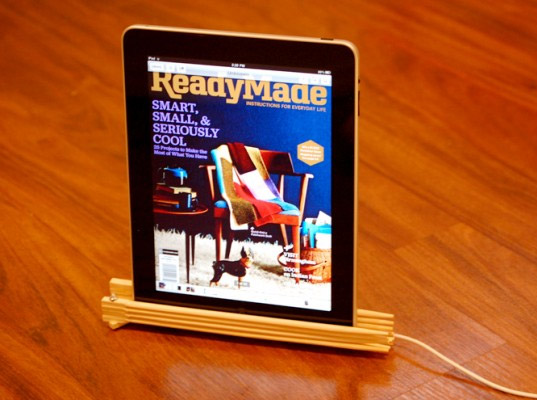 "Life gives you lemon, you make lemonade". This DIY iPad stand reminds of this very quote because it is made of nothing more than left over chopsticks and wood glue. All you need is 13 chopsticks glue them in a U shape into a desired angle and also add a small broken chopstick later at the end as a bolt. This iPad stand is good for kitchen or restaurants.
3. iPad Package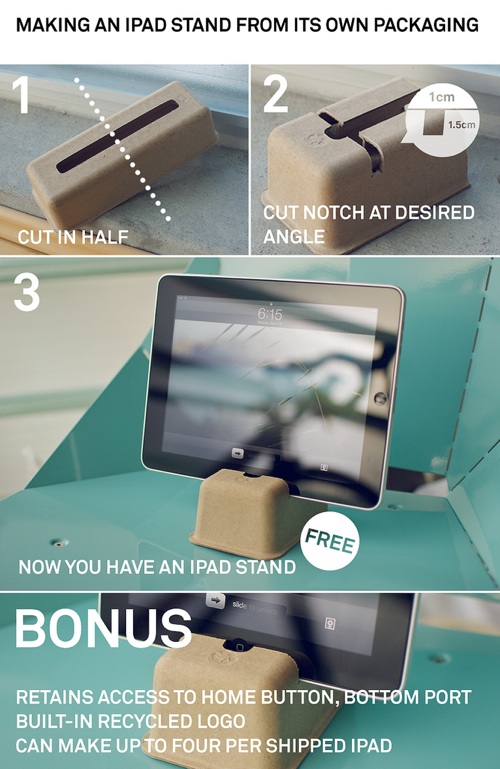 This iPad stand is a paradoxical example of thinking out of the box. All you have to do is; cut the iPad package into two halves and then make a notch at desired angle and that's it, You have your iPad stand.
(Make this iPad stand from the Packaging)
4. DIY Wooden iPad Stand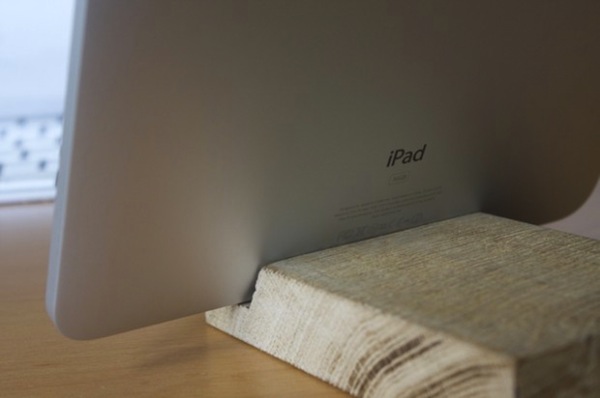 Although, you might need some power tools this iPad stand is very easy to make. All you have to do is slit cut the wooden block at an suitable angle.
5. Business Card Holder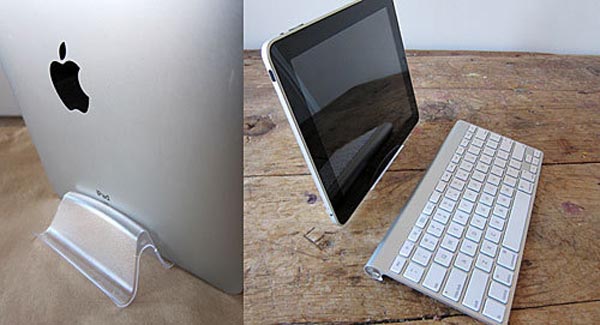 This ingenious iPad stand is one of the cheapest. While it is not a full DIY stand, it is still a very creative idea of using business card holders as a stand for the iPad. These business card holders can be bought for $0.69 from OfficeDepot.
(Business Card holder DIY Stand)
6. LEGO Stand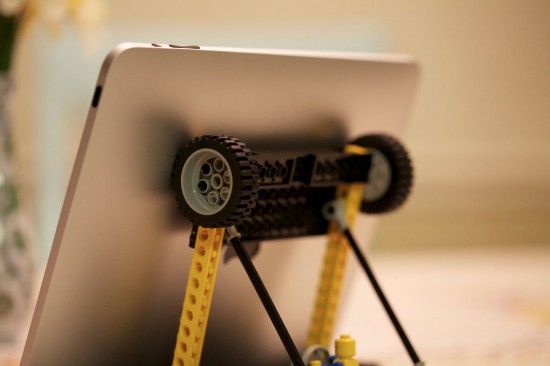 You can easily replicate this creative iPad stand made from LEGO pieces. There is no guide for this but with a bit of thought and planning, you will be able to make your own LEGO iPad stand just like this one.
7. Book Support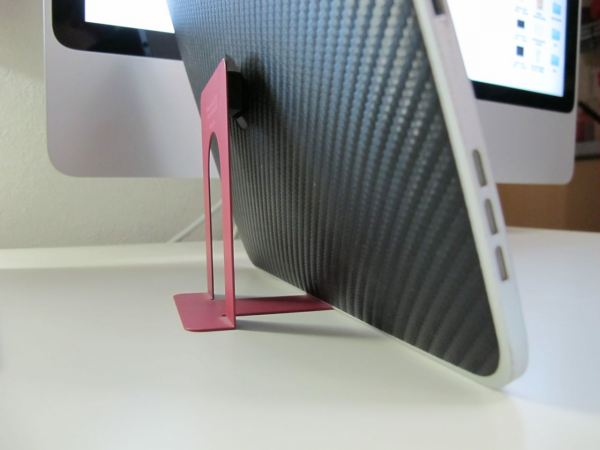 We give you the simplest, cheapest and easiest to make iPad stand. All you need is a book support and then in order to save your iPad from slipping, add some sticking material. There, you have it! Your very own iPad stand.
8. Tape Roll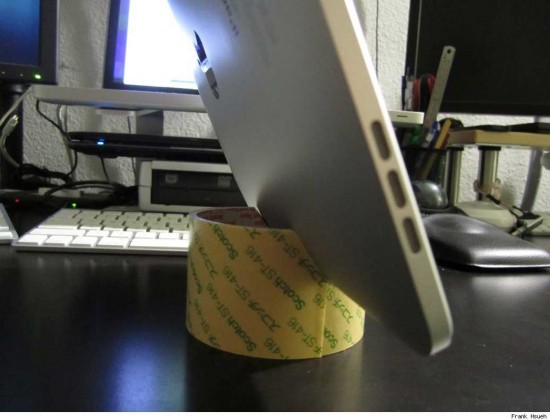 This iPad stand can be made from just using a tape roll and a blade or a knife. You just have to cut out the tape as shown in the picture. Make sure you rub it using sand-paper so it doesn't scratch your iPad's back.
9. Metal Bookend Stand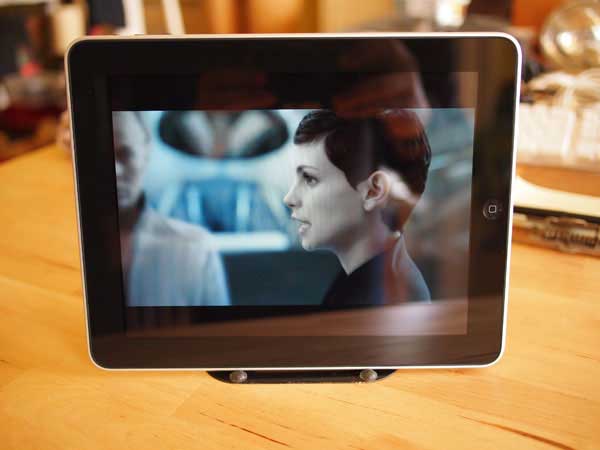 You can make this iPad stand using nothing but a basic metal bookend from staples and 6 rubber feet from the hardware store. You can make this stand for less than 3 bucks.
(Instructions for making this Metal Bookend Stand for iPad)
10. Lap Stand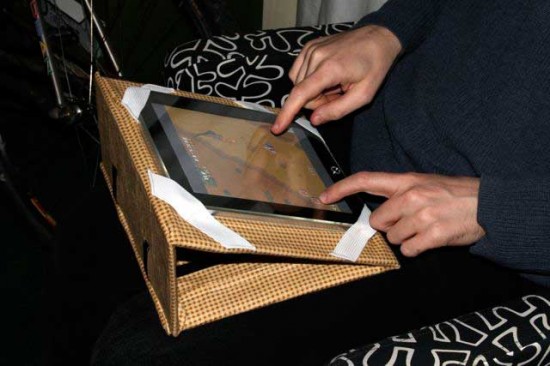 One of the complex stands, this lap stand can be made for cheap. This stand will have an adjustable angle for your viewing pleasure. All you need is a fabric at least 24.5 x 27, a flannel will suffice and you will need some velcro.
(Instructions for this Lap Stand for iPad)
11. iBook Stand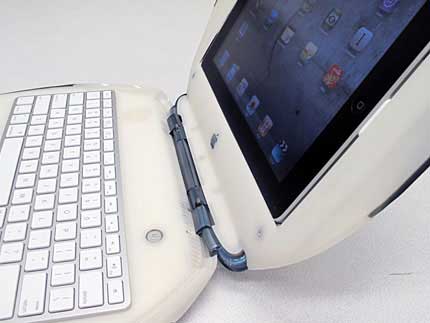 Not only is this an ingenious iPad stand, but it is a case and and a keyboard rolled into one awesome DIY accessory. This stand is inspired by the retro Apple iBook.
(Instructions for Making this iBook iPad stand with Keyboard) Japanese, Translated to English.
12. Your Pillow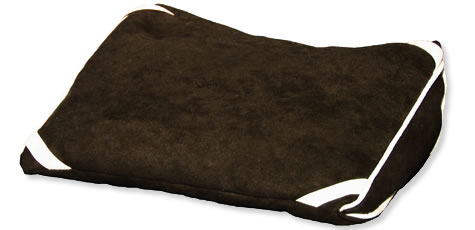 You can use your pillow to mimic the WedgePad in the picture above. You can use duct-tape and paper pins to set the pillow into desired angle.
If you have created your own DIY stand for iPad and would like to share it with the rest of our community, send us an email or post a comment below. You might also like expensive iPad cases, Executive iPad cases and iPad HD wallpapers.