The corporate market has for long been the foremost spot to show off your hot new gadgets. Just imagine yourself walking into the meeting with your brand new iPad enclosed in an elegant, executive folio case, that not only adds elegance to your iPad but also helps to protect it. Here, we have some of best executive cases for your iPad and iPad 2. I think it is a must to look good in professional world too, isn't it?
You might also like to check our posts about DIY iPad stands and HD iPad wallpapers.
Orbino Padova Leather iPad Case
Premium case made from high quality fine leather, made to fit the iPad. This case is hand stitched with waxed thread for tailored fit and tactile grip. The case is secured by the magnets which could also function as a stand to hold the device horizontally or vertically. The sharp cutouts provide easy access to the volume, dock connector, speakers, headphone jack and other ports.
The premium Executive iPad case costs $209 and is available in black, brown, pecan and deep red bark tanned Italian color.
Price: Starting at $209 | More about Orbino Padova Leather Case
Hammerhead iPad/iPad 2 Premium Leather Case
The quality leather case for your ipad with microfiber cleaning cloth. The cutouts allow easy access to all ports, switches and camera The versatile design provides optimal angles for typing, reading and occasional movie watching. The premium leather case is available in variety of colors like black, ebony, and chocolate. Not only does it add to the style, but it is also one of the most protective cases for your iPad available in the market.
It does a great job of guarding both the front and back end of your iPad. The back shell of the hammerhead is very rigid and is most likely to protect your iPad from the nastiest of drops.
Price: $60 | More about Hammerhead Leather Case
WanderFolio from Speck
The stylish and protective tri-fold case for iPad from speck. The tri-fold design features two card-sized pockets, two passport-sized pockets and two large document-sized pockets. You can keep your money, cards and other personal items safely stashed away with your WanderFolio. The form-fit hard-shell cradle helps to keep your iPad securely in place.
The magnets in the cover keep the case close when device is not in use and also help in activating sleep/wake function. The executive case can easily be converted into a stand for viewing from multiple angles.
Price: $70
Belkin Flip Folio Stand for iPad
The slim, fashion-inspired case from Belkin hugs your iPad and protects it from scratches and scuffs, with a cover that folds to protect the screen. Its thin design, snug fit and soft material protects your iPad from both front as well as from the back.
The notebook style folding cover not only protects the screen when it is closed, but also flips backwards to act as a stand for viewing your iPad from multiple angles. The soft inner lining helps protect against scratching. The cutouts allow easy access to ports, buttons and camera.
Price: $40 | More about Belkin flip folio stand
MagFolio Luxe for iPad 2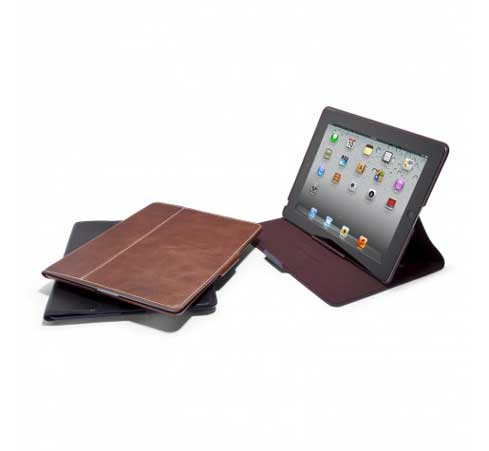 The premium top-grain leather cover from Speck with sleek interior for a more smarter professional look. The folio features a form-fit cradle to hold your iPad firmly. The built-in magnets keep the case closed while you are not using it, and also have a iPads sleep/wake function like the official SmartCover. The cover can easily be converted into a stand for multiple viewing angles.
The rear shell of the case is little thick to guard your device against the blows, but has precisely cut openings for the headphone port, mic, sleep/wake button, rear camera, side switch, volume rocker, speaker and dock connector.
Price: $100 | More MagFolio Luxe for iPad 2
Marware MicroShell Folio iPad/iPad 2 Case
The product is an ultra-thin, lightweight case with a hard back shell and an automatic sleep/wake lid that protects your iPad with multi-functional style. The case weighs just 6.2 oz .This case makes your device stand at the angles of 120°, 150° and 165° that are ideal for typing, viewing and facetime. Cutouts allow access to camera, buttons and ports for charging and syncing Soft magnets secure the lid closed.
The case has exterior ridges on back shell for added protection against scratching and dents. The case also protects your iPad speaker without sound interference.
Price : $70 | More about Marware MicroShell Folio
Verve Folio Stand for iPad
The verve folio from belkin offers an elegant, leather finish that protects your iPad and iPad 2 in style. The fashion inspired leather case protects your device from scratches and scuffs, with a cover which folds to protect the screen of your device and an inner lining which is soft against your iPad. The case can easily be converted into a stand for viewing your iPad at multiple angles.
Price: $50 | More about Verve Folio Stand
Newertech's iPad Portfolio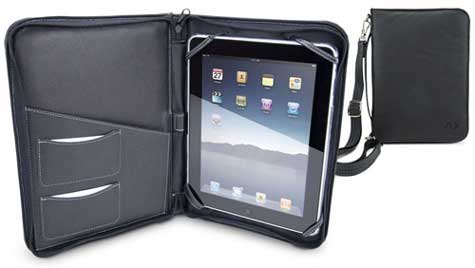 This elegant product made from high quality Brazilian leather holds your ipad securely and provides you a convenient way of transporting your device. The case also provides you space for business cards, pens, documents and more. The case comes with a shoulder strap for easier transport.
To keep your case and iPad looking new is a sewn-in hard shell, surrounded by soft padding and enveloped in high quality leather. The NewerTech iFolio comes with a Lifetime Warranty.
Price: $100 | More about NewerTech's iPad Portfolio
Sena's Case folio
The simple, elegant and sophisticated case made from quality leather to dresses up your iPad for any stylish setting. The case is made up of top of the line full grain Napa leather. The case also comes with an integrated recessed collapsible back stand to support the vertical and horizontal view of your device. The folio also has a soft velvet lining and light protective layer to protect your device against the scratches and scuffs.
Price: $99 | More about Sena's Case folio
Cygnett Windsor iPad Folio Case
Cygnett Windsor premium leather Folio stand case for Apple iPad is an elegant leather case which has an eye catching style and easy to carry book design which can securely carry your iPad. The case protects your device from any damage if you accidentally drop it or from the scratches during everyday use. The cover helps in activating sleep/wake function automatically when you take the lid off.
The case can also be converted into the stand for viewing at multiple angles. The case includes discreet access points for all the ports of your iPad, camera and other buttons.
Price: Starting from $30 | More Cygnett Windsor iPad Folio Case
We hope this post quinched you thirst for iPad Executive cases and hope that you come back to this site for more.
[highlight color="eg. yellow, black"]Also Check: Best iPad Stands and Designer iPad Cases[/highlight]