Apple's iPad has crushed ever single competitor that tried to compete with the mighty iPad. iPad is the best tablet out there. All others don't come even close. You can read books, newspapers and blogs on an iPad.
You can play games, draw doodles, adjust images on it too. However, all the fun is lost when you have to use just one hand in order to use all those features that iPad offers. You always have to hold it in one hand and operate using another.
That's where iPad stands come to help. Stands make holding and operating your Apple iPad a snap.
Various stands for iPad have been introduced over the months and you might have even see the PadPivot Stand we posted about a few days back.
We have collected some of the best, some of the most creative stands in this post. We are sure that you are going to love them.
You may also check our iPad HD wallpapers post we compiled a while back. You can also check designer iPad cases and best cydia apps for iPad.
TwelveSouth BookArc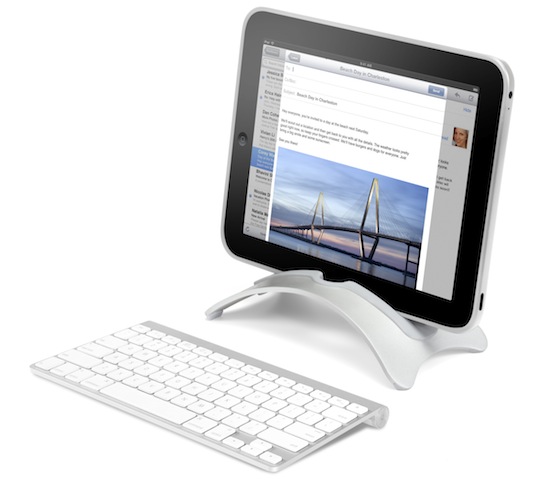 TwelveSouth BookArc is one of the most sleek stands we encountered in the market. It can hold your iPad in tilted or straight-up positions. It is a very beautiful, elegant gauge of steel that holds your iPad pretty well.
It can hold your iPad in upto 4 position and the raised position helps you fit all the wires and charger pin into your iPad pretty easily. [visit BookArc]
Cost: $29.99 | Coolness Factor: 5/5
Elago P2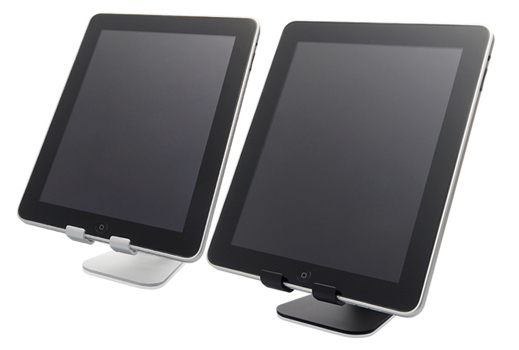 Elago designed stand will make your iPad look like a small sized iMac. The stand's design resembles the frame of an iMac.
As of now, it is available in white and black colors only. Elago Stand has a hole in the back for the cable management. It holds all the cables pretty neatly hence making it suitable for desktops. [visit Elago Design]
Price: $29.99 | Coolness Factor: 4.5/5
DZDock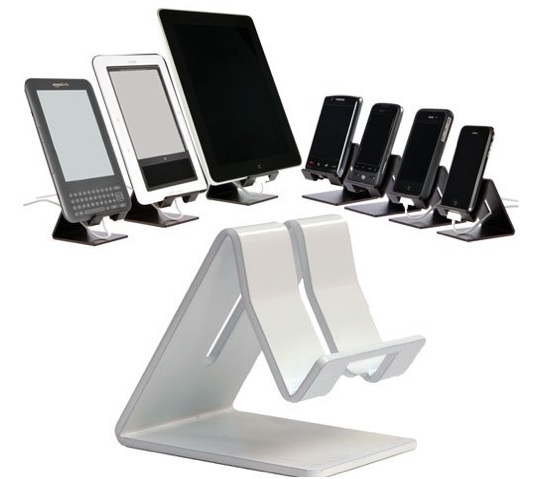 DZDock is a very simple yet very useful stand for your iPad. No fluff, no big parts, no useless weight – DZDock is all about simplicity.
It holds the iPad pretty effortlessly and I particularly like the idea of how the space for charger cable and dock is made up. [visit DZDock]
Price: $25 | Coolness Factor: 5/5
Groovy Stand for iPad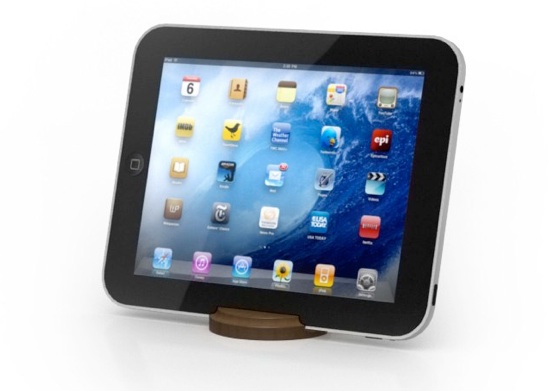 It is a very minimalistic stand for your device. Best for viewing recipes when you are preparing them in your kitchen.
It is a very portable and affordable stand at the same time. GroovyStand comes in various designs, a dual slot for holding the iPad as well as any case it might be in, a single slot and one dual angle stand design.[visit GroovyStand]
Cost: $7.95 -$18.95. | Coolness Factor: 4/5
PadPivot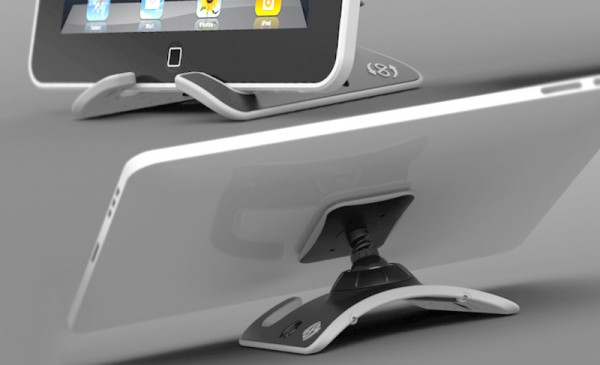 PadPivot is an incredible and intuitive iPad stand and at the same time doubles as a iPad dock too. Jim Young and Bernie Graham are two independent designers behind the creation of PadPivot.
The PadPivot has a no slippery design to make sure it doesn't fall off your lap. Each PadPivot comes with a microfibre cloth to clean off the smudges due to your fingers from the iPad screen. [view more details]
Price: $25 | Coolness Factor: 5/5
ClamCase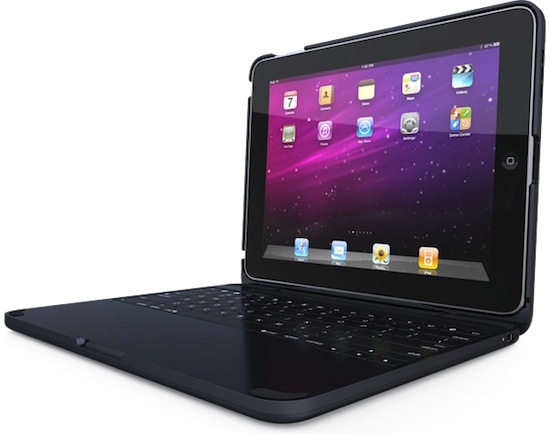 Clamcase is one of the most innovative cases / stands for your touch device. It has got enough space to hold your iPad as well as any bluetooth keyboard you might have.
The design is elegant and will make you feel like you're using a laptop when you want to. [visit Clamcase]
Price: $149 | Coolness Factor: 4/5 (Check also, the ZAGGmate below.)
ZAGGMate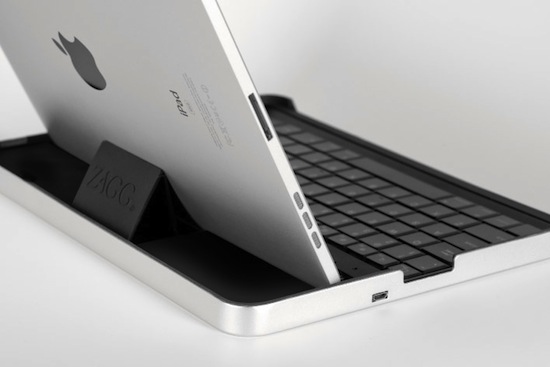 I am sure many of you already have the ZAGG's InvibleShield on your device, if you haven't – you should seriously check them out.
The same company is now making these cool iPad-Keyboard holders combos and are much cheaper than the ClamCase above. It does pretty much the same thing as the ClamCase except it doesn't look as cool. [Visit ZAGGMate]
Price: $95.95 | Coolness factor: 3/5
Griffin A-Frame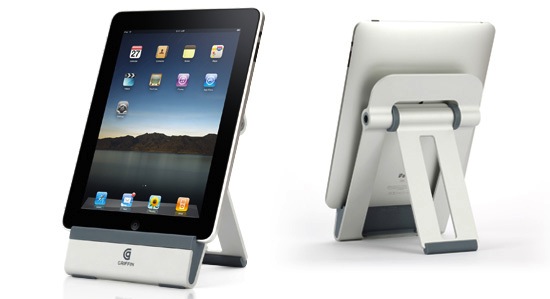 Griffin A-Frame is a nice little stand for your Apple iPad device that does exactly what it is supposed to, hold the device is all angles suitable for viewing pleasure.
The Griffin stand holds iPad upright in landscape and portrait views or at a lower, wrist-friendly angle for surfing, reading and more. It is a very stable aluminum a-frame design. It holds your device in landscape as well as portrait modes. [Visit Griffin A-Frame]
Price: $29.26 | Coolness Factor: 4.5/5
Macally BookStand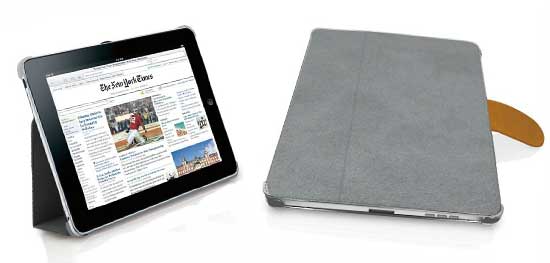 Macally bookstand can be used for holding your device in a few angles for watching movies or reading stuff without using both your hands.
It is also good as a case for iPad. It is pretty neat and holds the device perfectly. [visit Macally Bookstand]
Price: $18.33 | Coolness Factor: 3/5
Kickstand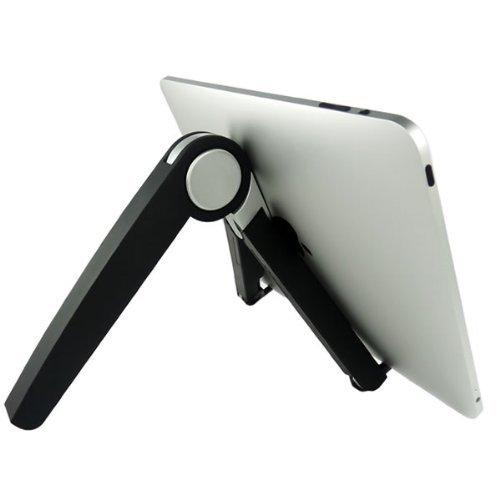 Kickstand for ipad is exactly what the name suggests, it is a kickstand. If you are just looking for an old-school iPad stand, this thing is for you. [visit Kickstand for iPad]
Price: $18.99 | Coolness Factor: 3.5/5
BookGem Book holder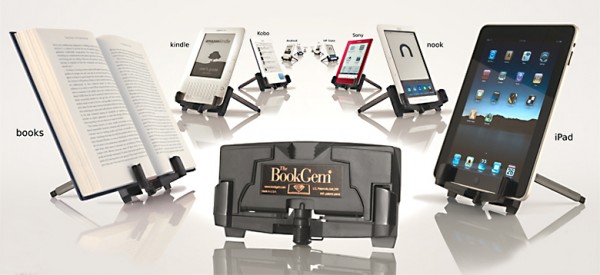 If you want to buy an all in one product for holding your iPad, your Kindle or your actual real book – BookGem is for you.
They make some of the best stands out there and boy, are the cool. [visit BookGem]
Price: $14.95 | Coolness Factor: 4.5/5
Stabile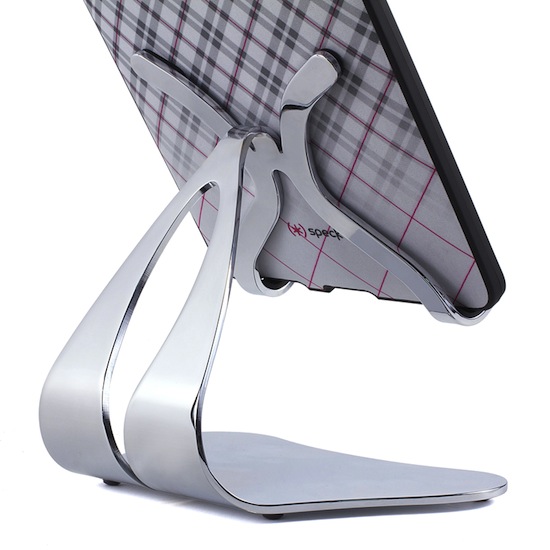 Stabile is yet another stand that look like the frame of an iMac. It is simillar to the Elago P2 we have featured above. It is a chrome plated design and if it is your thing, you might like it. The Stabile weighs about 2.5 times the weight of an iPad.
The stabile can be adjusted to around 55° viewing angle in portrait or landscape mode. It has also got 4 holding pad locations. [visit Stabile]
Price: $59.99 | Coolness Factor: 4.5/5
WedgePad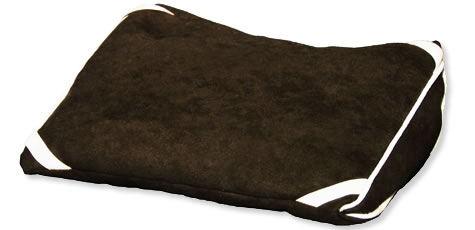 What better could be there than a classic pillow with a bit of a slope for the perfect viewing angle on iPad. The WedgePad stand for the iPad is sloped at a 30° degree angle to minimize wrist discomfort while enhancing your viewing angle.
However, at times it can also be positioned to stand at a 45° degree angle for increased visibility. This is particularly useful while you are watching movies. [visit WedgePad]
Price: $27 | Coolness Factor: 1/5
Compass Stand for iPad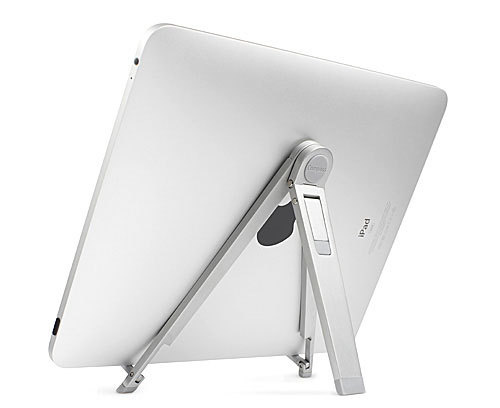 At $40, the Compass seems reasonable enough. It also solves some of the issues I noted in my review: Looking at the photos, you can use the dock cable in portrait and landscape mode. It also looks light.
While I like to tote my Joule around, many times I leave it at home because it's way too heavy. [visit Compass]
Price: $39.99 | Coolness Factor: 5/5
Joule Stand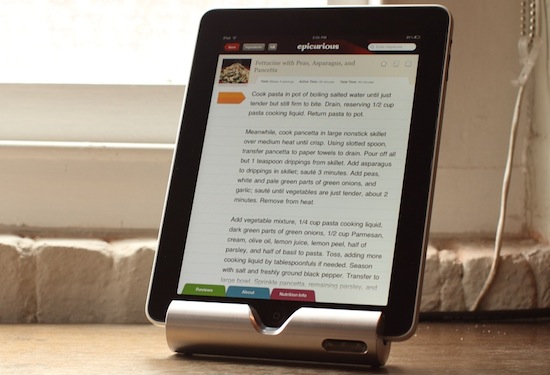 The Joule stand is handcrafted in California in plain aluminum or anodized black and needless to say is the most elegant iPad Stand design we have seen to date.
That also means it is on the more expensive side if you are thinking about buying it. This stand can hold your iPad in landscape as well as portrait mode. It is made from solid aluminum bricks, CNC'ed just like the Apple does to the unibody iPad and MacBooks.
It is available to be bought in chrome or anodized black finishes. The magnetically-attached tilt foot enables you to easily change the viewing angle of the iPad for your viewing please and rubber pads for grip and a velvet-lined recess are put there so you can avoid scratching it. [visit Joule]
Price: $79.99 | Coolness Factor: 5/5
All in all, the stands are one of the must-have Apple iPad accessories out these. If you have been hunting for iPad stands, we hope your search finishes here and you have found the new mate for your iPad. You might also like iPad sleeves and cool iPad cases.