Pink iPad Cases
Now that you are lucky enough to have an iPad, you must be looking for something that will keep your iPad safe and simultaneously increase its aesthetic appeal.
Market is filled with versatile designs, material of construction and colors of iPad cases. Everyone can pick one for himself from the vast majority of colors that are available out there.
The color you pick defines you to a large extent. Pink is one of the most beautiful and positive colors of the RGB mixture.
Many people regard pink as feminine but one cannot ignore the fact that Pink color denotes more decided and masculine character.
Whatever the case, pink color has found its way into homes, offices, cell phones, and in this case the iPad case. Pun intended.
RooCase Pink Leather iPad Case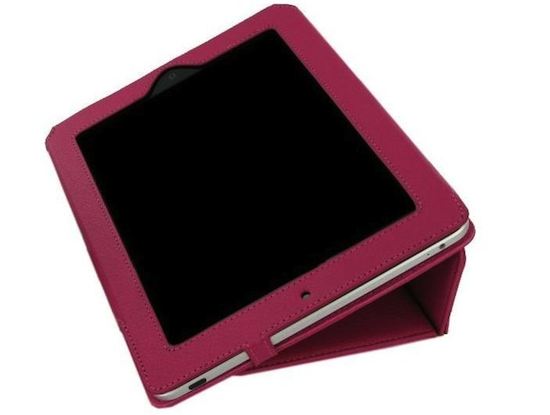 This is an iPad case made up of elegant leather and gives a brighter tone of pink color so that your iPad matches your statement.
The interiors are made of sewed and the case can be angled in two ways for video watching or typing. The case offers ease of accessibility to the device's ports and control buttons. Magnetic button is added for convenient closure.
Price: Unknown | Product Page
Pink Leather Case Cover And Flip Stand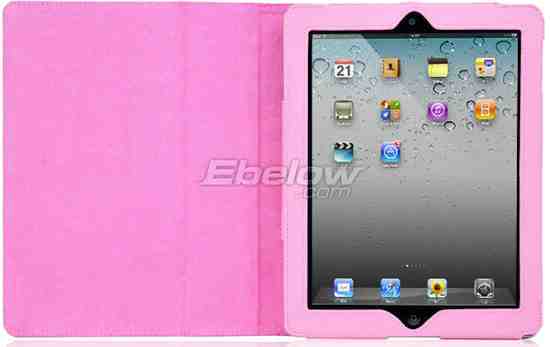 This iPad case-cum-stand is slender and light as a feather. The case prevents your precious iPad case from dust, scratches, and is made of exquisite leather which makes a fashion statement and brightens your iPad with positivity.
Moreover, you need not to remove iPad from its case as it is well cut to allow access to all ports, switches and speakers.
Price: $19.99 | Product Page
Pink Hard Candy Case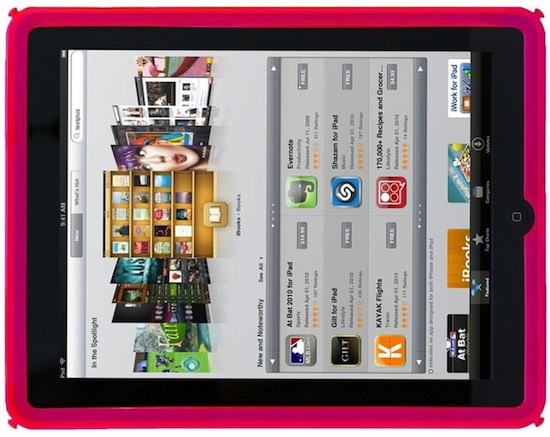 This is a very sleek hard case that has a flexible cover. The case is see-through and for the most part won't add bulk to your iPad.
You can put it in your bag and the screen is covered. Un-clip the screen protector and place the iPad in a business card holder to hold it upright for viewing.
Price: $19.99 | Product Page
Pink Graffiti Sleeve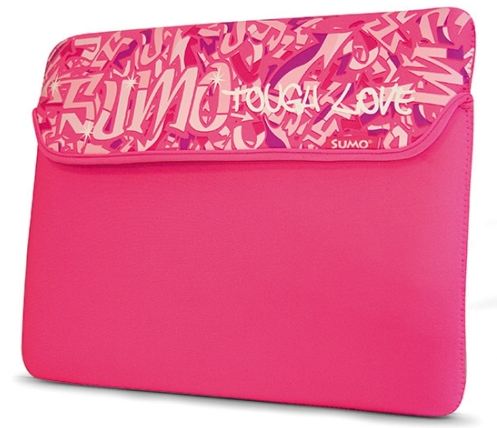 Okay! We know this is not a iPad case, but it was too impeccable to skip this iPad sleeve while searching. This iPad sleeve designed exclusively for iPad, is soft, durable and water-resistant – made of pink neoprene with cool graffiti flap.
The sleeve can easily replace many of the iPad cases and does not need any extra protection as it is hard enough to survive minor bumps.
Price: $25 | Product Page
iLuv Fabric Pink iPad Case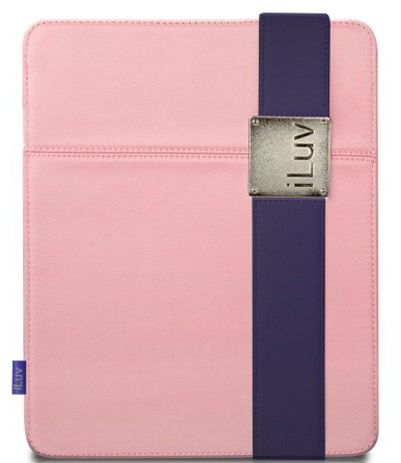 This is a casual and designer case for your iPad with decorous looks. The best thing about this Pink iLuv Fabric iPad case is that every time you insert your iPad inside , the screen gets wiped out clean with the soft cloth inside.
Price: $14.59 | Product Page
Stylish iPad Cases
If our collection of Pink iPad cases or Leather iPad cases have not fulfilled your appetite yet, worry not. We will now portray 4 Stylish iPad cases among which one will definitely suit your 'Style'.
The Good Flock Wool iPad Case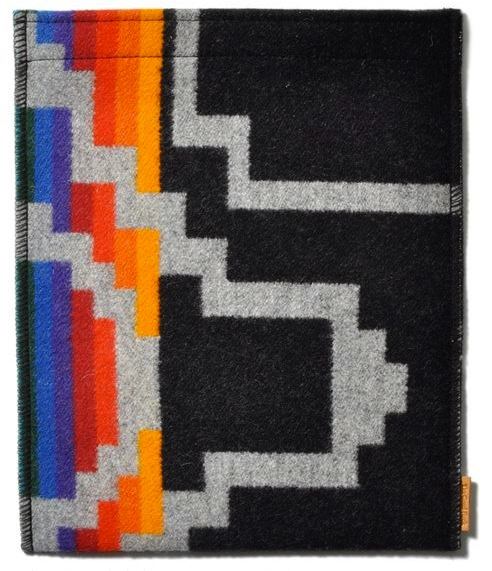 The first runner of this style show is Good Flock Wool iPad Case, handmade from virgin Pendleton wool and vegetable dyed leather.
This woolen iPad case is surely a better alternative for mundane neoprene and rubber iPad cases. It fits your iPad with or without the magnetic cover, providing extra cushioning for better security.
Price: $59 | Product Page
BoxWave True Bamboo iPad Case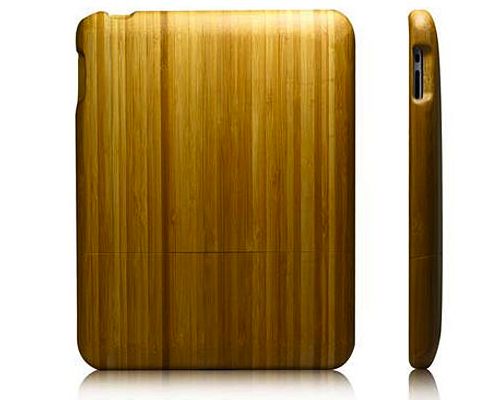 This one's for our Eco-friendly readers. This True Bamboo iPad case is made from natural products and prodigiously to give you sturdy protection and modern looks.
It is covered with soft velvet from the inside to protect your iPad from scratches and is open up-front to use it "naturally" like an iPad.
Price: $27.95 | Product Page
Dodo Hand made iPad Case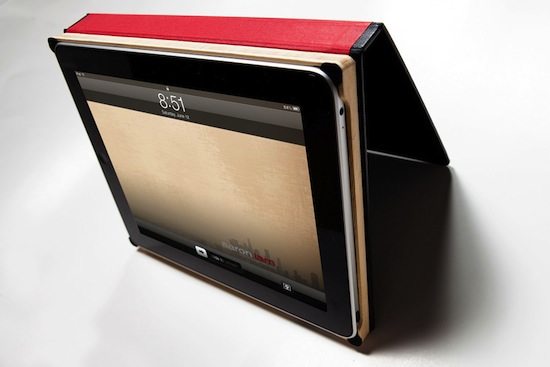 This is an Award winning iPad case based on simplicity and art. These cases are handmade in San Francisco with basic book binding techniques to elicit elusive artistic effects to your tablet.
Price: $59.95 | Product Page
Byrd and Belle iPad case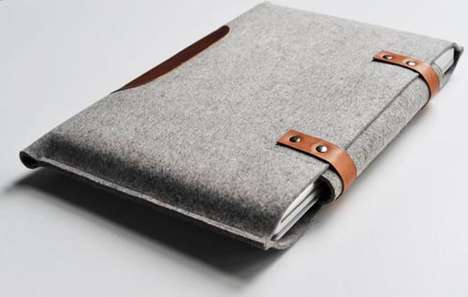 To finish up with category, we present you the simple and stylish Byrd and Belle iPad case made from fine wool which gives your iPad protection and right feel.
Price: $48 | Product Page
Fashionable iPad Cases
Scrolling this far clearly shows that you have a strong passion for choosing the best and do not believe in pick-the-first-rose philosophy.
Well! Let's say, the feeling is mutual. So, we have continued the post with 4 fashionable iPad cases.
M-Edge GO! Jacket iPad case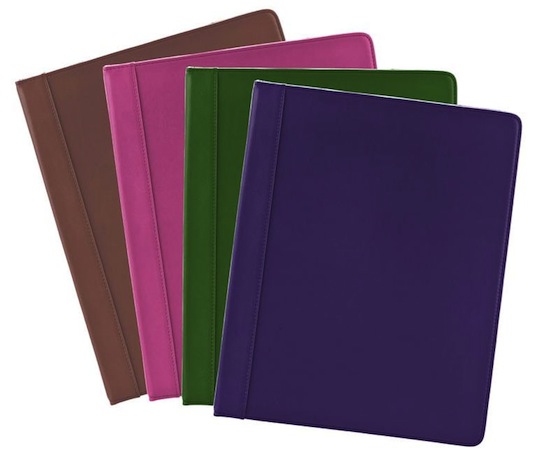 This iPad case is cheap, stylish, compact and light weight. The cover is hard, durable and does not allow dirt to stick. Interior is made of soft grey micro-suede for protection from wear and tear.
Price: $19.99 | Product Page
Mophie Workbook iPad Case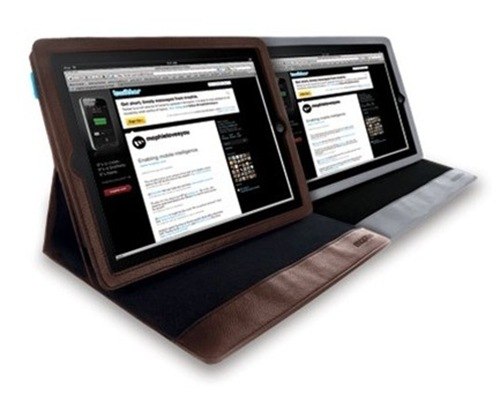 The Mophie Workbook iPad Case offers many viewing angles for comfortable writing, reading or watching a movie.
It is made from faux leather giving it durable protection from outside and has scratch proof protection from the inside. The case also gives accessibility to all the ports without having to remove the device from the case.
Price: $49.95 | Product Page
Macally BookStand iPad Case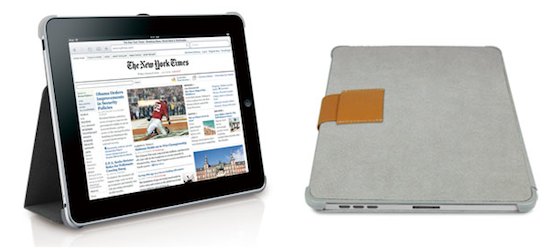 The Macally's fashionable iPad case is constructed with durable light-weight material and allows the user to use all of the ports when the iPad is in the case.
It can be adjusted to be used as a stand as well and is available in five vibrant color variations.
Price: $29.99 | Product Page
Etsy Recycled Denim iPad Case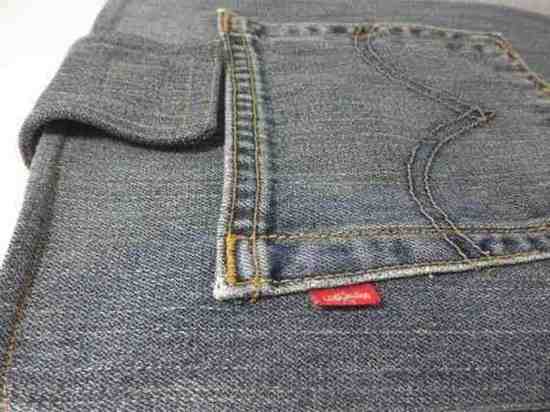 This iPad case is a unique design made from newly cleaned, recycled pair of men Levi's jeans.
It is internally lined with fluffy fabric to prevent your iPad from scratches keeping it clean at the same time. It measures approximately 11″ x 9″ and uses Velcro closure.
Price: $29.00 | Product Page
One of these cases and covers will definitely satisfy a design lover within you. If you own an Apple iPad or iPad 2 and don't mind simple Do It Yourselves, you might also want to create your own DIY iPad stands.
Let us know what you think of this post. If you haven't already, please like GeekNaut's Facebook page.
Don't forget to drop us a comment if you think we missed including some awesome iPad case.