Let me be honest, I have been one of the biggest fans of Firefox during the last few years. You can imagine how big of a fan I am by knowing this. Whenever I visit a friend's home to 'fix their PC or Mac', the first thing I do if they don't have Firefox is download it right away and tell them "Chrome sucks". Yeah! They go on and on about how much faster it is than Firefox to which I reply, "It may be faster, but Firefox is the most stable. It won't crash, it won't give up on you". That's just what I used to do. Well, not any more.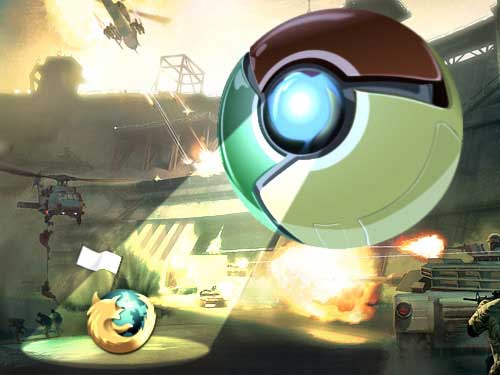 I think that Mozilla has messed up Firefox during the last few months. They are bluntly copying Chrome's URL bar but not their speed. It sucks that whenever I fire up Firefox, there is a minimum 5 second lag from opening of the window to the point where I can actually use it. I have a June 2009 MacBook Pro with 4GB DDR 3 RAM, a graphics card, 2.53 Ghz Core 2 Duo processor and a well maintained Lion Operating system.
My MacBook Pro may not have a gazillion GB of RAM or the i7 processor. It may not be fast enough for Battlefield 2 but it is fast enough that Chrome runs so much faster that these days I prefer using it over Firefox on my Lion installation. I have tried to make it faster by cleaning the plugin list of Firefox to no avail. Cleared the history, deleted Cache, uninstalled and then reinstalled both Lion as well as Firefox. But it hardly matters. 500GB of RAM is used by Firefox faster than I can open 'Activity Monitor'.
Mozilla has been so much occupied by trying to do what Chrome is doing that they forgot what the actual reason for people was to use Firefox in the first place. That, it was innovative, industry leader and faster than Internet Explorer (and more secure). Chrome moved to faster version releases, so did Firefox. Firefox 4, 5 and 6 were released literally with just months between their launches. Firefox 6 didn't even have any notable feature to deserve a whole new version.
When Apple released Mac OSX Lion, I refreshed the Firefox homepage for the entire day because I believed that would release a new version with Lion compatibility on that same day. Guess what, they still haven't. We are at 6.0.2 and Firefox still doesn't have a 'Full Screen' option. Chrome has it, Safari had it from day one on Lion (heh!) but my favorite browser doesn't. I wouldn't so much as care if everything else was awesome like it used to be on Firefox before.
I guess I will just stop using Firefox until they fix their memory issues, make it fully compatible with Lion OS and become as much fast on Mac as the Chrome if not faster.
I am not a programmer and have never claimed to be one. However, here is how I would improve Firefox for Lion OS if I were Mozilla.
1) Iron out the bugs on the current version as soon as possible. We only want to use a browser if it is not buggy.
2) Add a full-screen option like Chrome has and don't just hide it inside the view menu. Make the transition seamless.
3) Better memory management. If I fire up a flash video, RAM consumption almost doubles. It remains there even if I have closed the video and have just a blank page open.
4) Easier way to start-up Firefox in safe-mode. Right now, I can do that only via Terminal window. If there is a GUI option, please make it more prominent.
I would love to use Firefox on my Mac Lion operating system again and not have to worry that there is a faster browser out there.