Apple has changed brilliantly the tablet market and has brought a revolution by making iPad a near replacement for a Desktop/Laptop.  The only place where it seems to have constrained  the functionality is during heavy typing. Touchscreen devices have always been a headache for writing purpose and the keyboard manufaturers  know this very well and have created a panacea for this ailment. Many top keyboard manufacturers have developed Bluetooth keyboards for both Tablets as well as smartphones at a reasonable price.
You might also like cool computer keyboards and bluetooth android keyboards.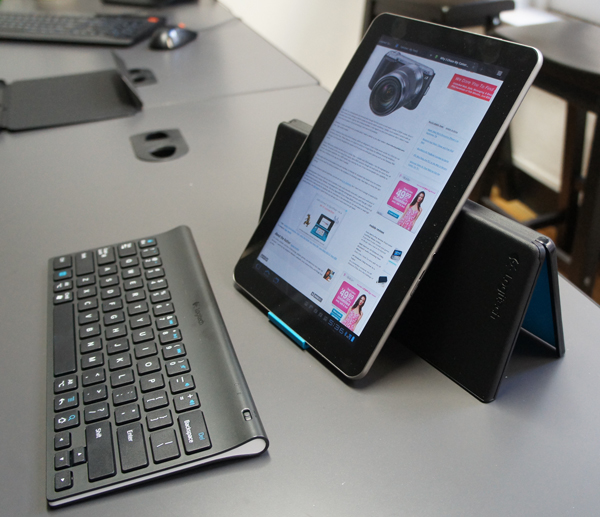 Logitech is one of the best such Bluetooth keyboards that eases  typing to a great extent. The Logitech keyboard comes with a stand and turns your iPad into a complete work horse. The keyboard is light weight and its cover can be used for protection of keyboard and when in use the cover can be used as a convenient stand to hold the tablet at a perfect viewing angle. Media controls are also available to adjust volume,  play, pause your media files on the go. With the performance and design it has to offer this Keyboard helps your Tablet to reach a near laptop experience.
Design
The design of this keyboard is just eloquent and imperatively functional. The Logitech iPad Keyboard is a 2 in one accessory, used as an iPad stand and of course a fully functional keyboard to help you type anything from an email to a blog post.  It is also provided with a fleecy case that cleans the Keyboard keys every time you slip it out. The keyboard is capable of holding your iPad both in landscape as well as portrait form and  is very magnificently engineered to be adjusted in different desirable viewing  angles.
Keyboard
The Keyboard is a QWERTY island-style layout type with flat tops resembling the Keyboard design on MacBook (Without Back-light). There are also additional keys besides the traditional keys which include some multi-media keys for Home and Back plus Menu and Search via the Fn key. Overall, the keyboard  does more than fine if used for what it was made for.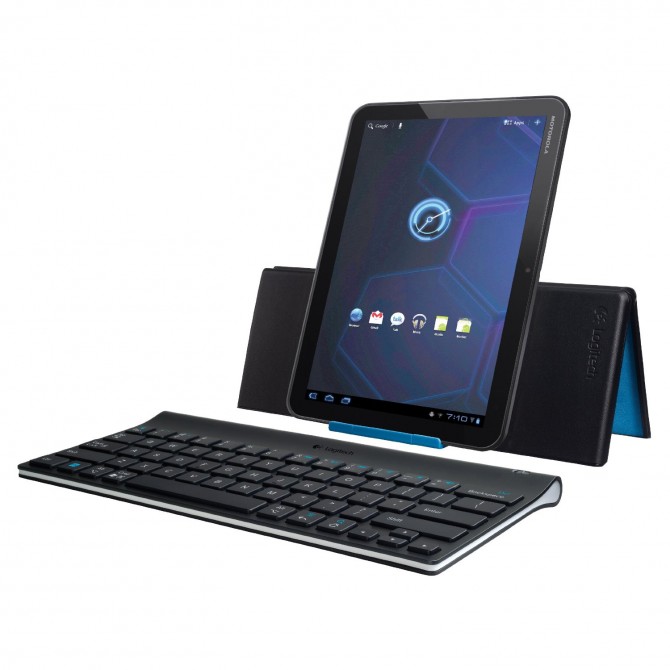 Setup and Performance
Connecting the Keyboard with your iPad is pretty much easy. All you have to do is turn the iPad Bluetooth on, press the Connect button under the front of the keyboard, then scan for devices. Once paired, all you need to do is turn the keyboard on; the tablet will recognize and connect right away.
Since, the  range for a normal Bluetooth connection is 10ft so you "can" use this keyboard for typing from 10ft distance and it just works fine (but would you?).
Final Words
To finish up this post we would like to say that this keyboard is one of the best iPad Keyboard available in the market due to its smart design, functionality and looks. The Keyboard is a very good buy if you are more of a travel guy and  looking for  well designed, compact Keyboard cum stand for your Apple iPad
 Price: $49.99 | Amazon
Check iPad cases with keyboards too if you like this post.