Eloquence, art, luxury are some of the many words that come to our mind when thinking about the prodigious device named rhetorically as Apple iPad. Apple iPad can be thought of as a personal assistant, a companion, a business partner, a personalized treasure of entertainment, a professional guide and much more. Albeit, it is constrained by a simple feature of a physical keyboard.
What some people may label as flaw has been taken care of by many cases designing as well as bluetooth keyboard manufacturing companies. There are many Bluetooth keyboards available but considering the real purpose of an iPad being a powerful portable workhorse it feels awkward that we have to think of a separate baggage to carry these Keyboards.
In this post we have collected some of the best cases with extra room / space for your Keyboard and plenty of other features.
If you like this pot, you are going to love best cydia apps, designer iPad cases and DIY iPad Stands.
All these iPad cases have durability, elegance, compactness and protection as their main feature. Other extra facts about the particular case listed are written where needed.
Targus Versavu Keyboard iPad Case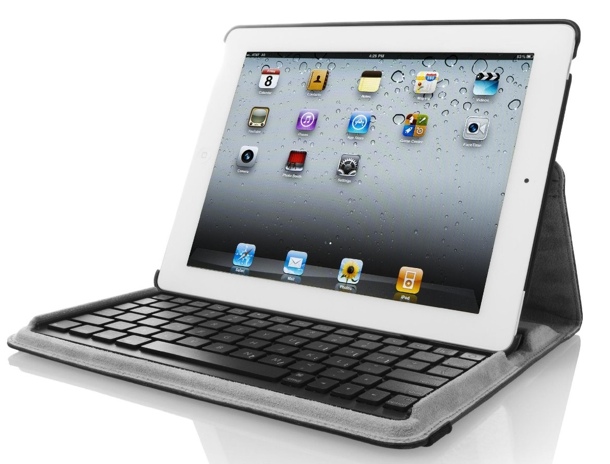 Targus products are known for their extrinsic appeal and internal protection. The Targus Versavu Keyboard iPad Case takes both of these features to a whole new level with its integrated scissor-type keyboard which ultimately facilitates you a better writing experience.
The case is a well thought product and gives you easy access to all the ports and an extra room for stylus. It handles both portrait and landscape view adorably and at perfect angle with its patent-pending technology. The case is available in Black/Gray and White/blue inexorable intimidating colors.
Price: $65.75  | Read Review
CLAMCASE iPad Case with Keyboard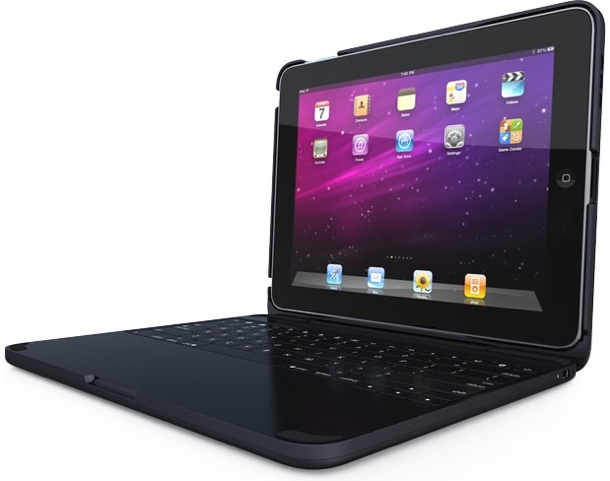 With its patented Hinge technology, this case helps you to get the most out of iPad and simultaneously allows you to retain the original feel of iPad / iPad 2 whenever you like with the help of it's smooth 360 degree precise movement. The keyboard is fully functional and the case is protective, simple but beautiful and with its versatility gives you the best of both worlds .
Price: $149 – More info  | Find on Amazon
The Logitech Keyboard Case by ZAGG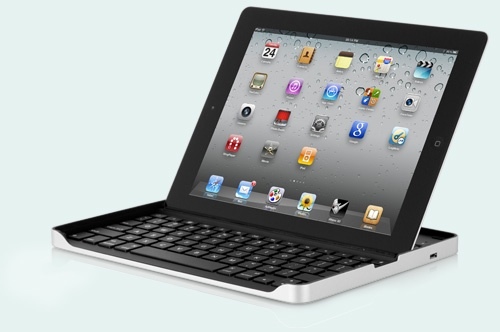 Protection is the foremost criteria that everyone usually considers before buying an iPad 2 case . The Logitech Keyboard Case by ZAGG doesn't fail you on that front, neither does it at perfectly integrating the wireless keyboard. To equip your device with ultra protection this device has many impressive things to offer.
The case is made from Aircraft grade aluminum externally and internally is cushioned with military grade high-density padding to protect your iPad from drop damage and finally has a low profile stand that holds your iPad safely in both landscape as well as portrait view.
The other features include the exquisite finish matching the iPad substantiated with the anodized, bead blasted  Aluminum. The case is embedded with Wireless bluetooth physical fully functional keyboard, does not effect the overall size of your iPad  and all this only at $98.40.
Price: $98.40 | More Info
Kensington KeyLite Ultra Slim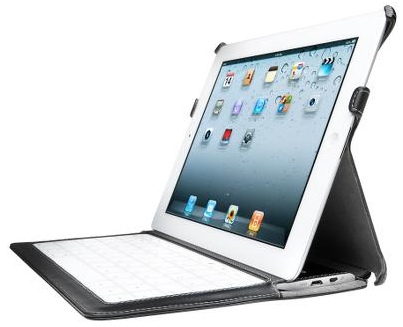 If you bought your iPad 2 for its delightful touch sensitivity and the feel then this case  is your best bet. The KeyLite™ Ultra Slim Touch Keyboard Folio   adds to the protection attribute with its micro-fiber material and is ultra-slim and light weight for carriage convenience.
The highlight of this case is its embedded touch sensitive, dust/liquid proof iPad friendly keyboard. If you have to travel a lot for your work then this case can more than satisfy your needs with it's triple duty versatile design.
Price: $93.82 | More Info
iLuv Professional Case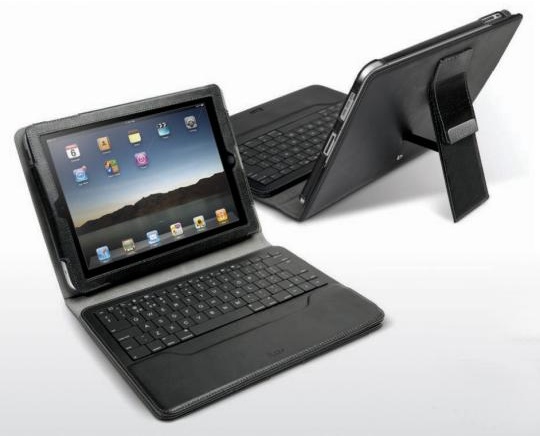 This Professional iPad 2 case comes with a detachable Keyboard and gives you the elegant feel and protection of leatherette. The cases is suitable for professional environment and the integrated keyboard is perfect enough to give you a great deal of flexibility while writing.
The detachable scissor- type keyboard gives you proficient key responsiveness and also has many exclusive iPad keys to help you get most out of your iPad. The  5 day working and 30 days standby battery back-up is the main and worth mentioning feature of this case. Aesthetically, the design is perfect for every business environment and blows every other case out of the water by its looks-cost ratio.
Price: $62.96 | More info
You can also try and look for these iPad cases with keyboards on Amazon for a better deal. We found cases as low as half the price of what the actual manufacturers are selling them for. Let us know if you have a favorite yet.