Google Chrome earned the privilege to be set as a default Browser for many users which can be attributed to its minimalism, simplicity and most prominently the speed. However, many users report about an error which shows up as a tab near address bar , shouting "The following Plug-in Has crashed: Shockwave Flash". The error message wouldn't bother users if it did not crash all the media running on the browser and choke every command from being executed there-on. Google Chrome in particular reiterates this problem because of the way it handles flash, which brings us to:
What Causes Shockwave Flash Crash?
Unlike other Browsers that use the Flash installation of host System to handle Flash content, Google Chrome has a novel way to deal with it. Chrome comes bundled with an internal flash installation (Plug-in), this in itself is not a problem and everything runs smooth with constant updates and all. The problem starts when Chrome is not able to differentiate or worse yet, handle the OS Flash installation properly.This ambiguity eventually builds up into confusion, clutter and terminates everything that uses Flash. The importance of Flash can then be assumed by the fact that everything starts to fall apart from that point on including the problems  like serious browser lag, temporary lockup, and then a browser-wide crash of all active Flash instances and a cute little message pops up like a tab shown below.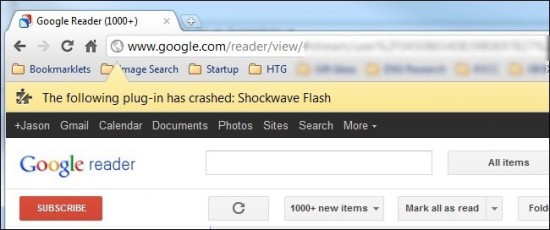 The Flash installation incompatibility may not always be responsible for this Shockwave Flash Crash so we have divided the solution into two main categories. The first one will be dealing with problem listed above and the Second one with everything else.
Before we show you the fixes, you might want to take a look at YouTube No Audio Fix and How to Make a Bootable Windows 8 USB Stick.
How to Fix Shockwave Flash Crash Caused by Conflicting Flash Installation?
This by far is the most common cause that cause Shockwave Crash in Google Chrome and you can run a simple test to check if this is the problem with your copy of Chrome too.
Step 1: Run your Google Chrome, Navigate to address bar, and type in "about:plugins" without quotes and hit enter.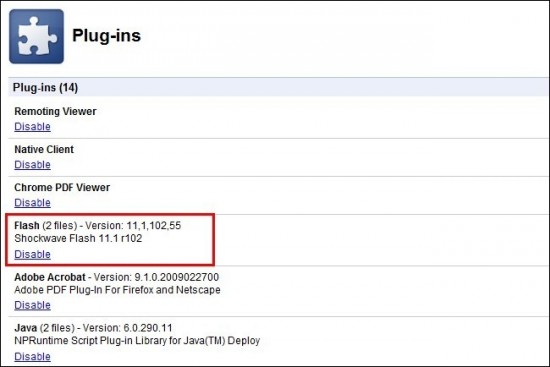 Step 2: Check out for a list of Plug-ins installed on your Chrome , your prime focus should be to detect something like Flash (2 Files) from the entries list. If you see one, then you can follow the steps listed next, to get rid of Shockwave Flash Crash.
Step 3: Click on the Plus [+] icon located on the top right-hand corner of the same plug-in window you were in the previous step.
Step 4: From the detailed entries that show up after you enabled the [+] toggle, Navigate to the Flash Entry Again.
Step 5: You will now see two Flash installations on your Chrome which will look like the screenshot shown below.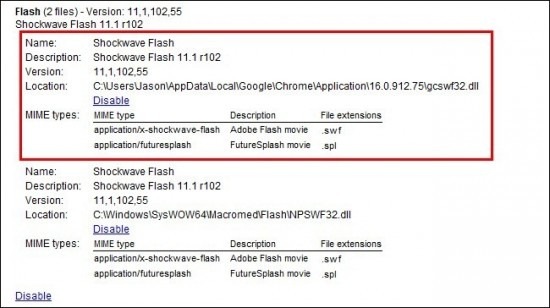 Observe that in this example the default Chrome Flash Installation has been highlighted red and the OS Flash installation  lies just below it.
Step 6: Disable the Link for Chrome's internal installation of Flash, that is, the one highlighted in the above screenshot with Chrome's AppData folder path. The final details should look like:

Step 7:  Close the tab and restart Browser and enjoy normal Browsing experience. Check Adobe's Test Page to ensure that the Shockwave flash crash is fixed.
Note : This process will deactivate automatic Flash Updates but you can still enable it without triggering the crashes again by checking for updates at Adobe's Flash download page or turning on the update check in your local installation of Adobe Flash. Also, if this does not fix your problem try shuffling the Internal Flash Chrome Installation with OS installation. Alternatively, to perform a litmus test for the problems with any other extensions that maybe causing this problem, you can try running Flash Content in Incognito Mode which disables all the other extensions.
How to Fix Shockwave Flash Crash Caused By Everything Else
A simple quick fix for ShockWave Flash Crash has been developed by Intel and is compatible for all browsers including Chrome, running on all major Operating systems such as Windows 7, Vista and XP. You can Download Shockwave Flash Crash tool and see if that helps. If even this does not help, as a last resort, re-install Google chrome.