Cydia is the platform for jailbroken iPhones, and enterprising developers are quickly creating apps that can be downloaded and installed, bypassing Apple wall.  A few of the popular apps that have been published are listed below.  These are some of our best Cydia Apps 2013 you should be considering.  Share your favorite best jailbreaking apps with us below as well.
SBSettings
SB Settings is a free app that allows you to adjust the default settings of your iPhone. Developers are creating more modules and plug-ins that make us of features of the SBSettings. With SBSettings, you can use the home button to clear your memory, or access the task manager, simply by using the process button.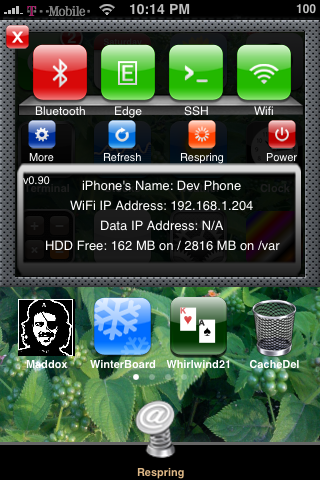 IntelliScreenX
Is one of the Cydia favourites. It provides an easy way to access your social networks such as Twitter and Facebook, and your email or RSS feeds, by swiping the address bar. IntelliscreenX has also the ability to compose text messages. Widgets include the display of local weather condition, the time and date, as well as the ability to control panel display brightness. You can also easily switch from Bluetooth to WiFi.
ProtectMyPrivacy
Is another free app that shows the information that is being sent. You can find out not what attempts are being made to access information on your phone, an why your contact list is being accessed.
Firewall IP
Is not free, but this app shows much more than you expect to be happening on your phone. Whenever you connect to any server online, this app displays a pop-up whenever a request for connection is made, and apps can often be connecting without your knowledge. The popup windows displays the server address, the port, and you have the option to allow or deny the connection.
FolderEnhancer
Is a free app that allows you to put pages of apps inside folders. It can help you to become much more organized as you can now created subfolders instead of having several consecutive folders, can now create a hierarchy.
 NoNewsIsGoodNews
Is a free app that eliminates the annoying Newstand icon from the springboard. If you do not use Newsstand, you may find this app to be of use.
Winterboard
Winterboard is one of the free apps and a perennial best Cydia apps 2013, that provides themes for your springboard. Your iPhone can be made to resemble an Android, with a free GUI. Winterboard will also allow you to customize your screen, with changes to the lock-screen, and the dock icons. Interesting and sometimes quirky, you can change the signal bars to a batman mask.
 BetterChrome
If you use Chrome, you will find BetterChrome to be handy. It is a free app that adds a few more menus to the Chrome browser on your iPhone. You can share your content with your social networks, or quickly add a bookmark on your home-screen.
Shrink
Shrink reduces the size of the icons on your phone, so if you have quite a bit of apps, cab save valuable real estate, without excessive scrolling.
 Dreamboard
Dreamboard is another free app, that is similar to Winterboard, but it may not be as intuitive and contains more features. There are hundreds of different themes, and you can have fun dressing your phone as you like, however this app should be used with discretion as it tends to drain your resources.
How about you?  What are your favoriteiPhone Cydia Apps for 2013?  Share below in the comments what your favorites are right now.