We have been receiving a great deal of responses on our earlier best cydia apps of 2011 post and it only seemed fair that we follow-up with an updates, best list of the apps for jailbroken iOS devices. Cydia is best repository of iOS apps after the official App store and we all know how picky Apple is about Apps that get approved to be listed in the app store. You are never going to find an app on the app store that customizes you phone too much. Apps like Winterboard with themes, Cyntact and MyWi would have been impossible without the Cydia store.
Cydia gets its own share of spammy, unprofessional apps. Pretty much like the Android does and we are here to pick out the gems in the cloud of rocks. We have showcased 30 best cydia apps of 2013 for iOS 5.0+, iPhone 4s, iPad 2 and other newer devices. These apps will no doubt work on earlier firmwares too, but they have been designed for the new iOS and you should run them on the new devices too.
You might also like to check our earlier posts about best photography apps for iPad and best cydia sources for even more cydia apps. If you want to receive future updates about cydia apps, subscribe to our RSS feed or connect with us on Facebook.
Sara
Sara is the Siri for non iPhone 4s devices that have been jailbroken. Sara works pretty much like its iPhone 4s counterpart and will answer most of the question people have been asking Siri. Questions like "Will you marry me?", "Are you a boy?" will be answered with witty responses. It is pretty much the only app that seems to be working on pre iPhone 4s devices flawlessly.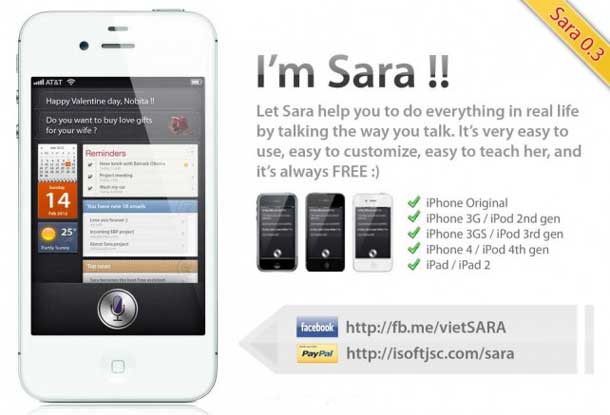 Installing Sara is pretty straigh-forward, you add a source, check for the package, install it and start using the app. To install Saraon your device, open cydia and follow the below steps:
Tap on the 'Manage' icon on the bottom navigation bar.
Tap on the 'Sources' menu and then tap the 'Edit' button.
Tap 'Add' button and a text input bubble will pop-up.
Enter http://isoftjsc.com as the repo URL.
Add the source and then search for "Sara" using the search field in Cydia.
That's about it, you can now enjoy using Sara on your non-iPhone 4s device running iOS.
CyDelete
It is one of the most useful and time-saving cydia apps you can find today. What it does is, it lets you delete any cydia app pretty much like you delete any other App Store app – tap and hold the app and then press the 'delete' icon on top left side of the apps.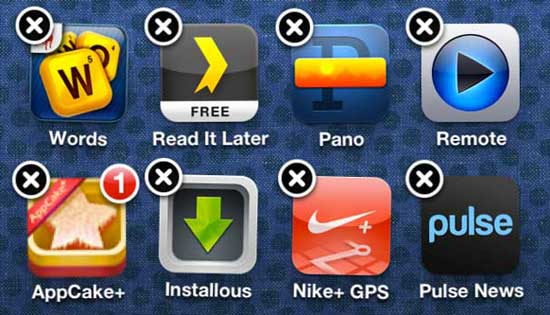 This app can be found in the Big Boos repository. You can install it by doing a search for CyDelete and then installing it.
DisplayOut
Exactly what the name suggest. This Cydia tweak lets you mirror your iOS device display onto a bigger screen. Gaming and other video content is supported, so you will be able to play games on your big screen TV via your iPad or iPhone.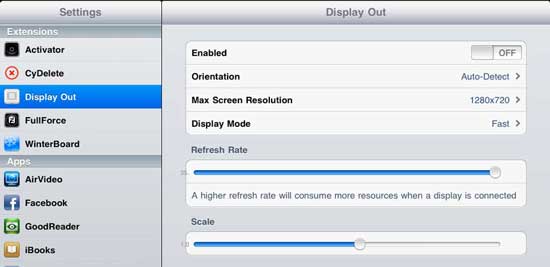 This app is great for people that don't have a Wi-Fi quiped TV or an Apple TV that lets you mirror the iOS device without the use of any cables.
iProtect
If you don't want to protect your iPhone with a universal passcode but want to protect some of the files, picture, data on your iOS device – iProtect is a great app for you.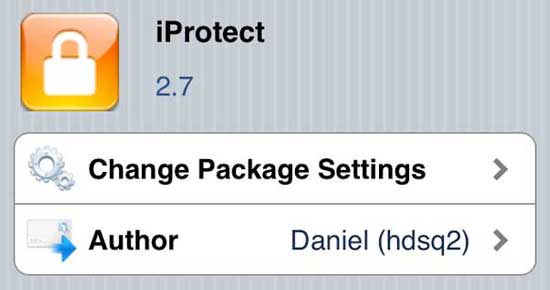 This cydia tweak lets you protect all your apps, contacts, dialed number, photos and files with a strong password.
Swipe Navigation for Music
We all love gestures more than we love tapping like mad on our screens. This app integrates Swipe gestures into your iOS device's stock music app and lets you control your libraby using swipes, rather than taps.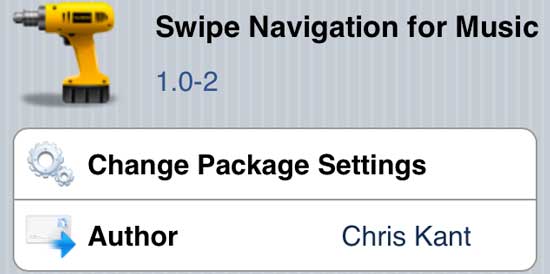 You can simply swipe your finger backwards to go the previous track or swipe forwards to move to the next.
RecognizeMe 2.0
One of the most frequent features that Android users have againt iOS is that the later lacks facial recognition to unlock while devices like Galaxy Nexus come with that feature built-in. RecognizeMe 2.0 brings that feature right onto your jailbroken iOS device with a simple app install.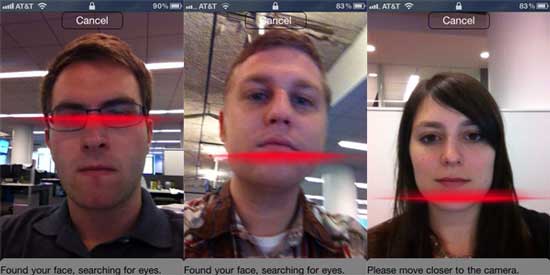 It is one of the most wanted Cydia apps and you you don't want to miss on this feature. If you have a jailbroken phone and have always wanted facial recognition, you should install this app.
More info on Recognize Me 2.0 for iOS.
AdBlocker
If you are tired of seeing webpages and iOS apps riddled with ads, this app is your best friend. It blocks all major ad networks from running ads on your device and hence providing you with a cleaner version of apps and websites.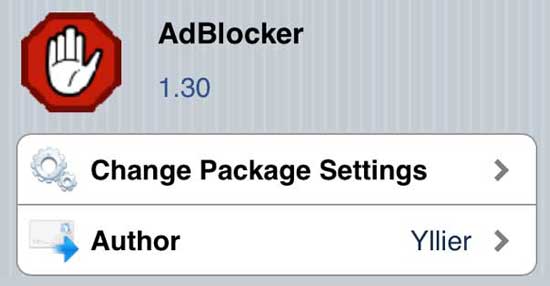 This app has a mere $2.19 one time fee and gets rid of the ads for lifetime.
MultiIconMover
If you move your apps regularly, or if you are a big fan of customizing your phone every few days and as a result have to move the apps a lot, MultiIconMover is an app worth checking out. You can select multiple apps at once and then move them together wherever you want on the iOS device.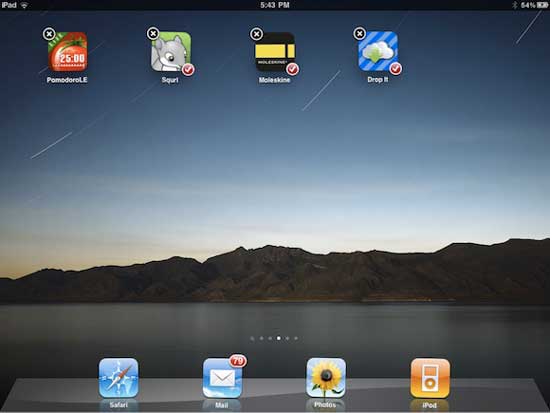 To install this app, head over to Cydia search option and search for "MultiIconMover". You should find it in the Big Boss repository.
Grooveshark
You can find an play any song on the iPhone, iPod touch or iPad using Grooveshark app available for iOS exclusively on Cydia. Grooveshark lets you make playlists, listen to radio and download music for offline listening. You can favorite any song you like to bookmark it.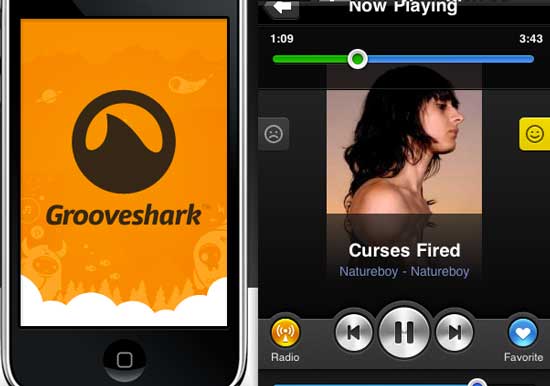 Grooveshark isn't available in the App store right now because it conflicts with what iTunes is trying to do with music, make it easily available. But you can find it in the Cydia app and listen to music right away.
More info on GrooveShark 2.0 on Cydia
Cyntact
Have you ever wanted to see photos of your contacts in the contact list of your iPhone? If you have, Cyntact app is a must-have app for you. It is like a new feature for your iPhone and displays photos of people already in your contact list.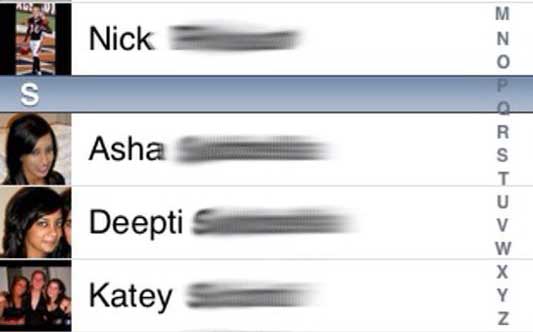 IntelliID
Have you ever wanted to know the name of that anonymous caller that bugs you in the middle of the night for no apparent reason? If you know the frustration, IntelliID is an app you will love. It shows you the called ID of numbers that are not even in your contact list.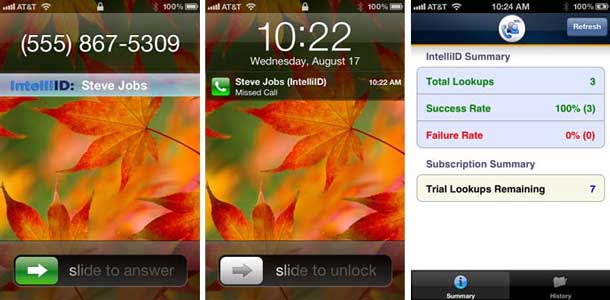 IntelliID runs a search of the phone number that calls you against their 3rd party provider which provides them will the name, city and state of the person calling you.
More information on IntelliID Cydia app for iOS
IntelliScreenX
If you have always wanted to get more from the iOS 5 notification center, this app is a must-have for you. IntelliScreenX allows you to glimpse at your critical data like reminders, safara feeds, emails, calendar entries and tweets on your iPhone "Slide to Unlock" screen. Many call it a reason to jailbreak the iPhone and we call it one of the best cydia apps.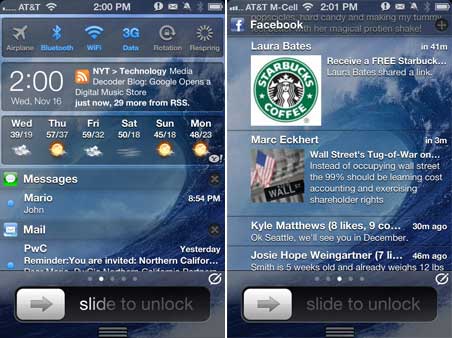 More information on IntelliScreenX for Cydia and iOS 5
AirBlue
AirBlue lets you send and receive files on your iOS device via bluetooth. You can share files between two iOS devices, between an iOS device and an Android device or any other device capable of sending and receiving files over bluetooth.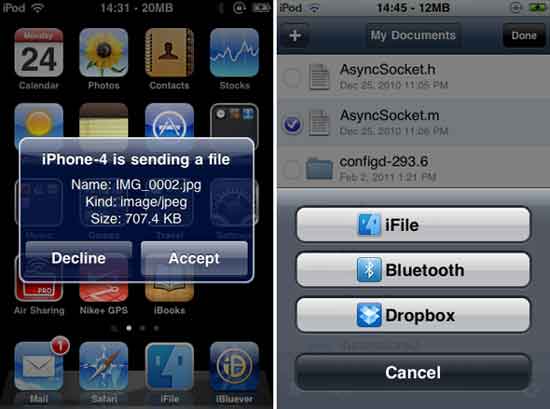 This app is only compatible with iOS 5 but should support older version very soon.
More info on AirBlue Cydia App for iOS 5
Swype
Swype is one of the most popular keyboards for Android and now you can install it on your iOS device via Cydia. It is available on cydia as a standalone app. With Swype, a user can input text faster with accurate predictions and much more.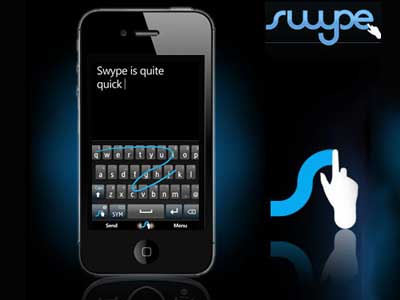 To install Swype, open cydia and add the below source to it.
http://wynd.x10.mx
Then search for Swype and install it.
Autocorrection Bar
If you want the Android style auto-correction bar on your iOS keyboard, Autocorrection Bar is a cydia app you need. It provides you with different word-prediction while you are typing the word. You don't have to rely on iOS's built-in auto-correction feature which only corrects the word when you press a space and it doesn't even show you different word options while typing.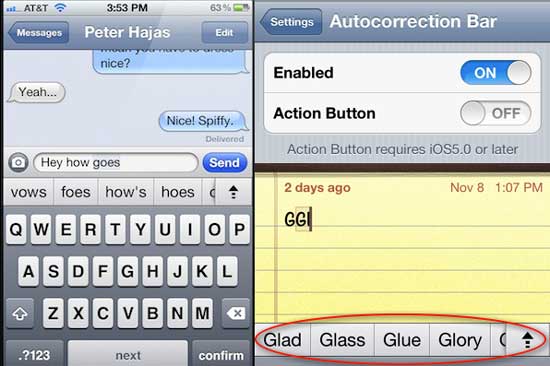 Read more about Autocorrection Bar for Cydia
TruPrint: If your iOS isn't compatible with AirPrint(Apple's own over the air printing solution) for some reason, you might want to give TruPrint a try. TruPrint brings iOS printing to hundreds of printers from various manufacturers.
ProTube: Protube lets you do more with YouTube. You can select to watch videos in SD or HD and download them to your device if you want. You can comment using this cydia app. One of the best option I liked was the ability to save MP3s from the video songs you like.
WeeSpaces: This Cydia app enables multitasking on the Notifcation center.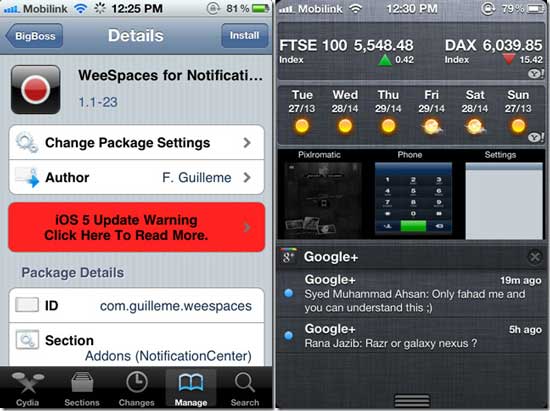 Zeppelin: You can easily swith carrier logos with this simple cydia tweak. You can either apply your own Carrier logo or select from some of the ones that come in stock with the app.
App Stat: It shows you what apps you spend most of the time with. With App Stat, you can see how many times an app has been opened and hence ttrack your app usage.
CleverPin: Most of us secure our devices with PIN because if we loose our phone, atleast the thief won't be able to see our data. But, what if you only had to enter the PIN when you left your home or office? CleverPin lets you do just that. It disable the PIN when you are on a particular wi-fi network. For example, your iOS device won't ask you for a PIN when you are on your home Wi-Fi network. It works pretty much like the AirLock app Store app but with Wi-Fi instead of AirLock's bluetooth feature.
WeeKillBackground: If you like to close down all apps after you have used your iPhone for the day, you will love this app. WeeKillBackground lets you close all open apps with a single tap on the screen.
AnyLockApp: You can put any app on your lock screen with this cydia tweak. This app can replaces the camera icon on the lock screen with any app of your choosing and hence provides easier access to that app.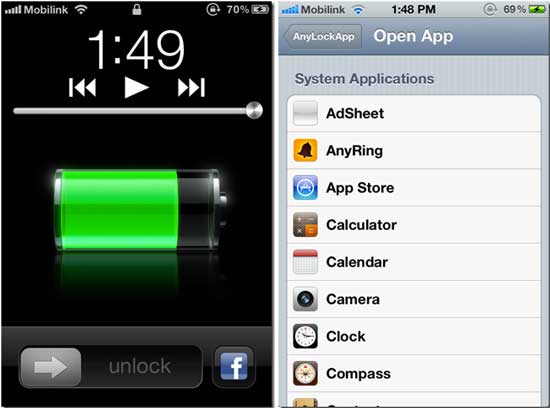 SuperSwitcher: With this app, you can favorite any app and it will be added to your multitasking bar. Frequently used apps should be added as a favorite for faster reach.
Zephyr: Zaphyr brings smooth multi-tasking swipes to iOS's multitasking bar. You can switch between apps by swiping left of right.
Covert: Have you ever used the Incognito mode on a chrome browser? Ir is a private browser window that leaves no history marks, no cookies, no sessions and no footprint on your browser. Covert works exactly like that. It doesn't leave any tracks of your browsing on the iOS browser.
Facebreak: FaceTime works only over the Wi-Fi connection and many people hate it. FaceBreak is meant to fix it. It allows you to place FaceTime calls over the 3G connection too.
Notified Pro: It is what the iOS notification center should have been. Notified Pro lets you do more with Notification and customize almost every aspect of it. You get notifications from a wider range of apps.
Firebreak: Firebreak enable panoramic photography in the stock Camera app. You don't have to open a new app to take panorama photos on your iOS device.
SpringFlash: You can easily use your iPhone as a flashlight and this app makes it easier for you to do so. SpringFlash lets you activate a flashlight with a simple Activator-based gesture.
Spire: Spire brings Siri to pre-iPhone 4s devices that aren't meant to run the virtual assitant. It is the first legal port and works effortlessly on pre- A5 devices like iPhone 4, iPod Touch, iPad and iPhone 3Gs
[highlight color="yellow"]More: 70 Best Cydia Apps for iOS Devices[/highlight]
We hope you found most of these cydia apps and tweaks useful. We will keep this post updated with more cydia apps that are launched this year.