So, you have bought your dear Apple iPad (or iPad 2) but you are not a big fan of  "Angry birds" or Music – but instead you want to make your iPad a useful device to get the value for your money. You want it to replace as many tasks as it possibly can. Tasks you would otherwise perform on a PC or a Mac.
Apple iPad and iPhone have become very famous for the way they impart creativeness to the brains of Businessmen, artists or photographers. iPad cannot be used to click professional photos as the camera takes lesser quality images for the taste of a true photographer. However, there are many software available free as well as premium for your Apple iPad that will allow you to make the best out of your photo collection. These apps may not be a complete substitute for the dynamic photography software on the PC's  but they are sure the next best option to try when you are on the move.
In this post we have collected best Photography iPad apps that will help you enhance, rotate, edit and add a bit of creativeness to your photo collection.
If you liked this post, we have some related posts about top Cydia apps and best HD iPad wallpapers that you must checkout to get the most out of your iPad.
1. CameraBag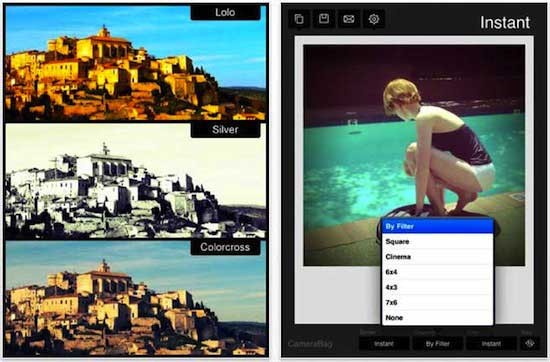 CameraBag is a simple but useful app for your iPad that enables you to add some filters (10 of them) to your photos  and also helps you to crop your photos into various sizes.
This software is a basic one and a must have. With CameraBag, you can completely bring your photographs to life by using simple re-touching feautres this app has to offer. [Download on App Store]
2. 100 Cameras in 1 for iPad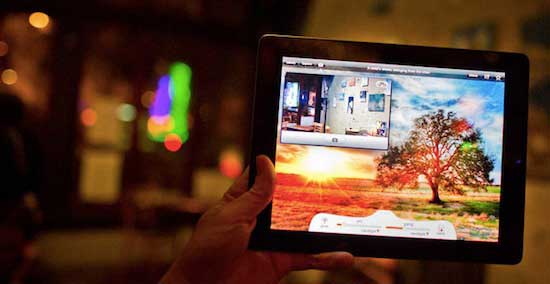 This is a very creative software that allows you to choose from 100+ different effects it has to offer in order to give your photographs a magical touch. The app also allow you to share your finished photos directly on email, Twitter, Facebook, SmugMug and Flickr!. [Download on App Store]
3. MobileMonet HD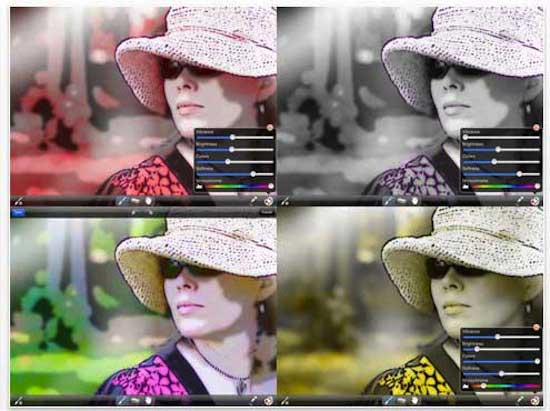 This is an awesome software for the kind who like to think themselves as photo-artists. This software allows you to convert your Photographs into eloquent artstic sketches. [Download on App Store]
4. eBook Magic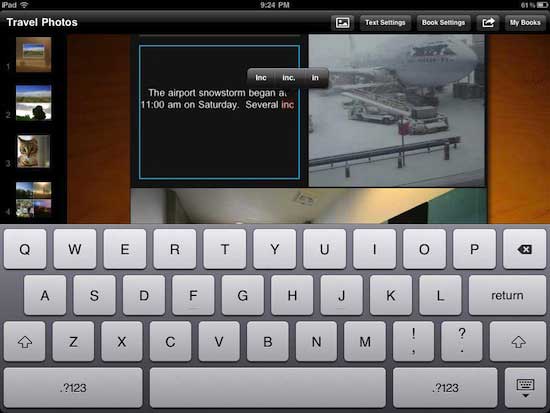 eBook magic is one the best and is in fact the first Photography iPad app to make a custom Photo book on your iPad. With the help of this software you can easily add photos to your eBook add some text and you are ready to share them with friends, family etc. [Download on App Store]
5. Fotopedia Heritage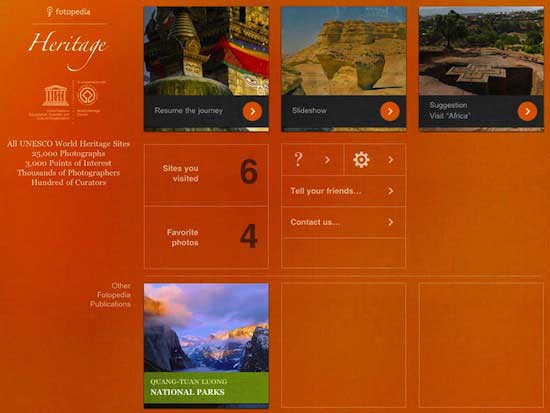 This one is an ideal free app for the people who are interested in travelling. The app allows you to browse through 20,000 photos from across the world's 890 World Heritage Sites and 3,000 points of interest. With the app, you can browse sites near and far, with GPS allowing you to find your nearest. Moreover,  you can also read a bit of history about each place and save favourite photos of your favorite locations. [Download on App Store]
6. Eye Color Booth HD – Multicolor Eye Changer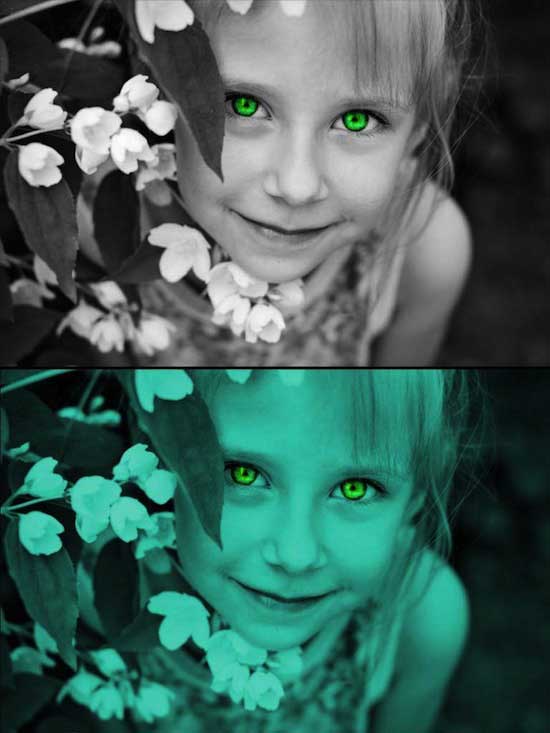 This is an easy to use software that allows you to change the the color of the eyes. The results are mesmer-EYE-zing. The app works on individual as well as group photos and the effects are finished to the best realistic quality one can imagine. [Download on App Store]
7. Photoshop Express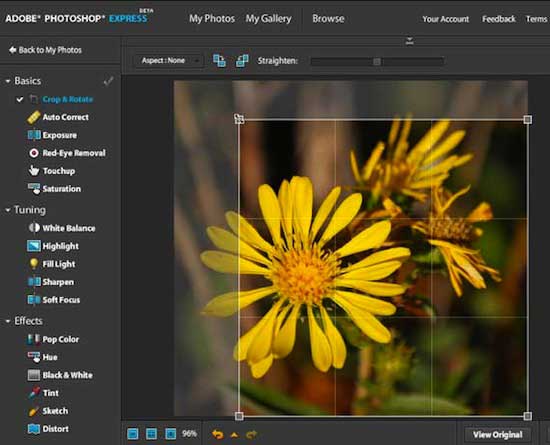 This is not actually the exact PC alternative for the Photoshop but nevertheless it is a good, basic photo-editing tool to have on an iPad. It enables you to rotate, crop, straighten and even perform more creative functions such as saturation, tint and convert you images to black and white. [Download on App Store]
8. Photo Sharing App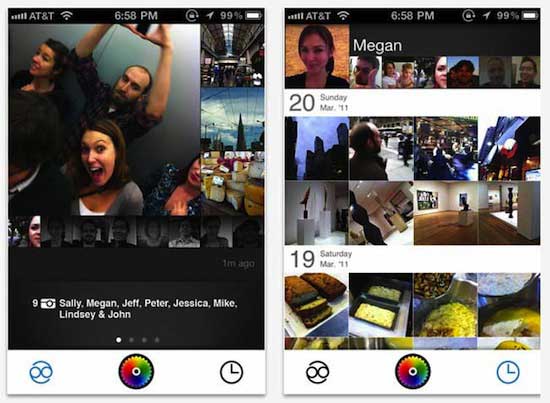 This app allows you to access photos from other devices and also allows you to can lock some photos from your PC's etc. [Download on App Store]
9. PhotoRaw Lite
A photographer knows that the best image format to carry around is a RAW format. But, often there is a problem that the proper software is not available for your device that opens RAW images of different cameras (or DSLRs). Even if there are such applications, they are still very slow to operate.
PhotoRaw Lite is the best solution to handle this issue. Raw file formats from most camera manufacturers are supported, for example Nikon NEF files, Canon CR2 files, Leica DNG files, etc.. [Download on App Store]
10. PhotoSync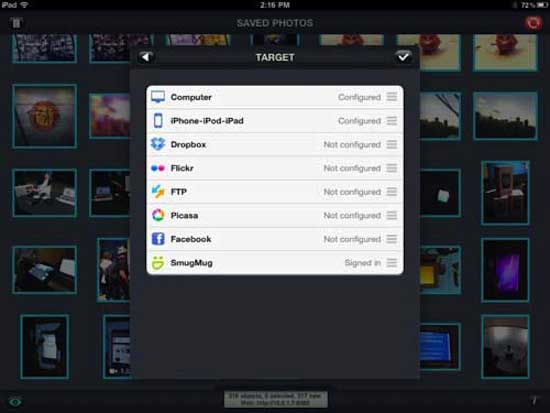 This app is very intuitive and allows you to share your files wirelessly from any device that is Wi-Fi enabled. In fact,  it's the first iPad app that makes wireless transfer of your photos/videos from/to your Computer, other devices, Dropbox, and Flickr a breeze. With this App You will never need to use a wire again! [Download on App Store]
This is not an extensive list. We are sure you would like to add more apps to the above app list. Let us know in the comments below and also check productivity apps for iPad that will further enhance your iPad experience.