There are many common issues that iPhone users face even though iPhone is supposed to be one of the most loved supherphones in the market today. Here we look at the top 5 iPhone issues and the solutions to these problems.
1. WiFi problems-
Quite a lot of users face problems connecting to WiFi networks. Sometimes the device doesn't get connected at all while at other times the connection is dropped or the signal strength is too low.
Solution- The first thing to do is to download the latest iOS version on your device. This should resolve the problem in most cases. If the problem still persists you might want to contact support or a local Apple Store to see if there are any hardware issues and if you can get a replacement.
2. Photo Stream-
This feature is quite cool because all the photos you take with the camera will be streamed directly to [store]iCloud[/store] and will be pushed to all Apple devices. However, once they have been streamed you will not be able to delete these photographs.
Solution- Apple will only store the 1000 most recent photographs so you can simply wait for them to be pushed out. In 30 days the photo will get automatically deleted from the Photo Stream. Another way to resolve the problem is by logging on to icloud.com and deleting the unwanted photographs.
3. Unresponsive device-
In many cases iPhone will just freeze, get turned off automatically or will not budge from a particular app or screen. This is quite similar to a desktop computer crashing every now and then for no apparent reason.
Solution- This is an unavoidable problem. However, usually you will be able to resolve the issue by hard resetting the device. Hold down the home and sleep buttons for about 10 seconds and then release. The Apple logo will appear and things will be resolved. If not, the problem might be deep rooted and a trip to the Apple Store will be necessary.
4. Notifications-
One of the biggest problems with iOS 5 is that you can't turn off notifications since there is no toggle switch with which you can control it. This means that you will continue to receive notifications even when you are sleeping at night.
Solution- The best thing to do to stop the notifications is by turning off cellular data and WiFi. Go to settings, WiFi and then toggle the switch off. For cellular data you can go to Settings, then to General, go to Network to toggle cellular data off.
5. Stock Ticker-
Not everyone needs the stock information on their iPhone but it seems that getting rid of it is something most users don't really know about.
Solution- You can remove the stock information by going to Settings and Notifications. Scroll down to Stock Widget. Toggle it off. Use the same method to get rid of your Weather Widget in case you don't like it.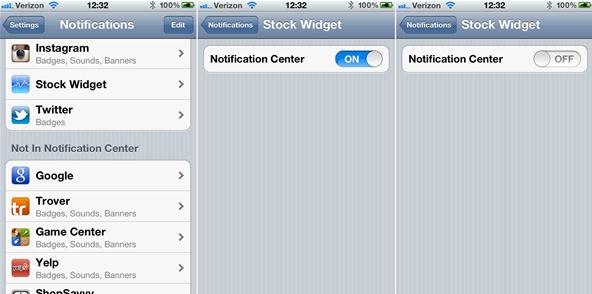 How about you?  Have any pressing iPhone problems that you need resolved?