Even after the death of Steve Jobs,  Apple did't show any signs of retreat from the heights of success. This was quite evident by the huge ques lined out at every Apple store for the new Apple iPhone 4S. Apple iPhone 4s is again another magnificent and most wanted gadget with the new in-built features especially SIRI that is making it sell more than the preceding models. If you have  bought or ordered one then you are already half way towards the category of smart men and to cross the next half distance all you have to do is buy a case that will distinguish you from other iPhone 4s holders and simultaneously protect your iPhone from bumps and scratches.
In this post we have collected 5 Trendy iPhone 4s cases that will groom your iPhone to ultimate supremacy  and ulterior functionality.
Incipia Stoway iPhone 4s Credit Card Case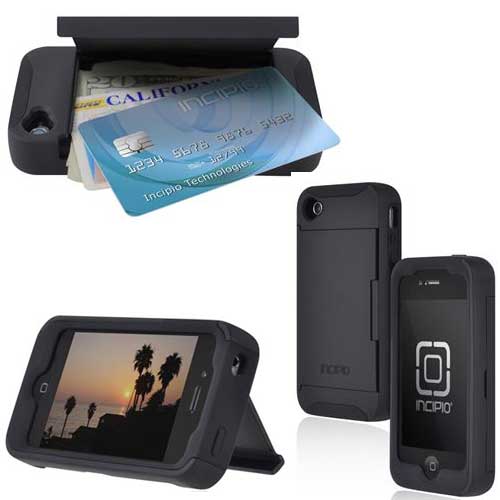 Apple iPhone 4s is already a paradigm of something that does everything.  But if you want to make your iPhone do something more than "everything"  then you would sure want to consider buying this Wallet and iPhone 4S Case Convergence. This hard case made my Incipio is a  Stowaway Credit Card Hard Shell Case for your iPhone 4s that will protect your iPhone internally with Silicone core and at the same time make some room from the backside for credit cards, driver's license and some cash. The back compartment snaps up easily to help you get out the valuables. However, if you do not prefer carrying these things in your iPhone then you can snap open the back compartment door any time to be used as a horizontal stand. Along with the already shock-absorbent Silicone interior this  Incipio case is  made from impact-resistant polycarbonate to protect your device from damage due to bumps.
Price: $39.99 | Link
Strapya Chocolatier's iPhone 4s Chocolate Case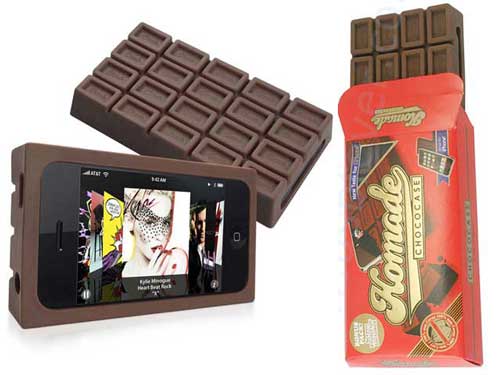 If you want you iPhone 4s to look delicious and irresistible then Strapya Chocolatier's iPhone 4s Chocolate Case  is the best option. This case looks exactly like a chocolate and comes in various colors like  Bitter chocolate, milk chocolate, white chocolate and strawberry chocolate. These cases are intricately designed to match the looks of a real chocolate and stiffness of a regular iPhone case that will save it from dust, dirt and scratches
Price: $11-$25 | Link
LuxMobile Celeb Cases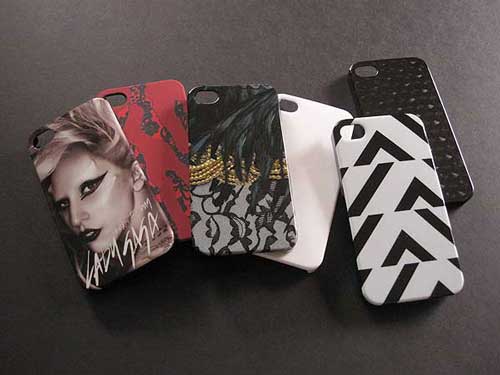 LuxMobile has licensed some images of famous celebrities and printed them perfectly on their luxurious trendy iPhone 4s cases. Celebrities and designers like Lady Gaga, Edd Hardy are featured on these cases. The cases are snap on, light weight and have many designs and colors which are gender specific. The case has full openings from top and bottom and additionally partial from the left side to enable access to every port. Each case comes with a screen protector film, applicator card, polishing cloth, and two Home button stickers.
Price: About $30 | LuxMobile Case
Griffin Elan Form Chilewich Case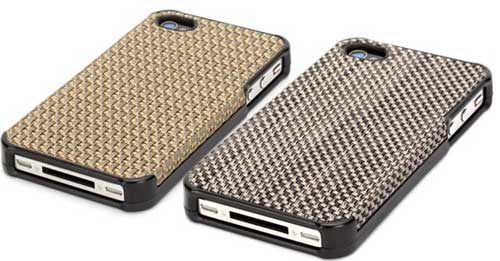 Designed by Sandy Chilewich this is yet another innovative case design from Griffin. The case is made up of polycarbonate shell that could withstand high impact. But the most promising feature is the trendy outer design.
Price: $38.99 | Link
Michael Kors Essential Zip Wallet for iPhone 4s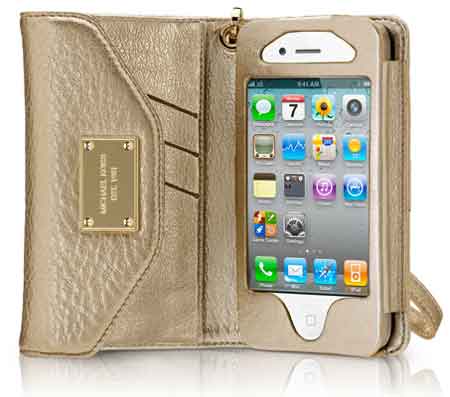 This case is made from hand crafted from premium Nappa leater and  combines the iPhone 4s with a designer wallet. The case is a zipper Wallet that contains pockets for both iPhone 4s and your cards for easy and efficient use.
Price: $ 89.95 | Link