Google Android has already captured a huge portion of smartphone market with its unique features and almost 600,000 free and paid apps. There are some of the features that come bundled with the standard Android OS but still, it is never enough and for this reason there is an app for almost anything one can imagine. Android Voice Commands is a another bonus feature that Android users enjoy which helps to perform many useful functions on Android smartphones by simply talking to it. These commands are especially useful while driving, jogging or performing other tasks that demand attention from both of your hands. With these Voice Commands you just have to hold on to a specific button, speak some Android Voice Commands and your smartphones automatically maneuvers them to function.
In this post we have collected different Android Voice Commands that can be used to perform various common as well as complex functions on your Android Smartphone. We have also collected some of the Most Useful Apps for Android that help you to accentuate hand-less functionality on your Android Device.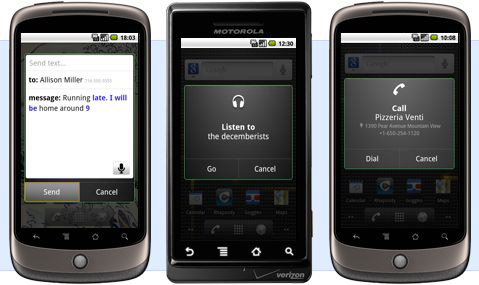 You can enable Android commands by installing Android Voice Actions, which is free app that lets you enjoy Voice commands at ease and there is also Home-screen widget to make thing more ergonomic and functional. The App can be downloaded from Android App store or alternatively you can send it to your device by navigating to Voice Actions for Android.
Android Voice Commands
→ "Call ___" followed by a contact name, business name, or phone number. For example, Call John Smith or Call 1223-432-343.
→ "Map of ___" followed by an address, or location or business name. For example, you can say "Map of Manhattan" and it will automatically open the Google Maps app with the map of Manhattan. You can also use it to find restaurants near you. You can use the Android Voice Command, "Map of Best Restaurants near me". It will use the GPS signal to find various restaurants near you.
→ "Directions to ___" followed by an address, or location or business name.
→ "Navigate to ___" followed by an address, or location or business name.
→ The name of one of your contacts (to view that contact's details).
→ "Go to ___" followed by a search string or URL. For example, Go to Geeknaut.com
→ "Send SMS to [contact] pause [Your Text]" or "Send text to [contact] pause [Your Text]" to send a text (should use fluid, natural speech- avoid long pauses). For example, Send SMS to John Smith, I will be late for the meeting.
→ "Send email to/CC/BCC [contact name followed by your message]" to send email.
→ "Note to self _____" to record and email an audio note to your GMail (also transcribes the note as the message body).
→ "Set alarm time/for [time]am/pm" or "Set alarm for _____ hours/minutes from now"
→ "Listen to _____" followed by song title, artist, album. For example, Listen to Hollywood Undead.
→ You can also use the Android Voice commands to Google anything like "pictures of the golden gate bridge at sunset".
→ "Define [Your Query]" is used to look for meaning of certain words. Once you say the "Define" followed by your choice of word, Android Voice Search will show you a list of close matches. You can then click on any of these words to open the relevant website in a web browser.
There are also come Apps that you can use on your Android device to increase the quanta of voice commands and nect in this post we have collected three most useful voice command Apps.
Android Voice Commands – Useful Apps
Apart from using these commands on your phone, you can download these apps to help you with a better voice control experience on your Android Phone.
Voice Control By Luka Kama
Price: $2 | Voice Control By Luka Kam
This voice control feature on this App can be started by a long press on search button (for equipped phones), with the green button on application main screen, or with the button for voice calls of the Hands-Free Android compatible bluetooth device.You can then use various usual Android Voice commands already listed with many additional exclusive commands.
Jeannie Siri Alternative by Pannous
Price: Free | Jeannie Siri Alternative by Pannous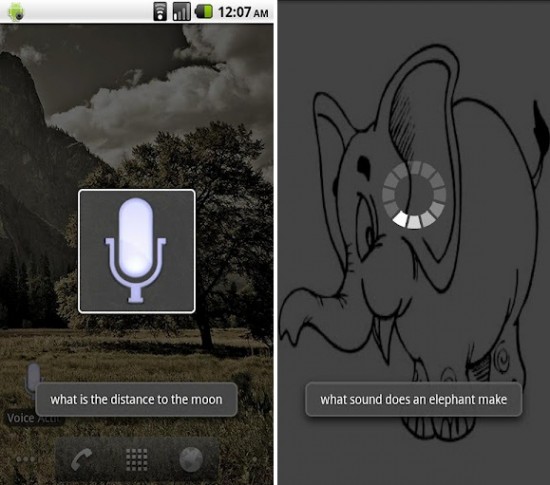 This Android Voice command app is  inspired from Apple iPhone's Siri and can be used to perform a plethora of voice command functions on your Android Device. The app is free and acts like a personal assistant although it is not as impeccable as iPhone's Siri.
Utter! Voice Commands for Android
Price: Free Beta | utter! Voice Commands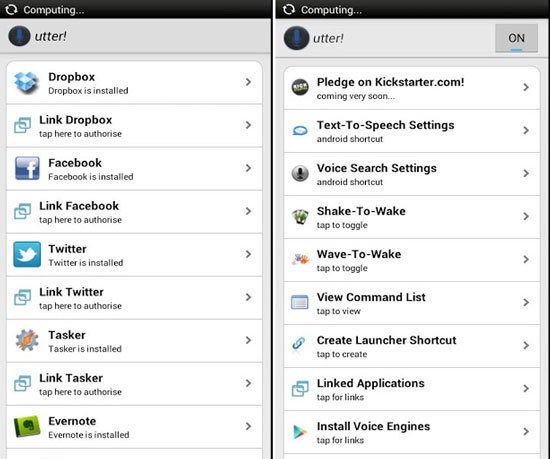 Utter is not your everyday voice search app. It is much, much more. This Android Voice Commands apps runs in the background and is readily available at just tap or a shake or a wave. You can of course customise how it opens. It will turn your bluetooth off for you, update your Facebook status, set alarms, check weather, correct your spelling mistakes and much more. It is the missing Siri for Android but only with much more functionality  To make the most out of this Android Voice app, you will need a rooted device but most of the functions don't require root access at all.
You might also want to checkout our earlier posts about Best Android TV Apps and Android VoIP Clients.
​
Reviewed by
Geeknaut
with a rating of