You just got your first Android phone or tablet and are now looking for some apps everyone must have. Or, you just got bored by all the old and want to test some new ones. One of the problems of having such an immense amount of apps in the market is that you aren't able to find the ones that are worth a while. That's where lists like this one come into play.
We have listed some of the best free apps you can find in the android market today. These apps will work on a tablet as well as any Android phone.
Make sure you check qHD wallpapers and best android keyboards.
1. Google Sky Map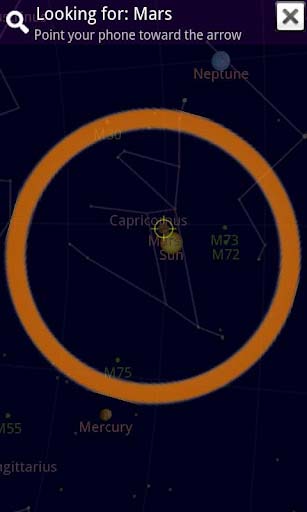 Google redefined the word search and with Google Sky Map it goes beyond the meaning of search. The Google Sky Map allows you to search the sky  for stars, planets, constellations and you don't have to move out to do that beacause the app uses  you phone's orientation tools.
2. Foursquare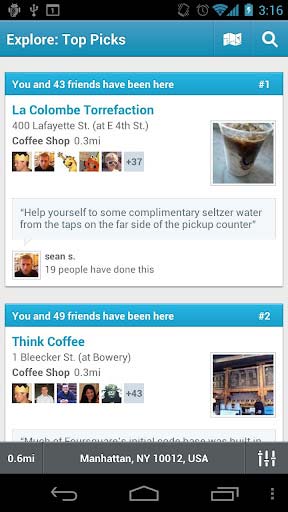 Foursquare is the best app for travelers and businessmen. The app allows you to check in to places, discover tips about the places, helps you share your experience and same some money while you are at it.
3. WordPress for Android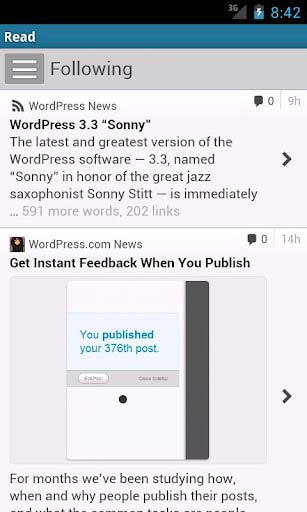 With this app you can write new posts, edit content, and manage comments on your WordPress blog. The latest version  offers full integration with the rest of the apps ,, quick action bar and a powerful editor to help you post on the go.
Download WordPress for Android
4. Google Goggles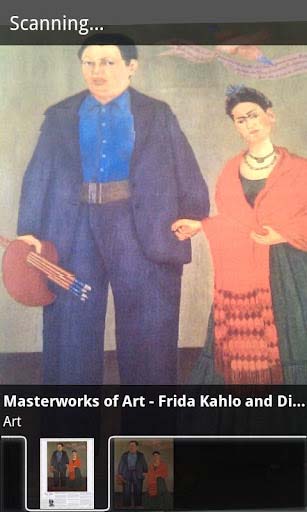 This is probably the coolest app for android. You can click anything and let Google do what it does best. The Google Goggles uses its  image recognition technology when you click and return with relevant search results. It can Identify products, famous landmarks, storefronts, artwork, and popular images found online and it can be also used to translate languages.
5. Winamp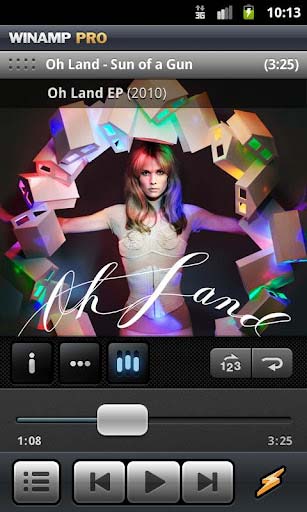 Music lovers best friend Winamp is available for Android  with all its superb features. Besides the usual features the Android Winamp also provides wireless desktop sync (Winamp Media Player required) and access to thousands of internet radio stations with SHOUTcast.
6. ChatOn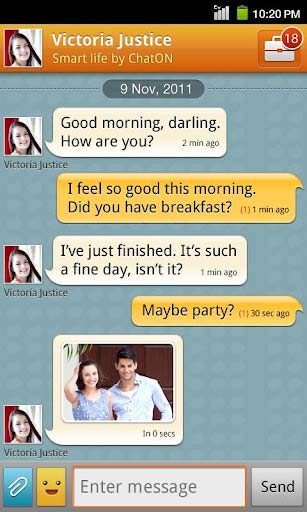 ChatOn is the best messenger service for Android that allows you to chat on and on with all other smart phone owners. The ChatOn helps you to express yourself with features like drawing, image sharing and much more.
7. BBC App for Android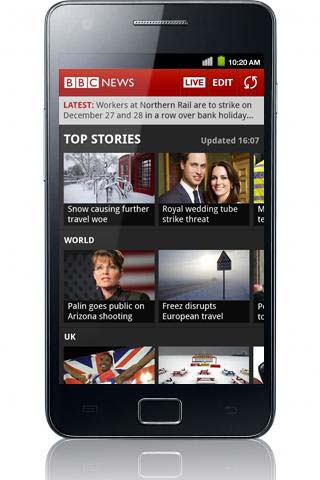 The beautifully designed BBC app for Android helps you to stay in touch with the rest of the world and you can personalize your home screen by adding, removing and re-ordering news categories to suit your interests.
8. Skyfire Web Browser 4.0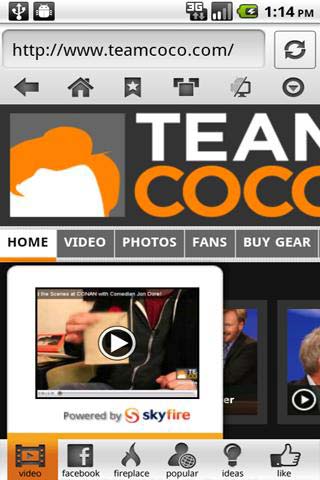 The Skyfire is one of the best mobile  browsers available for android and does its best to not let you miss you PC. The browser is best for the new generation social media addicts.
9. Evernote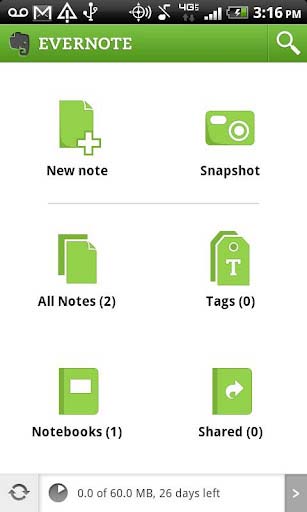 Evernote is a better version of Dropbox and helps you keep all the information from different devices at a single place so you can access them anytime you like. It helps you take notes, capture photos, create to-do lists, record voice reminders–and makes these notes completely searchable, whether you are at home, at work, or on the go.
10. AutoCAD WS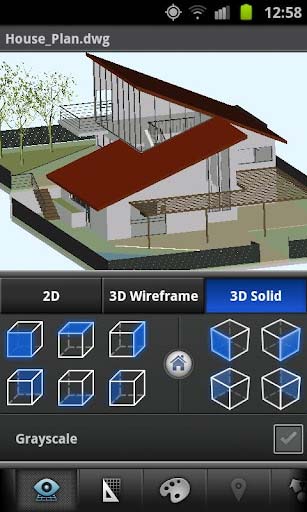 The AutoCAD WS for android enables you to take an overlook, edit, revise your previous Work. The best part is thhat you can do this stuff even when the Internet access is not available.
11. Flickr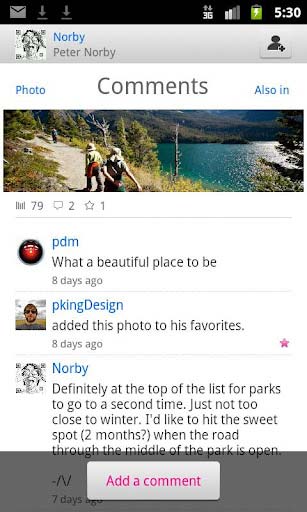 Apart from doing the usual stuff that flickr does, this app allows you to share photos on twitter, facebook , keeps you updated with the latest comments and activity on your photos and much more.
12. Last.fm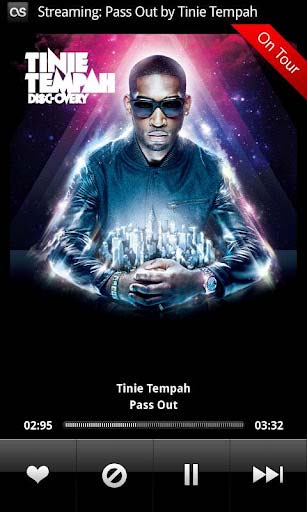 This subscription based app allows you to stay updated with the latest songs, events and also lets you share your music taste by using GPS system. The app then automatically syncs  some of this information to your calender.
13. Google Maps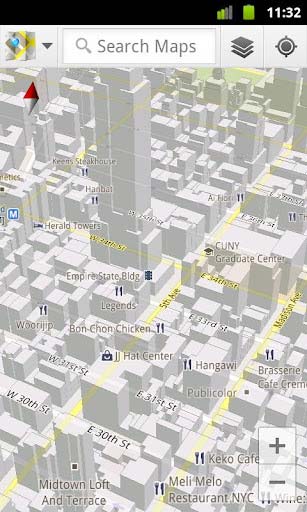 The Google Maps android app is a smart Voice and visual navigation system that makes it possible to get you anywhere within time and impossible to get lost. You can also see where  friends are and check into places.
14. Shareprice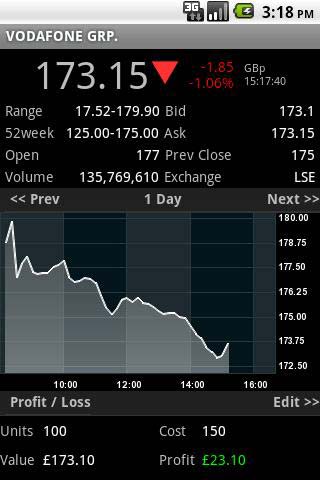 Shareprice is a must have app for your Android phone if you are interested in share market. The Shareprice uses information from  www.iii.co.uk to offer share prices so you can monitor, research and trade on the go. The app can also be placed as a home screen widget so you don't miss an opportunity.
15. Skifta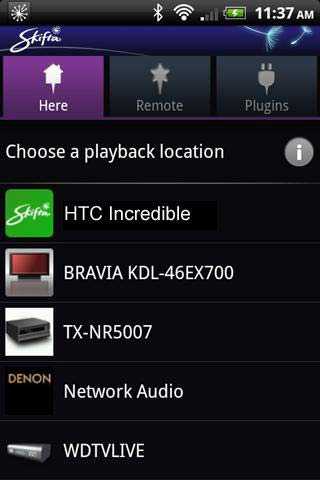 Skifta is ideal for music lovers who don't like excessive congestion that usually happens due to wire systems in different audio devices. Skifta is DLNA Certified(R) software app that combines media shifting with DLNA/UPnP which finally enables  you to play your digital music, photos and videos on connected devices anywhere without wires and downloads.
Download Skifta
[highlight color="yellow"]Read Also: 150 Best Android Apps[/highlight]
You should also check best TV apps for android and android VoIP clients.