Smart DIY iPhone stands are as good as it gets. Apple iPhone changed the way we use technology in our day-to-day lives. There is not a lot of stuff that comes with the iPhone package. We are not complaining, although there is this one thing that Apple forgot to put in that little box. Yeah! it's a stand which could ease your hands and at the same time help you maintain an elegant impression especially while watching movies or typing using a bluetooth keyboard.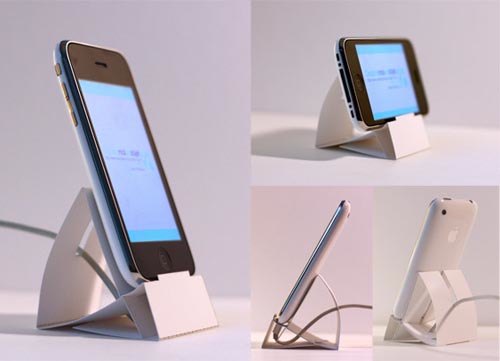 Although iPhone wasn't built to accommodate those needs but that sure doesn't keep people from doing it. Being the 'customer needs friendly' company that the Apple is, they should have seen the demand for iPhone stands and at least sold it as a separate accessory.
That doesn't keep us, the end users of iPhone, from making our own iPhone stands or at-least take the inspiration for someone else make them at home. There are many stands available in the market to remove this detriment but most are pretty expensive. If you are planning to make one of your own DIY iPhone stands instead of buying one, then you are at the right place.
In this post we have collected 10 very best DIY iPhone stands. Hope you like some of them and make them right away.
Some of you might even own an iPad. In that case, you might want to check our cool collection of iPad stands and designer iPad cases.
1. DIY iPhone Stands made from Paper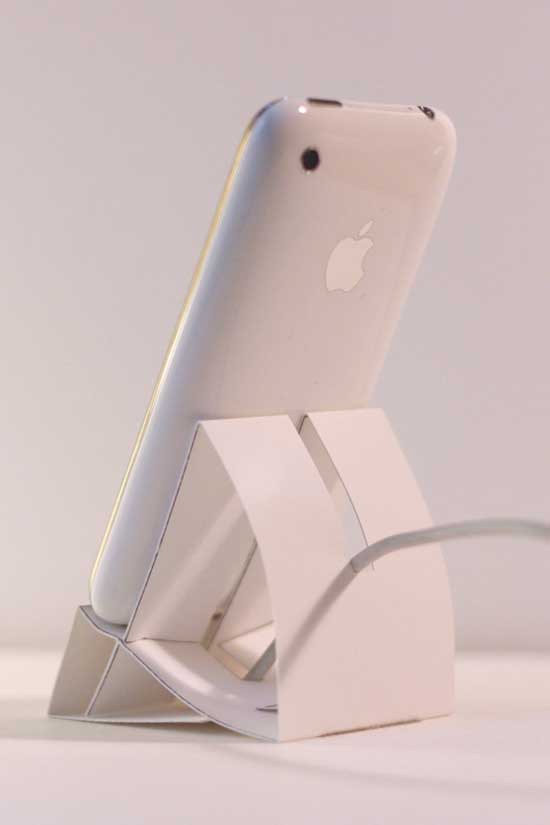 In order to build this iPhone stand all you need is 270 GSM paper or card stock, a paper knife and a printer. After that, you have to print a template on the your GSM paper or card stock . Then all you have to do is follow the template, cut, fold and you will have you DIY iPhone paper stand. (More information)
2. DIY Paper Clip Stand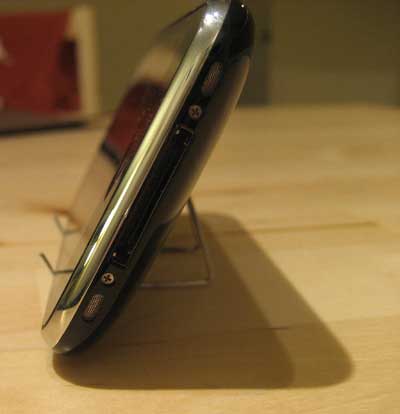 Dean and Ying has shown a lot of creativity and effort in this Paper Clip DIY iPhone Stand. They have added a video which shoes you how to make one for yourself. They are also humble enough to put a template PDF file with bend marks which will guide you towards making you own Paper clip stand. You can download the PDF for size reference  or watch video showing how it is done. (More information)
3. Pencil iPhone Stand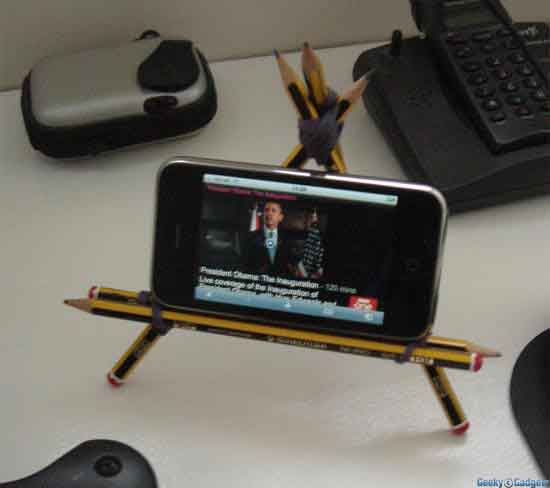 This one is simple and elegant. All you will need is 4 pencils or five in case you have a 3G iPhone for extra thickness and 4-5 rubber bands. It is very easy to construct and fine to use. A Pencil with rubber end is recommended for extra support. You can check out the instruction for making this Pencil DIY iPhone stand by clicking on the image above. (More information)
4. Stand Made from iPhone Packaging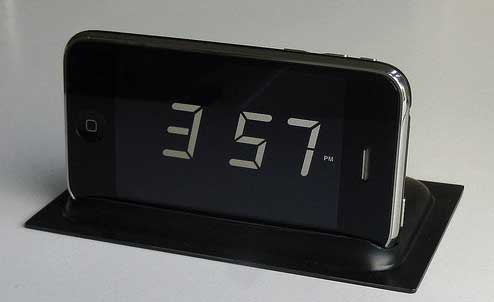 This iPhone is a paradox of "thinking out of the box". It is made from the black plastic packaging shipped in with iPhone. All you will need is a graft knife to cut into this packaging at a suitable angle and there! you will have your own DIY iPhone packaging stand. (More information)
5. Packaging Stand-cum-iPhone Dock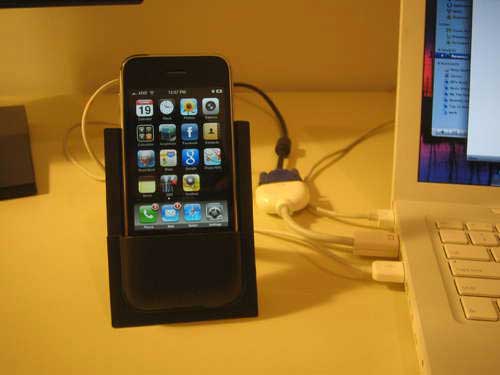 This one looks brilliant and is the best way to recycle your iPhone packaging Black plastic. Things you will need are a Utility knife, Ruler, Double-sided tape, Thin single-sided tape (packing tape will do), iPhone box with plastic holder, USB cable that comes with the iPhone and Half an hour of free time. You can download the step-by-step PDF manual here or view all the steps of making it here. (More information)
6. DIY LEGO iPhone Stand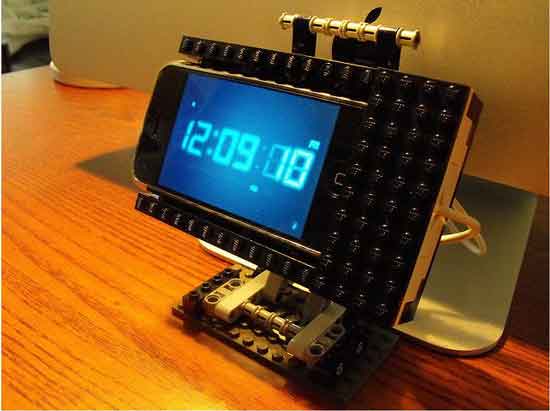 This is a functional and cool looking iPhone stand made from told broken LEGO's. This stand rotates and allows you to enjoy iPhone features in Landscape view. If you want to build one for yourself watch the video linked from the image above. (More information)
7. Mini DV Case iPhone Stand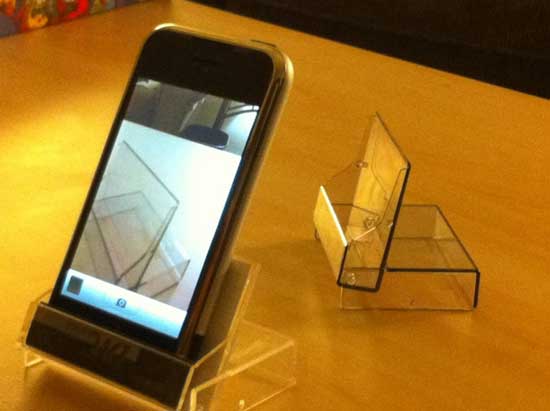 Made from Mini DVcase this is the easies to make iPhone stand. It works as a stand as well as you can use it to carry earphones on the go. Here is a video showing how to make this Mini DVcase iPhone stand. (More information)
8. DIY Binder Clip iPhone Stand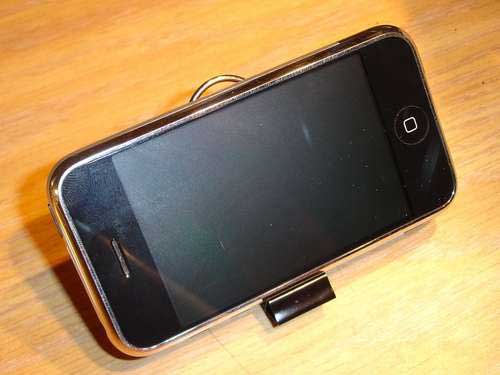 This one is simple yet effective iPhone case which can be made using two binder clips: a large one and a smaller one. The smaller one is for stability. This stands holds your iPhone sturdy in portrait view. You can checkout the post with further instructions. (More information)
9. Sticky Tape iPhone Stand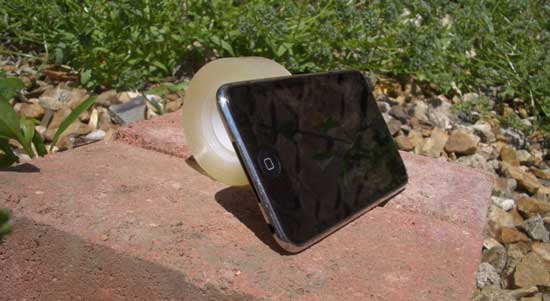 Easiest and quickest to make iPhone stand which requires only a roll of sticky tape. All you have to do is stick the back of you iPhone with this roll of tape, fix the proper angle and you a ready to enjoy videos, movies, TV , in less than 5 seconds. (More information)
10. Dinosaur DIY Stand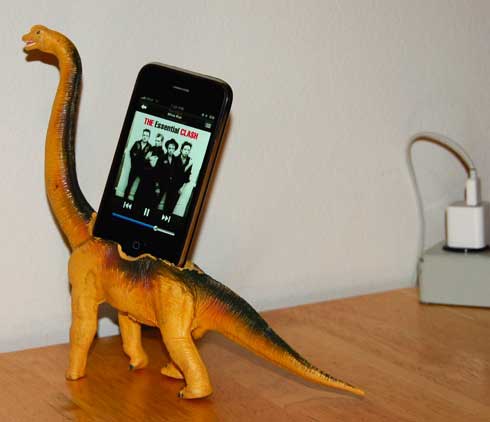 To finish this post we present you with this funny iPhone stand which you can make by cutting any rubber toy you may have at your home. All you will need is a rubber toy and a knife. (More information)
So, there you have it. 10 DIY tutorials on making your very own iPhone stand. If you end up making any of them, do share the results with us in comments below. If this list isn't enough, you should perhaps check the below resources for even more DIY stands.