No matter how many music tracks you have collected over the years, it is never enough when it comes to music. Repeating the same set of songs over and over again becomes quite mundane after some time. But why get stuck to the same loop of songs when there are apps that can connect you to unlimited sources of music and keep your music taste buds popping. We are going to walk you through 5 best Online radio apps for iPhone and Android each. Although you may find many other radio apps on other website, the ones we have included here are the absolute best and all others are just redundant as far as their main purpose goes.
You must also check our earlier post about Free Music Apps for Cydia, Top 150 Android Apps and Most Useful iPhone Apps.
Skip to Online Radio Apps for Android
Best Online Radio Apps for iPhone
Apple iPhone by itself is enough to keep you occupied for hours with its enormous internal storage as well as the 'half a million' apps available in the store. There are apps ranging from addictive entertainment apps to surprisingly productive one's and iPhone Radio apps helps meet both these ends by streaming quality music or News, Talks and much more directly on our iPhone. Apple App Store is filled with Radio apps , we have only collected 5 best iPhone Radio apps with multitude of features and almost all of them have something different from each other, so there actually is no universal iPhone Radio app, albeit you can choose the best suited app according to your personal preferences.
1. Pandora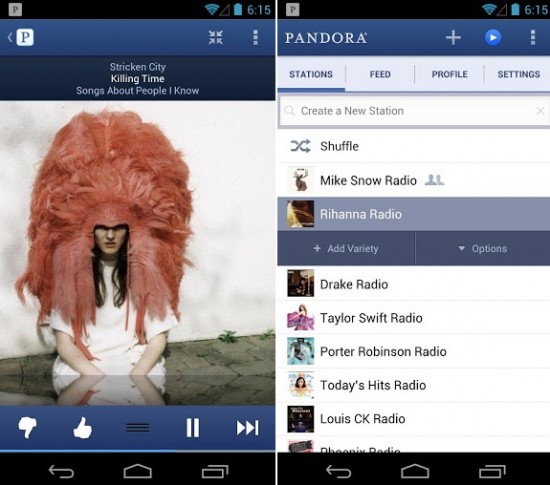 This app allows you to create a personalized Radio station that plays new music or talks from across the globe based on your personal listening preferences. You can set-up your personal Radio Station simply by naming your favorite artists, songs, composers, comedians and an unending playlist of  your favorite tracks will be queued on your device.
2. TuneIn Radio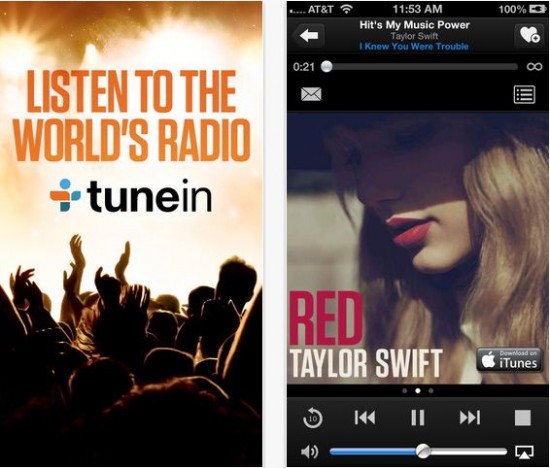 TuneIn is all about enormity as with this app you can access about 70,000 live radio stations and 2 million Podcasts. You can listen to everything ranging from music, NEWS, talks, concerts to comedy and sports.
3. Stitcher Radio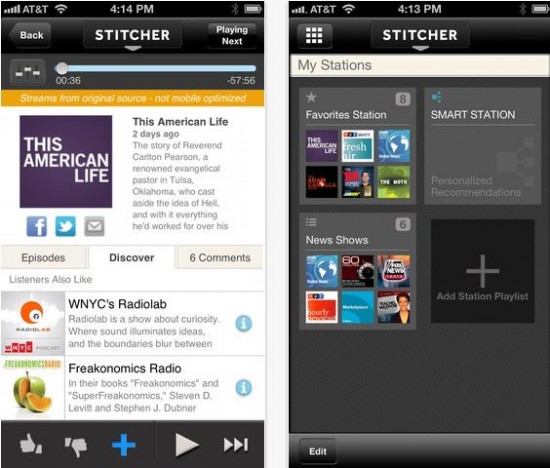 Stitcher is more about knowledge and information and extra-musical entertainment as it will stream your favorite talks, news, comedy, sports and more on your device. With this app you will be able to discover the best of NPR, CNN, Fox, BBC, WSJ, and over 15,000+ shows and live stations.
4. Last.fm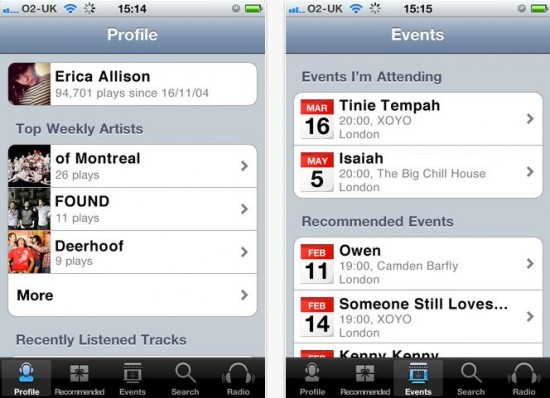 This app refines and helps you discover the best of music by using your peculiar listening habits as a yardstick. You can access handmade playlists of your friends and get music recommendations based on your personal music taste. The app also pops up new and recommended events, so that you always remain updated with music realated happenings around your own locale.
5. AOL Radio App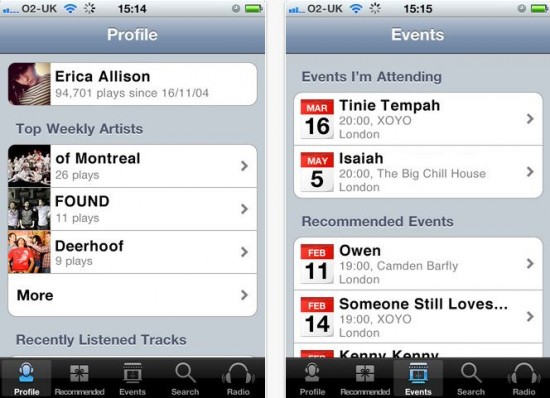 Browse through genres  like pop, hip-hop, R&B, country, classical, electronic/dance, indie, jazz, oldies,  rock and more from over 200 Radio station with this app. You can also add a preset or custom radio station, skip tracks and ban redundant songs. The best part is that the app supports multi-tasking to ensure your favorite music is playing even when you are busy finishing chores. You can also stream News and sports updates from ABC News and ESPN Radio stations.
Best Online Radio Apps for Android
There are over 700,000 apps available in the Android Market which means that literally there is an App for almost everything. The eminent peculiarity that sets Android OS apart for its iOS counterpart is the cost-benefit ratio, and Android has substantially succeed in keeping this gap.   There are many free Radio apps available in the market that stream hundreds of radio stations on your Android device over a Wi-Fi or Data Package connection.
1. TuneIn Radio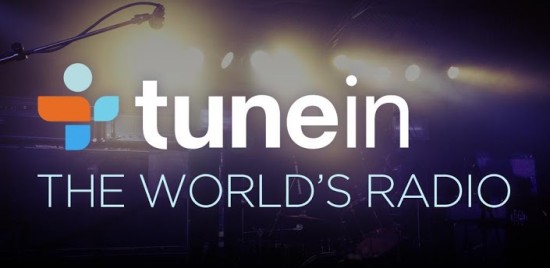 From quality music to comedy, this app brings everything to your Android Smartphone or Tablet from more than 70,000 radio stations across the globe. Download TuneIn free and you can enjoy music, sports, news, talk, and much more from every continent. The best part is that the app is free and if you already are a listener you can simply log-in with your Tunein ID and enjoy your favorite stations right on your device. You can extend the features by going Pro that will equip your App with the ability to record ever thing you love on TuneIn.
2. Radio.com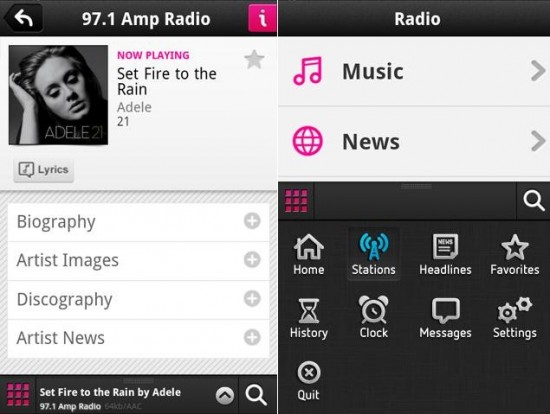 Radio.com from CBS local allows you to stream  nearly 300 live broadcast, HD and digital-only stations from CBS Radio. You can find new music by exploring through various artists and genres and dig deeper into artist news, bios, photos and more. You can personalize audio quality as well as save favorite stations and listening history.
3.  Stitcher Radio – News & Talk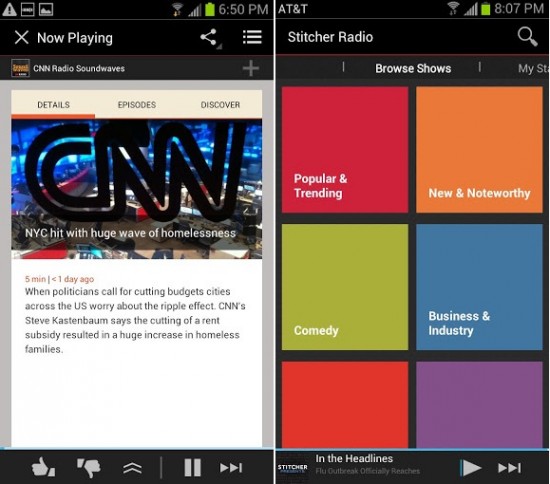 This android radio app is more about knowledge and information and less about entertainment via Music. The app helps you manage and stream news, comedy, sports and talks, radio shows from BBC to TedTalks directly on your Android phone or tablet.
4. Pandora internet radio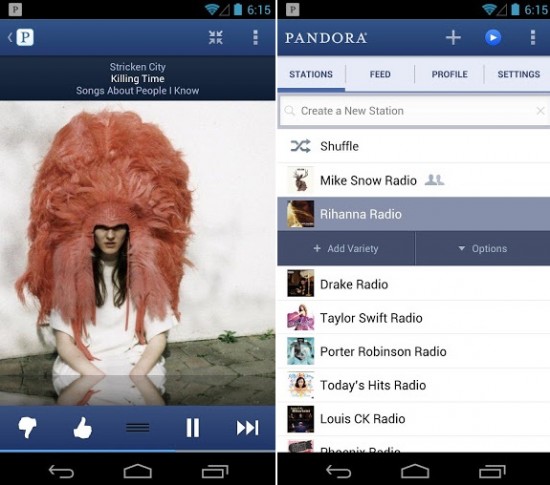 Pandora is like your typical media player but only with unlimited storage and never ending playlists of music as well as comedy, talks and shows. You can simply type-in name of your favorite artist, composer, comedian or song and Pandora will queue thousands of similar tracks on you personal custom station.
5. Soundhoud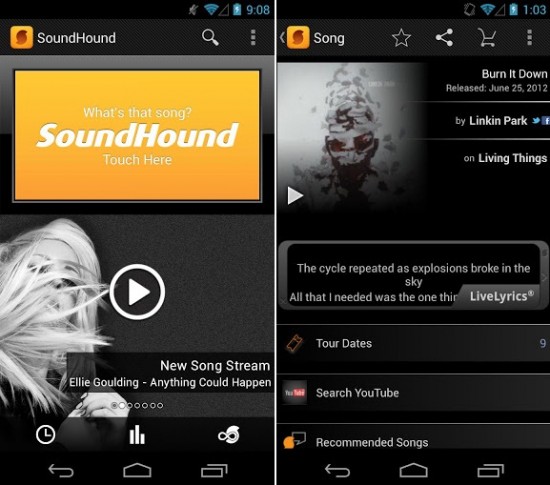 Soundhound is more than just your typical Android radio app and although it is able to play hundreds of radio stations, its strongest forte is to promptly recognize almost every tune and bring the actual name of the song, artist, download source, YouTube official video, lyrics and much more right on your device. Song Recognition of this app is impeccably accurate  and it can even recognize user singing and humming.