We all love our iPhones and protecting it is almost a natural instinct that comes to our mind when we buy one. Pretecting the device with carbon fiber iPhone case is the new trend. There are thousands of cases from various manufacturers present in the market and vary substantially from each other in terms of material used, design employed, bulk and much more. However, considering the efforts and expertise it took to design an impeccable piece of art called eloquently as Apple iPhone 4/4s it feels naive if not foolish to conceal it with bulky and bland cases.
Carbon fiber is a very strong yet light weight and sleek polymer which has found its use from complex engineered aerospace and automotive fields to simple spiffy strong Apple iPhone 4 cases. Carbon fiber cases for iPhone 4 albeit expensive, but they provide a high degree of protection and do not mess up with your iPhone's already genius design.
In this post we have collected 10 Best Carbon fiber iPhone 4 cases that will also work with an iPhone 4s.
monCarbone Hovercoat Carbon Fiber iPhone 4 / 4S Case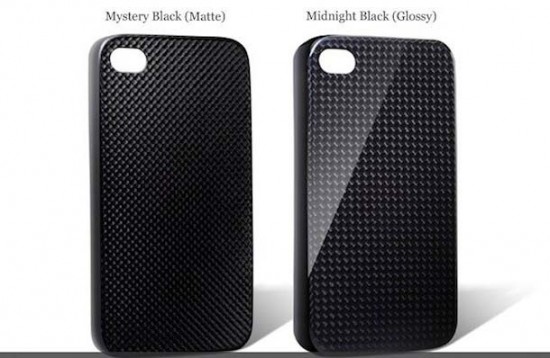 This case is super thin and super strong and is entirely made from pure carbon fiber except for sides which is not abysmal and has a purpose. The sides are made from black-fiber glass which is a non-conductor and perfect for maximum iPhone 4/4s antenna reception. It is Available in two finishes, midnight black (glossy) and mystery black (semi-gloss scratch resistant).
Price: $49.99 | monCarbone Hovercoat
Ion Predator Zero Carbon Fiber iPhone 4 / 4S Case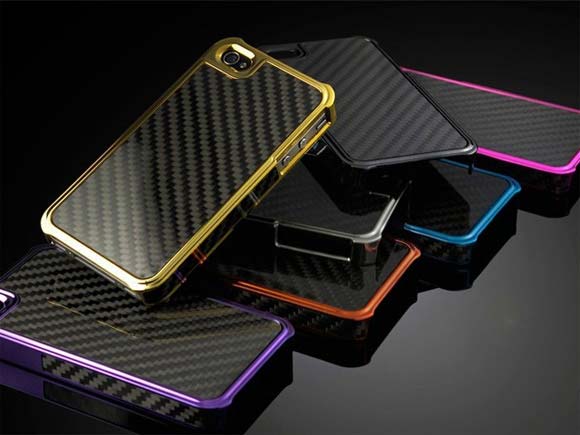 The case shell is made from durable elastic formula poly-carbonate that actually translates to a more strong iPhone case. Rest of the case is made from pure carbon fiber and is available in 7 finishes : Gunmetal, silver, gold, copper, cobalt blue, violet, and pink. It does not hinder the signal reception aspect and overall the case is slim, sleek, light weight and provides steel strong protection.
Price: $69.99 | Ion Predator Zero
Ion Carbon Fiber and Leather Shell iPhone 4 / 4S Case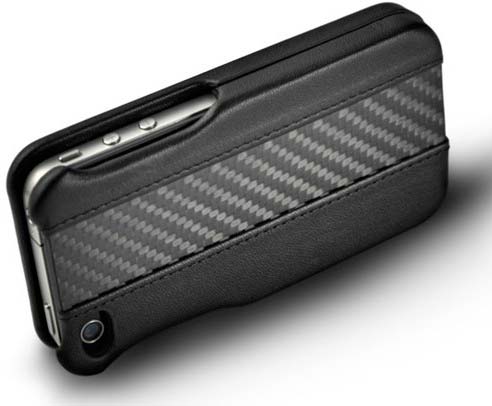 This case is made from carbon fiber which is bound in a case shell wrapped in premium-grade full-grain cowhide black leather to provide an exquisite multi-layered protection and style. Internally the case is soft so you don't loose the charm of your iPhone 4 and it overall is precisely cut to ensure access to all ports and sensors.
Price: $79.89 | Ion Carbon Fiber and Leather Shell
Element Case ION 4 Carbon Fiber iPhone 4 / 4S Case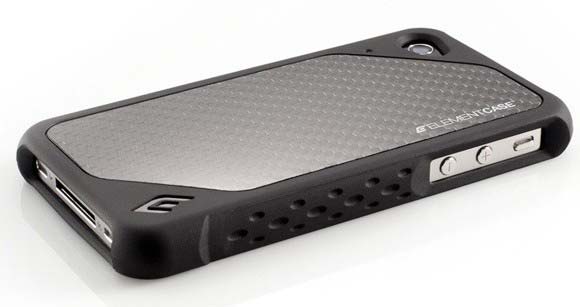 Constructed of an ultra-high impact resistant TPU polymer this case is one of the strongest iPhone 4/4s carbon fiber case in elemental line. While the back plate is made from reinforced real carbon fiber extra emphasis is laid on the corners for a firmer grip and shock-absorption.
Price: $59.95 | Element Case ION 4
Ion Carbon Shield Carbon Fiber and Leather Case iPhone 4 / 4S Case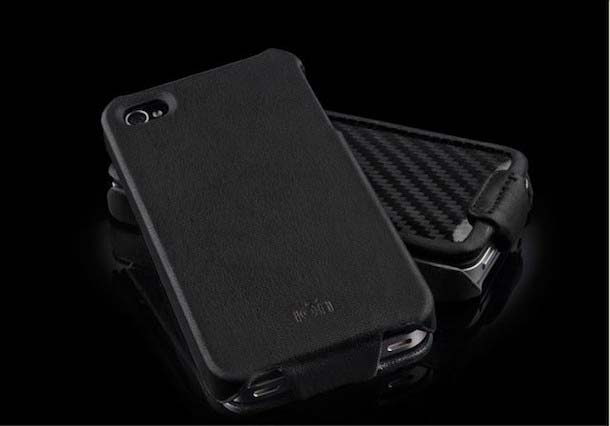 This case is intricately made by putting together the strength of carbon fiber and luxurious padding of premium grade full-grain black leather. It also features a full carbon fiber front flap to protect your iPhone's screen. To add more to the protection aspect the case has a soft inner lining.
Price: $69.99 | Ion Carbon Shield Carbon Fiber and Leather Case
iCarbon iPhone 4/4S Case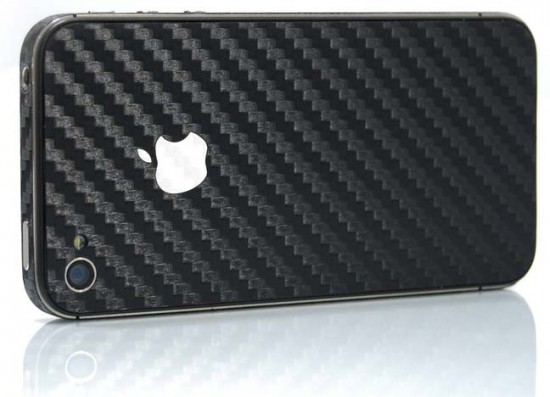 This one can't pass for a case as such but it provides full protection to the device so we included it. That, and the fact that it is a carbon fibre product for an iPhone made us add it. iCarbon carbon fibre cases for iPhone are like the BodyGuardz or InivisbleShield but aren't transparent like the later two. You stick the iCarbon case onto the front, back and sides of your iPhone and it is barely there. It comes in black as well as white colors.
Price: $24.95 | iCarbon Black Carbon Fibre Case
Ion Stealth Ranger Carbon Fiber iPhone 4 / 4S Case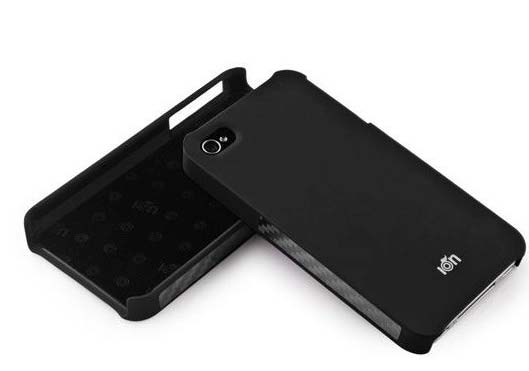 This snap on ultra-slim case is reasonably priced and has a matte black finish made with polycarbonate plastic. It also features real carbon fiber strips down the side for a unique contrast design. The case also comes in with an anti-glare clear screen protector and wipes are also included.
Price: $39.99
Plate Armor iPhone 4 / 4S Carbon Fiber Back Plate
This case is extremely slim and is completely made from real twill weave carbon fiber and sticks to your iPhone with its 3M adhesive backing. It barely adds any weight to your iPhone but sure protects and adds some descent looks with its clear coated glossy finish.
Price: $29.95 | Plate Armor
Vapor COMP Stealth Edition Carbon Fiber iPhone 4 / 4S Case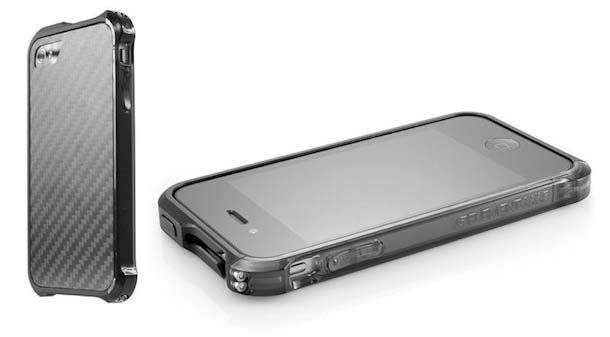 This special edition of the Element Case Vapor COMP is completely blacked out with a military spec non-glare satin aluminum finish. The left bumper is an semi-transparent black polycarbonate cap to help prevent any loss in signal. It also has a TPU liner for better shock absorption.
Price: $119.99 | Vapor COMP Stealth
SGP Carbon Fibre iPhone 4 Case
It is pretty similar to the iCarbon case we listed above except that this one doesn't cover the sides and the front. It is a back-only stick-on iPhone 4 carbon fibre case and slightly cheaper than iCarbon too.
Price: $17.99 | SGP Carbon Fibre Case
Case-mate Carbon Fiber case/ Holster combo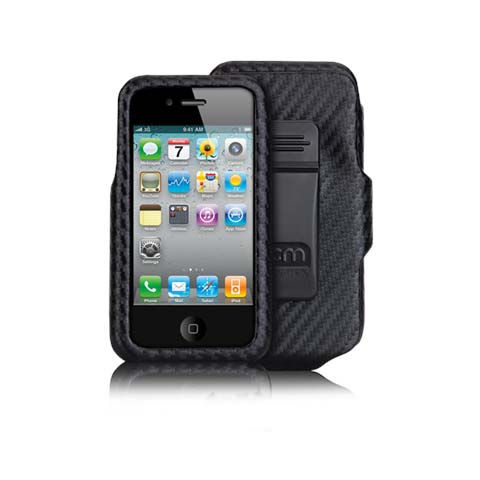 This case from case-mate is made from an impact resistant shell wrapped inside a Carbon fiber leather. It is light weight and comes with detachable belt clip which can move 360 degrees and provides ease of access to your iPhone 4 when you're sitting or standing.
Price: $50 | Case-mate Carbon Fiber case
CaseCrown Carbon Fiber Case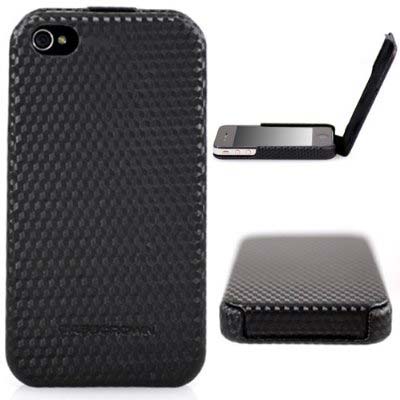 This case is covered in a durable carbon weave and has a hard flip cover to protect your iPhone's screen. Overall the case is sleek, sturdy and stylish but the flap does not fold all the way back which might be a problem for Landscape mode onscreen keyboard users.
Price: $12.18 | CaseCrown Carbon Fiber Case
We hope that you like this list of carbon fiber cases for iPhone 4 and iPhone 4s. You might also like retina wallpapers, high resolution wallpapers, 55 best iPhone 4 cases and 22 unique iPhone 4 cases. You should also check DIY iPhone stands and leather iPhone 4 cases.