iOS updates always bring awe to Apple's loyal customers especially because of bundled performance and functionality upgrades. While updating via iTunes is conventional and easy way to update your iPhone or any other iDevice, Apple recently enabled this service to be undertaken Over The Air (OTA). The latter is applicable for iOS 5 or later versions and is faster and more convenient way to go about it.
In this post we have collected both the methods to update your iPhone with step by step instructions. You might also want to take a look at best cydia themes and WinterBoard Themes As well.
How do I update My iPhone Using iTunes?
Before you begin updating your iPhone to latest version of iOS make sure you go through the following points to ensure proper and smooth installation:
Download and Install Latest Version of iTunes. Reboot the Computer when prompted to do so.
Backup your iPhone to iCloud or iTunes. In iTunes this can be done by connecting your device to Computer and then navigating to Devices in iTunes. Next, Right Click on your iPhone device (or Control Click) and hit Back Up. It should be kept in mind that Synchronization with this method will only work if the iCloud Backup is turned off.
It is necessary that this process goes uninterrupted because  a problem with your computer or Laptop Battery Drain can potentially brick your device.
If you are updating from iOS 4 you will need to erase and restore your device first. iTunes will automatically do this for you but it is recommended to check instructions listed here before you begin.
Once you have adequately scrutinized the above points you can update your iPhone using iTunes by following the steps listed below:
Step 1: Download and Install Latest version of iTunes and reboot your computer.
Step 2: Connect your iPhone to Computer via bundled USB cable through a standard USB 2.0 port or higher.
Step 3: Open iTunes and Navigate to Devices, you will see your iPhone Synced and visible in this tab.
Step 4. From the Summary pane that appears with your iPhone Device Tab, click on "Check for update" button.

Step 5: Assuming that you have a reliable and preferably a fast internet connection you can Download and Update the latest version of iOS on your device from the pop up window. Alternatively, you  can Download the Update first and then update it to your iPhone whenever you like.
Note: It is absolutely necessary to keep your iPhone connected to the computer till the installation is  complete. Also make sure your iPhone has enough juice (At least 70%) to go through the whole process which typically takes 60-90 minutes. Any deviations from the above steps increases the odds of your iPhone getting bricked.
How do I update my iPhone Over the Air (OTA) Updates?
OTA iPhone iOS update is swift, easy and  convenient but as of now only works for iOS 5 or later versions.  If you wish to update your iPhone using this method it is recommended to use a Wi-Fi netwrok over Data Package as the Update size is pretty large and may inundate superfluous Data charges. Also make sure your iPhone is connected to the Charger to avoid data loss and perils.
Step 1: Turn your Wi-Fi or Data Connection on.
Step 2: Navigate to  Settings > General > Software Update. Your iPhone will now automatically search for updates.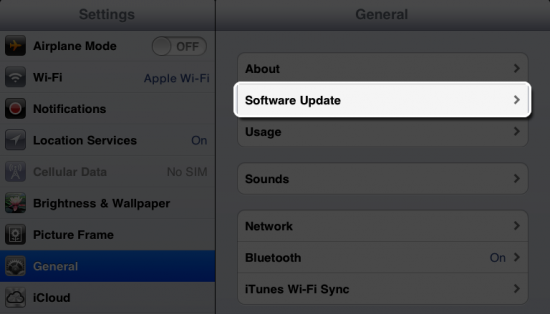 Step 3: When the search is complete, a Download button will pop up if an update is available for your iPhone. Tap on it.
Step 4: Download will take a little while, depending on your network connection and once it is complete, click on Install from the tab that pops up.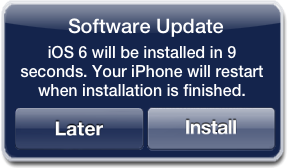 Step 5: Agree to Terms and Conditions and the installation process will begin.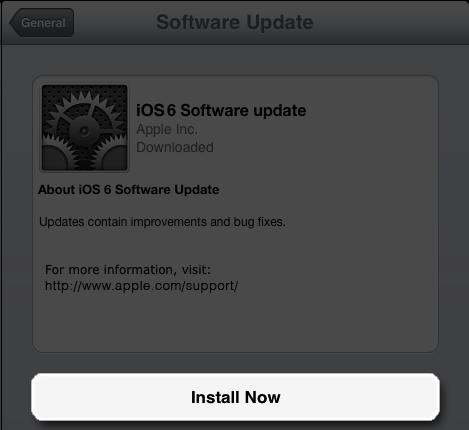 Step 6: Your iPhone will restart automatically and when it is done a better and nimbler iOS is there for you to enjoy.
Note: Using OTA method for iOS update may sometime trigger error messages like  "This update requires at least x.x GB of available storage" , this is due to inadequate storage space on your iPhone and can be taken care of by using iTunes update method or deleting some unnecessary files from your iPhone.