The scene is, you are running some application on your iPhone and suddenly all in a jiffy your iPhone starts acting crazy. The screen freezes, phone hangs and none of the applications are working properly and you are unable to turn this thing on. The phone got locked up with faded out display. The phone would not respond to any tap on the screen neither does the external button do any help.
Table of Contents:
This is like one of your nightmares coming true. If you have tons of apps installed on your iPhone, this is actually not very infrequent  to encounter this hang problem and you have probably worked to live with it. iPhone easily freezes due to the burden of the loads of media, software applications, and other features running on it. Not very productive.
Your iPhone is acting weird and you would like to reset it. Everything you try doesn't seem to help and you just want to get your iPhone back to normal. The solution to this problem is quick and simple. You have to reset your iPhone. There are actually two methods on how to reset iPhone, hard reset and soft reset.

How to Soft Reset Your iPhone
Soft Resetting your device actually means forcing it to reboot itself. The first step to do this is to completely turn-off your iPhone. For this, follow the below steps: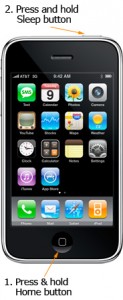 Look for the sleep/wake button of your device; it is stationed at top side at extreme right.
Press and hold that sleep/wake button for some time until a red slider appears on your iPhone screen.
Move the slider across, left to right.
Now that you have successfully shut down your iPhone, it's time to reset it.
Watch out for the home button, the round one at the bottom center.
Press and hold both the buttons, i.e. The sleep/wake button and the home button for 5-15 seconds.
Keep holding both the buttons until the apple logo appears with black background.
Now, leave the button and give your phone some time to boot up.
Now your device can boot up normally. The device has been restored with factory settings but the exciting thing is, you will find all your data intact and unaltered.

How to Hard-Reset your iPhone
The hard reset might not be very useful if you have a jailbreaken iPhone or use a Cydia app then you need to try this:
Plug in your iPhone to computer and start the iTune.
Press and hold the sleep/wake and home button simultaneously for ten to fifteen second.
Once the apple logo appears on the screen, release the sleep/wake button but keep on holding the home button for another five to ten second look into iTunes to see if your device shows up.
iTunes will shows up your phone being in recovery mode, click on ok to continue with the restore process.
Now, press and hold shift button and click on restore.
Now, select the latest IPSW file.
Now, iTunes will attempt to restore your device back to factory setting.
iTunes will also give you an option to restore content from your PC from your previous sync backups. (When ever you sync your iPhone with iTunes it creates a backup.)
Resetting iPhone does much more than just recovering your phone from a frozen screen. Resetting cleans out the cache and resets all your phone settings.
If you liked this post, check iPhone retina wallpapers you should use.