Apple iPhone is the most wanted device among users of all ages and occupation because it offers everything from entertainment to business productivity apps. It doesn't come with iPhone car chargers but that can be changed. Most of the people use the iPhone way too often and for a long time, that's why many people complain that their battery runs out quickly and also considering the fact that an American spends an average of 100 according to the U.S. Census Bureau's American Community Survey.
While traveling in a car for work, charging your phone becomes hectic if you don't have a proper iPhone car charger. So in this article we have collected 5 best iPhone car chargers available in the market for your Apple iPhone charging needs.
1. Belkin Micro Auto iPhone Car Chargers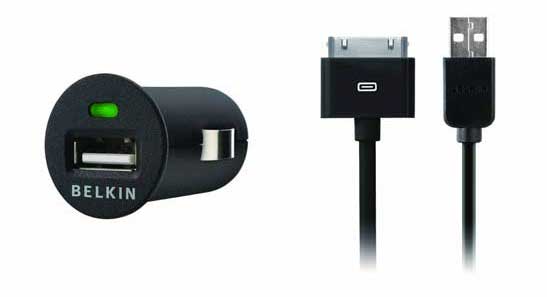 The Belkin iPhone car charger is a good looking 4 x 1.3 x 5 inches ; 1.6 ounces device which fits flat almost invisible on your cars 12-Volt outlet. It has a USB 2.0 which accelerated phone charging process and also helps you sync or charge your iPhone  with a laptop or desktop computer. The charger is also compatible with most of the iPod models. The company backs this product with a 1 year warranty.
Price: $12.55 | Product Page
2. Skiva PowerFlow Fast iPhone Car Charger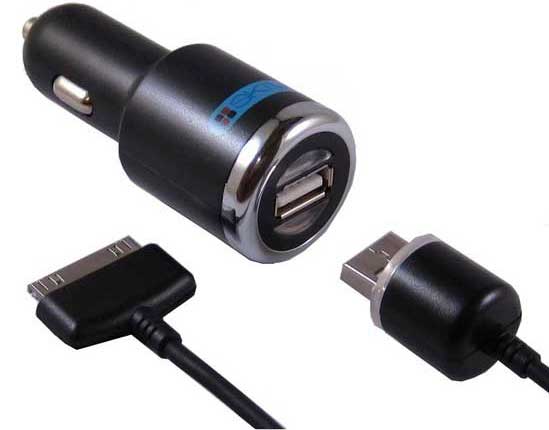 The PowerFlow Fast iPhone car charger by Skiva  is an ideal charger for your iPhone and pumps 2.1 Amperes current into your iPhone from the 12 Volt outlet of your car, making it the one of the fastest iPhone car chargers available in the market. The device is also integrated with intelligent charging circuit which prevent your iPhone from over charging. It is also quite sturdy and will last for a long time.
Price: $15.99 | Product Page
3. Scosche Dual USB iPhone Car Charger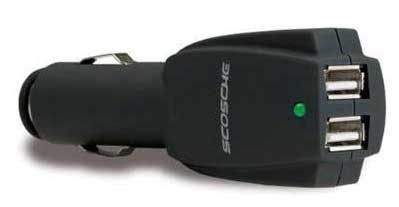 This device from Scosche allows you to charge your iPhone and any other USB device simultaneously the the same 12 volt outlet in your car. The charger supplies 500mA of current through each of the ports using your usual USB cable. Design is beautiful, functional and fits any type of socket in the car. There is also a Blue LED which indicates whether the device has been properly inserted to get the maximum charging output.
Price: $9.99 | Product Page
 4. Giffin PowerJolt Dual Micro iPhone Car charger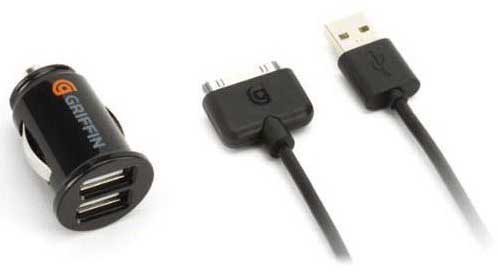 This product from Griffin measures  5 x 1.4 x 7.1 inches ; and weighs  2.9 ounces making it to fit flush into your 12V car socket. The charger supplies 1 Amp enabling your iPhone to charge quickly without over heating.
Price:  $14.15 | Product Page
5. Kensington K39243US Power Bolt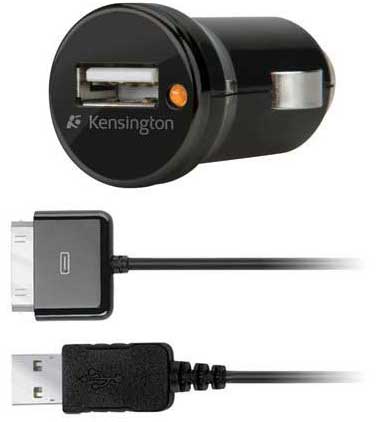 This Charger from Kensington  is light weight and ultra-low profile which fits and blends perfect with any car interior. The device uses a USB cable which ships in with the charger and can be used to connect your iPhone to computer or any other device.
Price: $18.53 | Product Page
Hope you liked these iPhone car charges and one of them, if not a couple, are going to make their way onto your car. If you are a DIY kind of guy, make sure you check our DIY iPhone stands post. We have also listed some very cool iPhone retina HD wallpapers you might want to try.