When you had bought the Xbox 360 first, you may have liked its looks. However, after having seen it in the same design for a little too long, it begins to look boring and un-attractive. It turns into an eye-sore and you want to replace it with some other, better looking gaming console just for the sake of looking at something different for a change. While you can't buy a new gaming console every now and then, you can try out the mods that make the old xbox 360 console look something different and give an aesthetic statement of who you really are. These Xbox 360 case mods that we have collected are the best ones you can find anywhere.
You will surely love most of them if not all. Without further ado, here is a list of cool Xbox 360 case mods for your gaming consoles.
21) The Xbox 360 Mod Car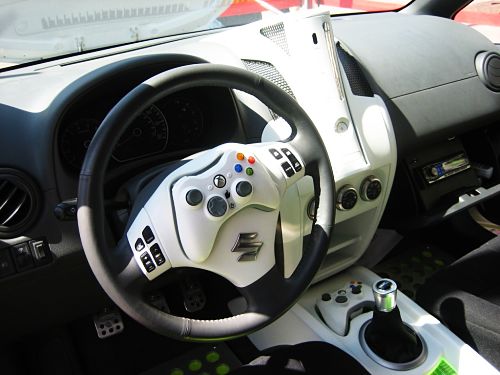 This Xbox 360 Mod Car proves that people just love to play with stuff while driving. The mod has been cleverly built into a car.  A gamer can't stay away from his gaming console for too long and this mod solves the problem by letting you take the Xbox 360 with you, everywhere you go. That said, we wonder how this works and the brilliant idea amazes us. It could be great at places where people get stuck in traffic for hours and easily take your mind off of the road rage.
20) Halo Custom Xbox 360 Mod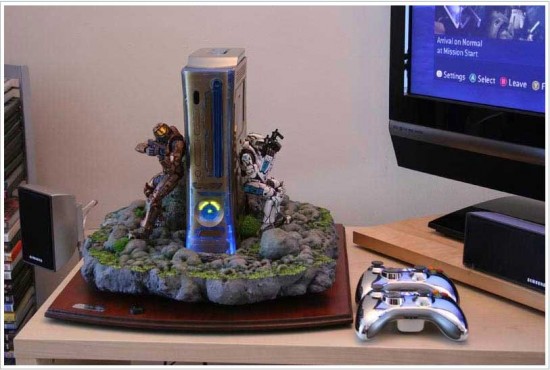 This is a true piece of art. If you have ever played Halo or liked the Halo Game on PC, this mod alone will suffice the reason to get a new Xbox 360. This Mod is called 'Craget' and was built in 2 months by a UK designer in his spare time. There are no internal modifications apart from the base cooler that he fitted with some LED's to light up the case.
19) Black Xbox 360 HDMI Chameleon Case
People that demanded that Xbox 360 be made in Black color can now relax and mod their Xbox 360's with this Black Chameleon Case. There are no major internal modifications done to this mod except the addition of the LEDs. The colors of the inner LEDs change, hence the name Chameleon.
Update: At the time of writing, there was no black Xbox 360 being offered by Microsoft. However, they did come-up with the Xbox 360 Elite edition eventually, which came out in black color.
18) Master Chief Case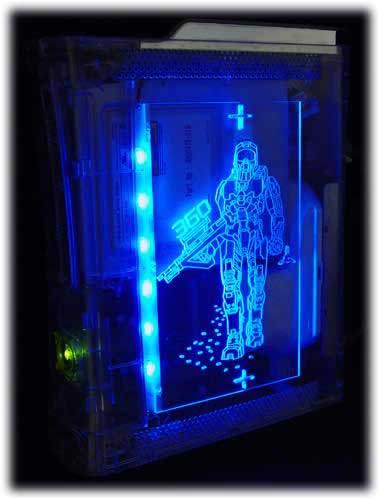 This is a Full Replacement Case for your Xbox 360 console and comes with Master Chief Character from Halo etched on the side. This is the best mod for the Halo's die-hard fans, which I am sure are still at large. The package Includes faceplate, DVD Bezel, and an Eject Button. All in all, a good modification to go onto an Xbox 360.
17) Hot Rock Case Mod for Xbox 360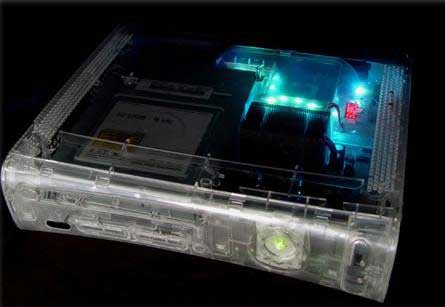 The lights of the LED built inside this mod change when the temperature of your gaming console changes. This also acts as a warning that you have spent too much time playing Video Games and that the console is getting over-heated. The softer the light, the cooler is the console and the darker the light, the hotter is the Gaming console.
16) Chrome HDMI Case Combo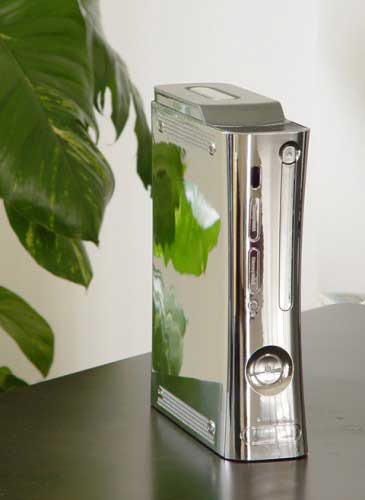 The shiny chrome case mod shown above comes with High Quality Chrome HDMI Case with matching Wireless Controller and Hard Drive Case. The Xbox 360 case mod chrome shell wraps your console with a gorgeous surface that's so gleaming that you could almost use it as a mirror, albeit an expensive one. The Pack costs $49.
15) Core Cooler v2 + Green LED Xbox Mod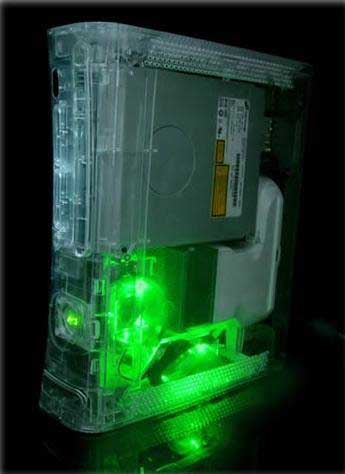 The Core Cooler v2 Green LED Case mod comes with twin fans to cool the Gaming console. This mod can be used on all versions of the xbox 360 gaming console, even the ones that come built-in with heat sink. It provides an attractive cooling solution for the console and increases the life of your Xbox 360 by taking care of the extra heat it produces.
14) Master Chief Helmet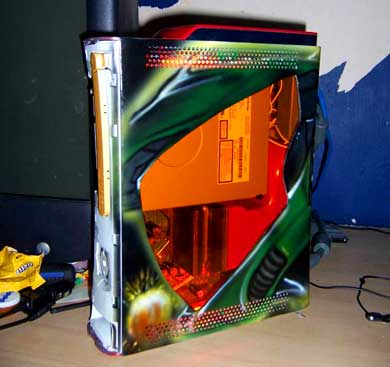 Yet another Halo case built-in such a way that you can look the inside of your gaming console through master chief's helmet. Love Halo? You will surely love this mod.
13) Gears of War See Through Mod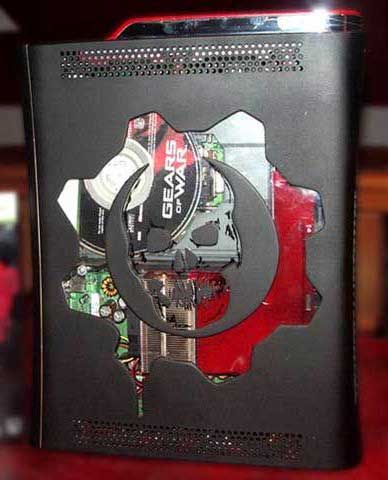 A mod for the Gears of War fans, features the famous skull logo. Looks pretty decent too. This will suit the Gears of War playing environment and make other fans of the game (Who don't have this Mod) jealous. Love the GoW? We recommend that you go for this Mod.
12) Red Ruby Combo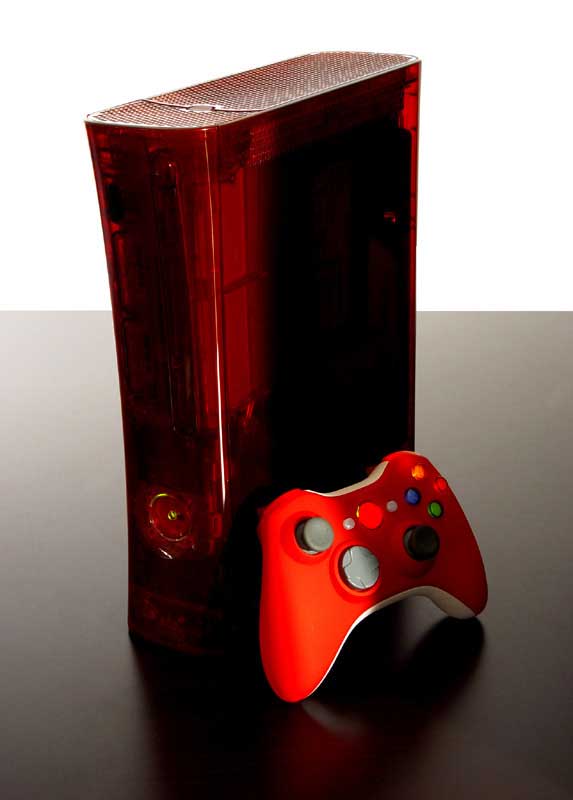 Some people just love to have Red things around their rooms, this Red Mod is best for them. While it isn't as sophisticated as the other ones listed in this post, it sure does look different than the white and the black ones everyone is so familiar with.
11) XCM 360 Crystal Case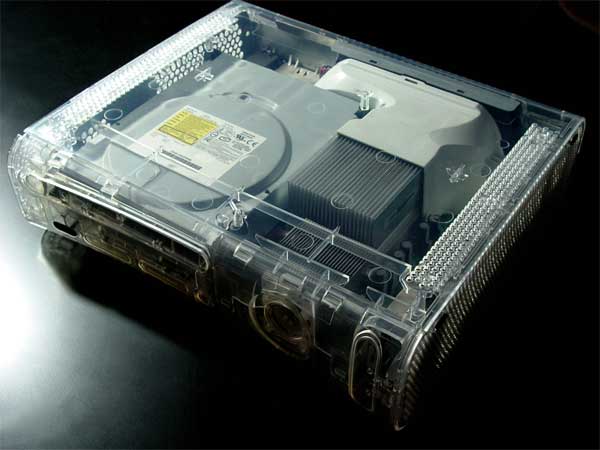 The Crystal Clear XCM Mod is for those people who are overwhelmed with the glassy, see thought gadgets. This Case will turn your Xbox 360 into full see-through console.
10) Laptop Mod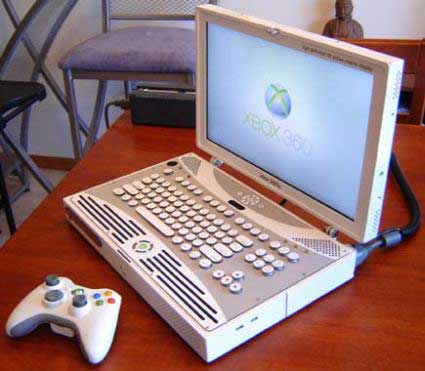 The Xbox 360 Laptop is surely one of the best Mods for Xbox. It makes your Gaming console portable and has a 17″ wide (diagonal) 1280×720 progressive-scan LCD monitor and Water-cooled custom-built radiator. It also feature a Built-in keyboard and Wi-Fi.
9) Alligator Skin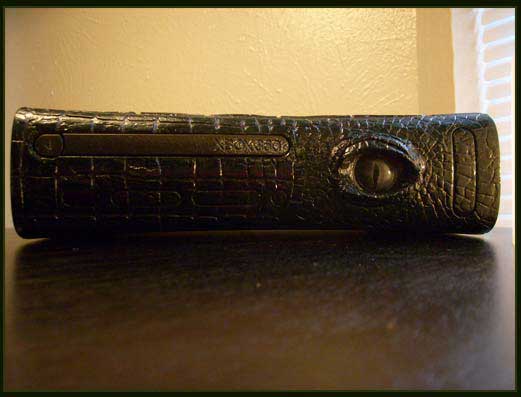 The system's scaly gator skin were made using hand-sculpted layers of Bondo, coated with paint and clear-coat to give it the glossy wet look.
8) Water Cooled XBox 360 Case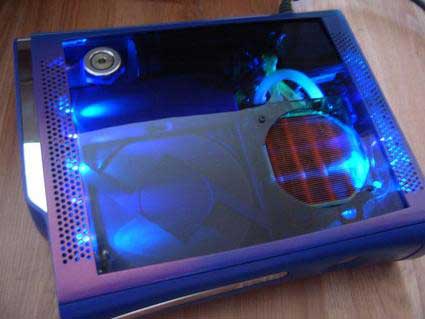 If you go on playing on your Xbox 360 for hours and hours at a time and are too disappointed from the console being over-heated often, then you might want to check this water cooled case mod. Apart from cooling the System, it also adds an icy look to your Xbox 360.
7) PC Case Mod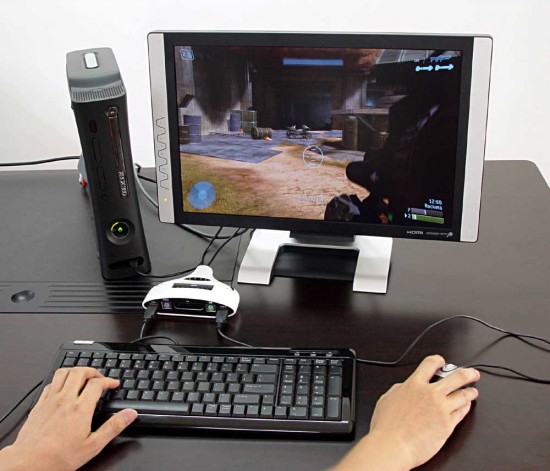 People that love to play games on their PCs but don't have the hardware necessary to play high-end games, or the games they love aren't launched for PC – will love to buy and use this mod for the Xbox 360. Not only does it look cool, but it also makes other PCs look like monsters in size (At least for the Cabinet Size.)
6) Half Life Mod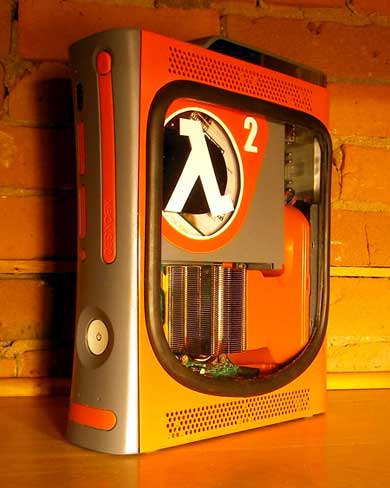 Well, this xbox 360 case mod doesn't need any explanation apart from that it is a fan boy creation. The left side of the case features a cut away window with the HL2 logo in the corner. The right side features another logo which is raised off the surface of the case.
5) Mod with a Built-In LCD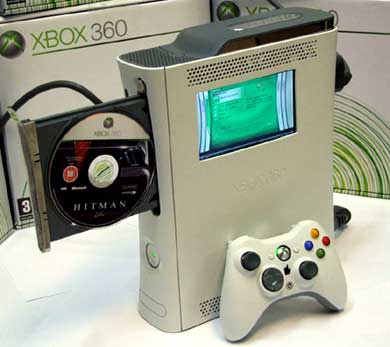 People that have no problem playing games on 5.8-inch LCD when the big TV or LCD is broken – or if your partner has to watch a TV serial and won't let you use the TV – might love this case mod. This case makes the Xbox 360 a portable gaming consoles. The screen resolution of the LCD is 1200 x 234 pixels though.
4) Rockstar Case Mod
Probably the best thing a GTA IV player will want in his house. The housing has been cleverly cut to make inside of the Console reveal itself. The bundle also includes matching Controllers and a hard drive case.
3) Lian Li Xbox 360 Mod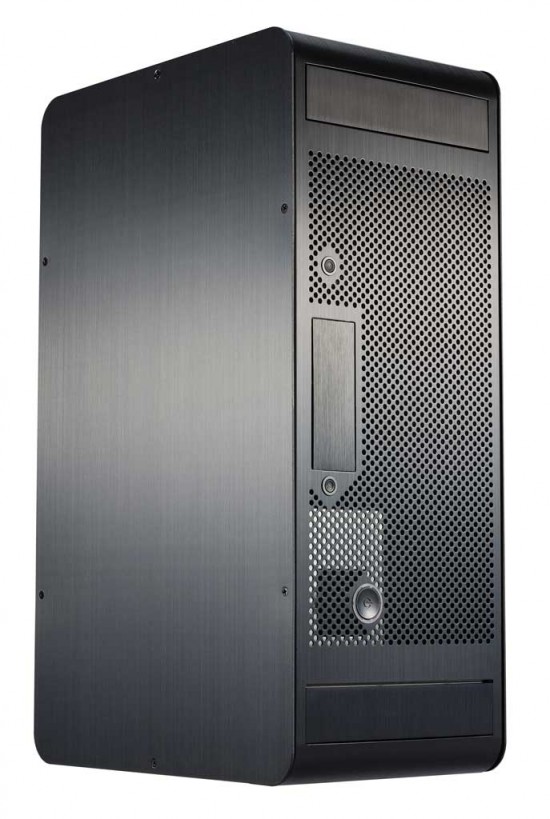 We included a water cooling enabled Xbox 360 mod above but wanted to add this because it is too hard to miss. This Lian Li Xbox Case debuted at CES 2008 and has become on of the most bought Case mods for Xbox 360. This sleek, brushed aluminum Case mod makes your Xbox 360 look Cooler and that too without making noise like other Cooling Mods out there.
2) 300 Movie Mod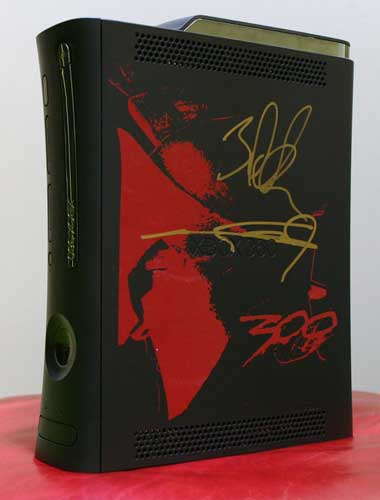 Gamers that find time to watch movies and loved 300 Movie will surely love this too. Did I tell you that this is a Signed, super rare mod of Xbox 360?
1) XBox 360 Tissue Machine + Alarm Clock Mod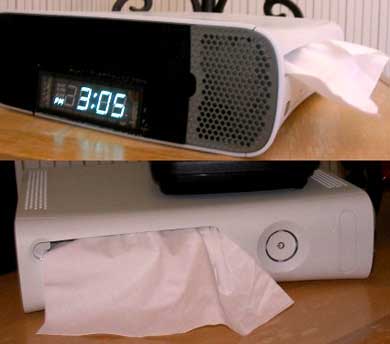 After using the Xbox 360 for a long time and comparing it with the Sony's PS3, this is the best thing you can do to it. This mod turns the Xbox 360 into a super useful Tissue machine and for the sake of serving a double purpose, it has a built-in Digital Clock too.
If you are a PS3 fan, you might want to check our other post about PS3 mods. You might also like to check our list of best-selling xbox 360 games.