Mundane keyboards were forfeited by gaming keyboards a long time ago. As a gamer one always feels like a loser with that ordinary QWERTY keyboard that comes bundled with PC. Even if you have a high performance processor, a high end graphics card installed  and all the other things that you do exclusively for gaming but you lack a perfect gaming keyboard, you sure will not feel contended unless you beat the life out of your opponent.
Gaming keyboards take care of this curtailment by equipping you with exclusive gaming keys and commands that finally enable you to stay a level up among your competitors. In this post we have collected 15 best gaming keyboards that will enhance your gaming skills with features like programmable buttons, macros, anti-ghosting etc. So lets Lock and load.
If you like gaming, you might like cool XBox 360 case mods and PS3 case mods. You can also check our list of cool keyboards for your computers.
Microsoft Sidewinder X6 Gaming Keyboard
The Microsoft Sidewinder X6  is the most versatile keyboard which gives a lot of space for customization by users.  Some of the features include detachable key pad, ingame macro recording, a full media key set, automatic and manual mode/profile switching, two-color dimmable backlighting, and much more. With its detachable keyboard you can switch between left hand and right hand.
The toggle button is also incorporated that helps you switch between standard mode and the other two gaming modes. With its Macro keys you can at least assign 90 macros. The keyboard also has a inbuilt cruise control button to continue an action without having to hold onto it. To improve the ergonomic of using an right handed mouse the WASD are installed with front facing lightning to aid visibility. Moreover, you can even customize the back light of the keypad and keyboard with Two-Color Adjustable Backlighting control.
More about Microsoft Sidewinder X6
Razer BlackWidow Mechanical Gaming Keyboard
The strongest forte of this Keyboard is its Mechanical key technology and  actuation of 50g  which provides a distinctiveness tactile feedback and increases the command actuation faster than any other keyboard. The keyboard also allows you to save an unlimited number of macros with the simple click of two distinct buttons that turn this feature on or off. Back lit keys and anti-ghosting are some of the other less prominent features.
More about Razer BlackWidow Mechanical Gaming Keyboard
Cyborg Gaming Keyboard
The Cyborg Gaming Keyboard is an exceptional keyboard with a thin metal covering over the keys that are used most often for gaming. The Key back light can be controlled with the help of touch sensitive button that also allows you to control media and volume with an easy finger swipe.
The smart feature of this keyboard is the Independently Controlled Tri-Color Back-lighting that allows you to preferentially highlight and differentiate the WASD, arrow keys, Cyborg keys, and the numeric keypad  from the rest of the keyboard. Brightness, color and shades are some of the things that you can do with this Independently Controlled Tri-Color Back-lighting system.
More about Cyborg Gaming Keyboard
Zboard Gaming Keyboard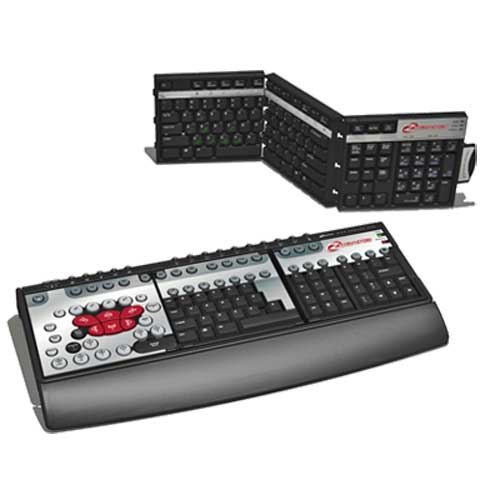 The auto-recognition feature is the spot light of this SteelSeries Zboard Gaming  keyboard. With its auto-recognition feature you are able to insert any keyset without having to install a seperate software to do just that. To provide a better gaming experience the "Butterfly" movement keys are enlarged and sloped so that you have better grip on your buttons which finally increases accuracy and comfort. The commands used often in  FPS/action games  are labelled neatly for faster and better in-game experience.
More about Zboard Gaming Keyboard
SteelSeries Merc Stealth Gaming Keyboard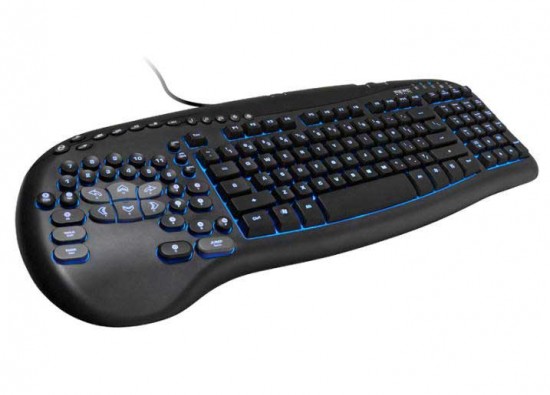 Yet another impeccable gaming keyboard from SteelSeries, the Merc Stealth Gaming Keyboard is efficiently equipped with 34 dedicated gaming terrain keys, making it easier and more intuitive than ever to walk, run, jump, crouch, and move directionally in games.
The keyboard also features the multiple back-light system with red, blue, and purple colors to choose from according to your gaming mood. You can even choose the level of brightness plus features like personalized programmable keys, 125 pre-defined gaming keyboard layouts allow you to stay focussed and efficient for all night gaming experience.
More about SteelSeries Merc Stealth Gaming Keyboard
Thermaltake eSPORTS Challenger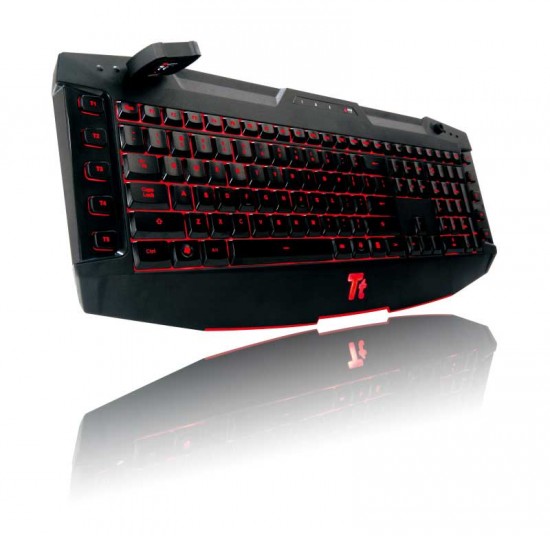 Besides nauseating headache what is the most common problem that one has to face after a long session of gaming? Yes! Its sweaty sausage fingers. The Thermaltake eSPORTS Challenger is a gamers best friend and takes care of sweaty fingers  by using a simple but smart patented and proprietary cooling fan built onto the keyboard stands.
If that wasn't enough, the keyboard also has a On-board 64KB memory that allows you to store your unique keyboard profiles plus 10 dedicated macro keys and LED red back-lit keys to maximize your gaming potential.
More about Thermaltake eSPORTS Challenger
Saitek Eclipse II keyboard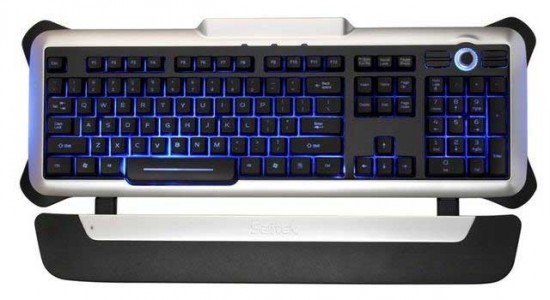 The keyboard is illuminated with laser-etched keys that glows with three distinct purple, red and blue colors. The light brightness is user controlled an can be dimmed or brightened depending on the user preference. To provide extra comfort the keyboard has an extendable wrist rest plus quiet cushioned keys to help you get through long gaming sessions tirelessly.
More about Saitek Eclipse II keyboard
Logitech G11 Gaming Keyboard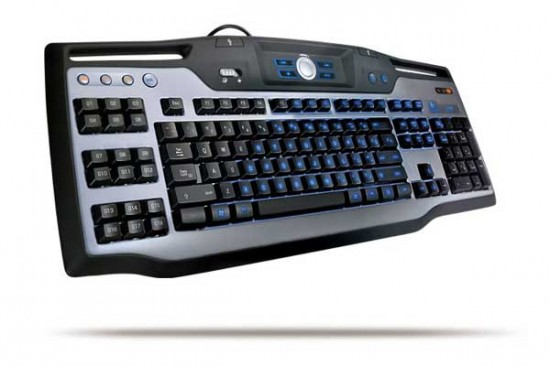 The Logitech G11 Gaming Keyboard features blue back-lit keys and 18 'G keys'  that proficiently can be programmed to execute common keystrokes or complex macros.  The hideous wire congestion that usually accompanies gaming is taken care of with the help of its smart  under keyboard channels.
More about Logitech G11 Gaming Keyboard
Logitech G19 Keyboard for Gaming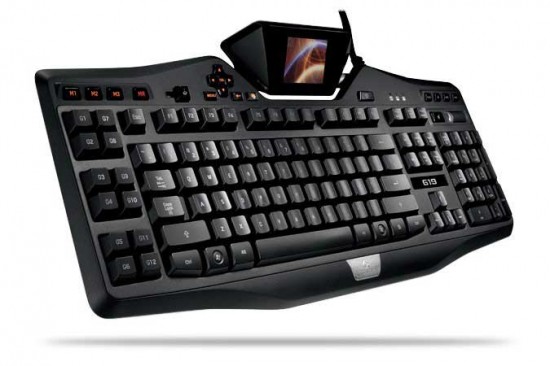 The Logitech G19 Keyboard for Gaming has a major highlight of having a color GamePanel™ LCD that helps you keep updated with notification, player and server info and much more. The key backlight system can be customizedaccording to your personal preferences. The board is inbuilt with multiple key input that allows you to use 5 keys at a time to perform multiple complex functions.
More about Logitech G19 Keyboard for Gaming
Razer Lycosa Programmable Backlit Gaming Keyboard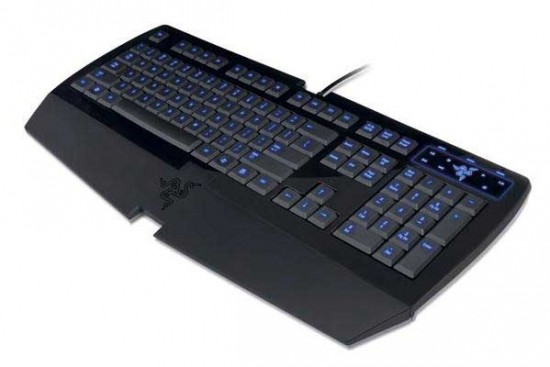 To prevent the slipping of fingers while hard core gaming moments this keyboard has a non-slip rubber finish over every key. The keyboard also has a back light system and selective WASD cluster lighting option to increase the ergonomics of a right hand mouse user.
More about Razer Lycosa Programmable Backlit Gaming Keyboard
SteelSeries Shift Gaming Keyboard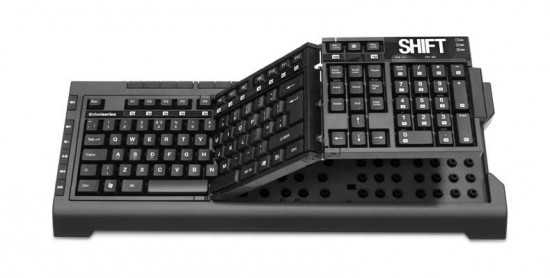 The SteelSeries Shift Gaming Keyboard is the most versatile,creative and stylish gaming keyboard available. With its unique interchangeable key sets you can change functionality and appearance with ease and amuse. The keyboard gives a vast scope for full personilization of FPS, RTS, and MMO games.
More about SteelSeries Shift Gaming Keyboard
Cyborg V.5 Gaming  Keyboard

The keys are back lit in red to provide appropriate visibility and has a proficient anti-ghosting feature. The keys are firmly but quietly fixed so that you can easily out-maneuver you opponent. The keyboard can be fully programmed using the included powerful SST software to enhance your gaming experience.
More about Cyborg V.5 Gaming  Keyboard
Corsair Vengeance K60 Performance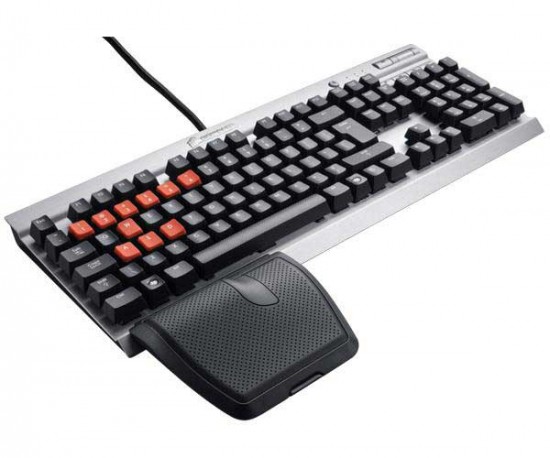 The keyboard has Cherry® MX Red key switches that give a high degree of precision and responsiveness even to quivk double and triple taps. The WASD and 1 to  keys have been differentiated from the others  with the hlp of  diffent color and texture so you have better hold at them in intense gaming combat. The keyboard also has a palm-cushion to enjoy gaming without having to care about the fatigue it ensues.
More about Corsair Vengeance K60 Performance
Razer TRON Gaming Keyboard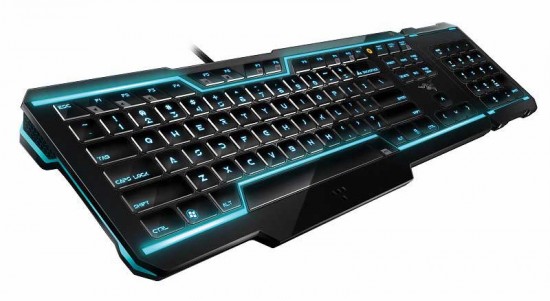 The spot light of this keyboard is its exquisite lighting system that gives authentic response to light and sound effect straight from the games and movies. You can also detach and re-attach the keypad to either sides of the keyboard for left or right ergonomics  and better space management.
More about Razer TRON Gaming Keyboard
SteelSeries 7G Gaming Keyboard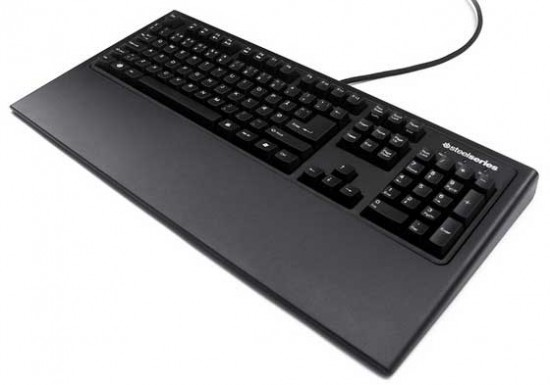 The keyboard is equipped with PS/2 buffer-system with a gold-plated USB connector and 18K gold-plated mechanical switches to improve your ability to obtain more Actions Per Minute than any other keyboard in the world. It is also durable and the anti-ghosting has been taken to a whole new level of perfection.
More about SteelSeries 7G Gaming Keyboard
We hope you liked this list of best gaming keyboards for your PC. You might also like best gaming mouse and best gaming desktops.