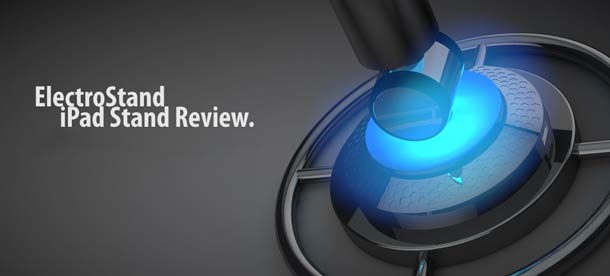 If you have been a reader of Geeknaut, you know that we love to test out and write about new and exciting iPad accessories. One of the most used accessories for an iPad is probably the iPad stands you can find in the market. There is a stand in almost every style you like. There are sleek and small ones and then there are big and useful ones. Not to say small stands don't get the work done but bigger ones are more stable and don't fall with just a small poke.
ElectroStand is definitely one of the bigger iPad stands you can find in the market. It is super useful, doesn't fall over, works with iPad, iPad 2 and the new iPad. It comes with two cases, one works with the original iPad and the other one holds iPad 2 and 3rd Gen iPad perfectly.
Design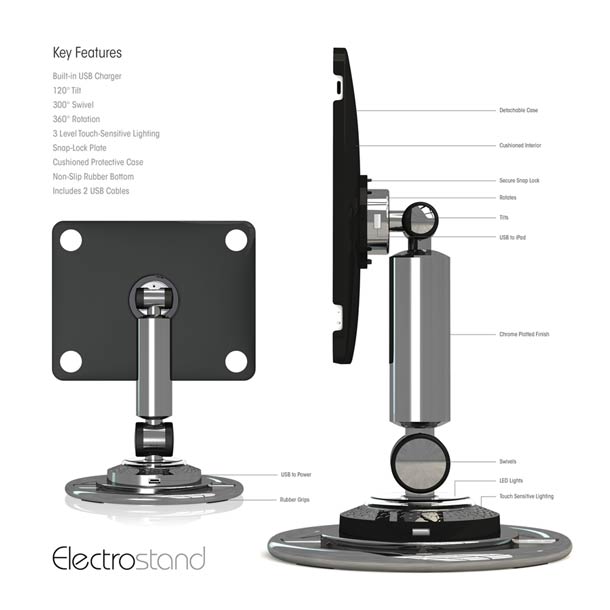 The ElectroStand has a nice chrome plating that makes it look like a solid piece of stainless steel. It is mainly made out of ABS plastic (same plastic used in the manufacture of laptops and other high end product) which makes it light weight. It has a big circular base that makes the stand look sturdy. Unlike many of the other competing devices we have seen, ElectroStand won't fall off when you use the iPad and you don't have to worry about it falling over when you poke the device a bit too much. The bundled case holds your iPad pretty neat and helps the iPad move flexibly on the stand. It will Rotate up to 360°, Tilt up to 90° and Swivel up to 300°. You will be able to use the iPad in any angle without having to adjust the stand itself.
Functionality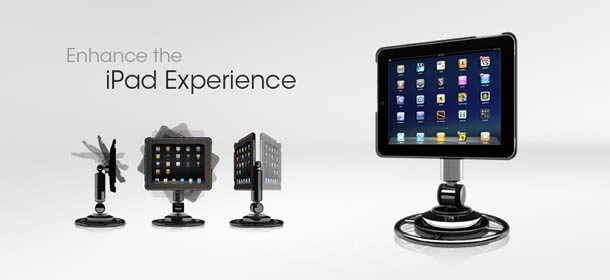 If you use your device mainly for video chat, gaming and watching videos/movies, this device will take out a lot of pain out of your hands and let you control the device without spraining your ankles. You can just let it sit beside your laptop or desktop and use both devices at the same time – if that's your kind of thing. It has a USB charger built-in so you can use the device while it is being charged. If you are a video blogger who regularly shoots videos of you using iPad apps and games, you will find this iPad stand to be super useful. Just setup the stand and a camera tripod to start shooting easily and ergonomically.
Elegance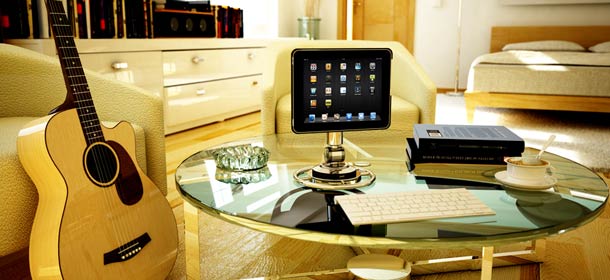 As noted above, the design is pretty neat. They have also used Touch-Sensitive LED Lights on the stand to make it look unique. It does enhance the viewing while using the iPad in the dark. You can use the touch-sensitive panel to control the amount of lighting the LEDs can display. If you use your iPad as a second display for the Mac, you will find this stand to be an excellent choice. In fact, there is just one other stand (TwelveSouth HoverBar) that lets you easily use the iPad as a second display on Mac.
Pricing
Priced at $79.99 (current offer price $59.99), ElectroStand is not the cheapest stand for the iPad out there but it is definitely one of the most useful. Most other stands don't do half the things this one does. Our verdict? You should definitely get one if you use the iPad for video chatting, playing games, consulting recipes and watching movies. You can use a coupon code to get $5 discount on the stand. You can use "GEEKNAUT" as coupon code during the checkout process to avail the discount.
You might also like to check this list of wallpapers for your new iPad and we also published a massive list of cool cases for iPad very recently. If you recently bought an iPad, we have a list of 60 tips and tricks you might be interested in.