Apple, besides changing the way we look at and think about technology, also played a drastic role in changing the face of music industry. From iPod to iTunes, everything sparks the brilliance that Apple puts into their products for their loyal customers. Apple iPad is one such product that totally changed the way we think of a standard tablet by providing Laptop like experience and other unimaginable features that were thought impossible to be ever incorporated into a tablet. While Apple iPad provides nice writing, viewing, and productivity experience, its apps and games make it a perfect companion to carry around for travel or day to day use.
There are a plethora of accessories manufactured for this beautifully designed iDevice which enhance its productivity and entertainment faculty. iPad speakers belong to the category of Apple iPad accessories that provide ulterior audio quality and boosts the overall entertainment experience on your iPad.
1. Altec Lansing Octiv Stage MP450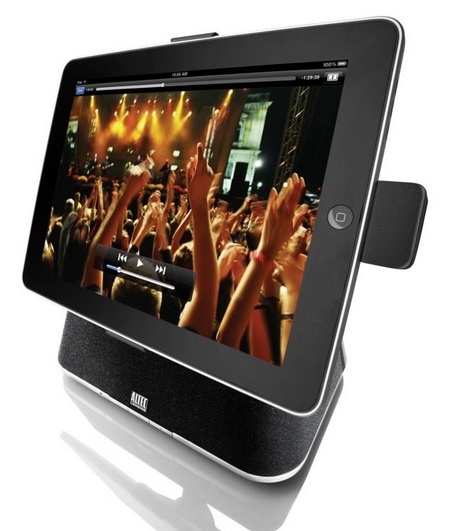 With this iPad dock cum speaker your iPad sits securely to deliver a quality audio experience. It is also compatible with iPhone and comfortably your iPad or iPhone rotates into a fine landscape or portrait view. The system provides a well audio experience with enhanced stereo delivery for distortion-free performance even at full volume.
Price: $149.99 | Review
2. JAMBOX by Jawbone Wireless Speaker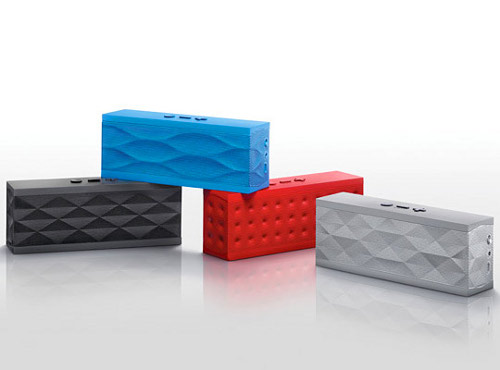 This super compact Wireless speaker helps you play songs, movie audio, games, phone calls from a distance via standard Bluetooth connection. You can also connect via an standard AUX cable and it works fine with all the other Bluetooth devices  other than your  beautiful iPad. The speaker produces a whooping clear but loud output of  85 decibels irrespective of its compact make.
Price: $199.95 | Review
3. iHome iD3 Premium Bongiovi Acoustics DPS Stereo Speakers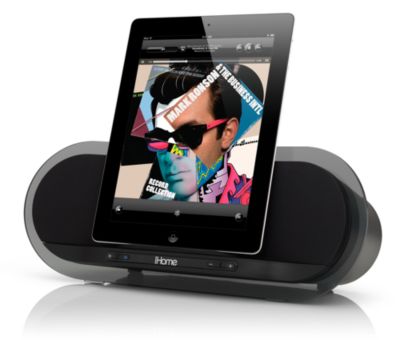 This elegant piece of art and engineering provides a comfortable cushion for your iPad while simultaneously simulating crystal clear 3D stereo sound experience. It also charges your iPhone when it is playing and is compatible with all the other iDevices. It operates on a universal AC adapter and can be controlled with a remote which also helps you to mold your hearing preferences by customizing the EQ. Moreover, it also has a unique AV out jack that helps you to watch video from iPad, iPhone, or iPod on a monitor/TV.
Price: $179.95 | Review
4. Jensen JiPS-250i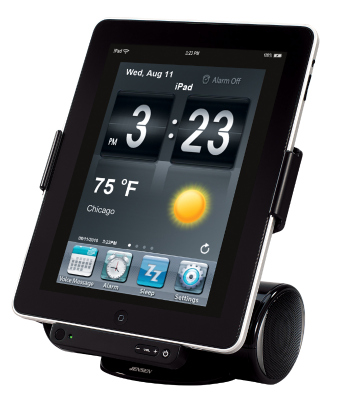 Although, this speaker does not provide "so many" features that the rest of speakers enlisted here do, the sheer exquisiteness of it pretty much makes up for everything else. The device allows you to adjust your iPad horizontally or vertically and boosts your iPad's audio to an impressive level without compromising the quality. The speaker cum dock simultaneously plays and charges your iPad and is compatible with other iDevices like iPhone 3GS, iPod nano, iPod touch, iPod classic, iPhone, and iPod.  You also get a remote control and AUX connectivity to easily play music through other devices via a AUX 3.5mm cable.
Price: $79.99 | Review
5. iLuv Audio Cube iMM747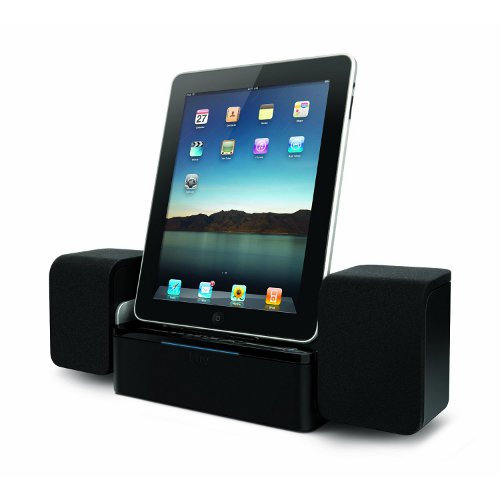 This attractive iPad speaker from iLuv offers a desktop like experience for your iPad but unfortunately fits in your iPad only vertically. You can dock your iPad into this elegant piece of art and engineering and simultaneously syn it with MAc or a PC. As for the audio quality, iLuv Audio Cube iMM747 has a two separate channels to offer, each of which has been enhanced with iLuv's jAura Soundcell Technology to give a crystal clear sound experience even at high volume.
Price: $67.87 | Review
You can also check best cydia apps, iPad accessories, iPad cases and iPad cydia apps. You should also check iPad retina wallpapers if you want to customize your device.