Apple didn't stop enhancing iPhone and iPad and their New iPad is another example of the efforts and expertise Apple puts into bringing something new and impeccable in our lives. With the advent of this New iPad various already awesome and smart designers have developed and enhanced new and old cases for better functionality, elegance, style and much more.
In this post we have collected 15 best New iPad cases. These cases will work on the new iPad but should easily fit old generation iPads too.
1. Grove Bamboo New iPad Case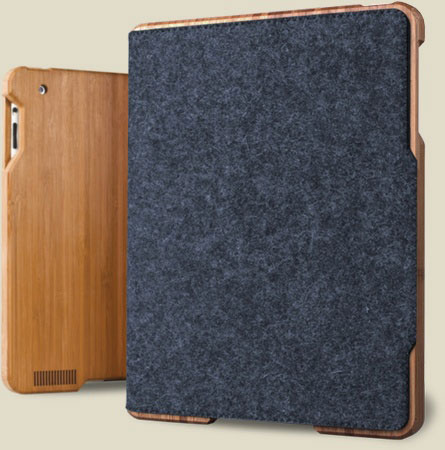 This uni-body cover for your New iPad is made from bamboo to provide sturdy and nature friendly looks to your iPad. It also has an extra layer of all-natural leather or wool to give a suave and spiffy feel.
Price: $119-$159 | Grove Bamboo New iPad Case
2. Hard Candy Candy Convertible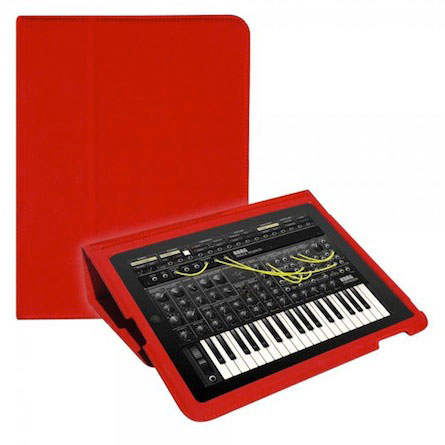 Made from Faux leather this flip folio case from Hard Candy provides sophistication, professionalism, style and protection to your New iPad.
Price: $44.95 | Hard Candy Candy Convertible
3. Dodocase Spring Summer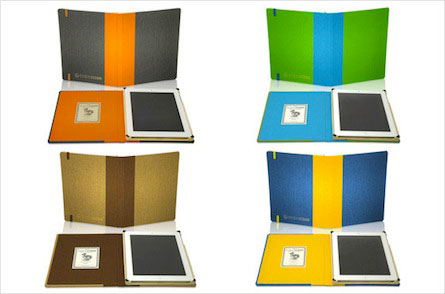 This case is handcrafted and made from bookbinding cloth and constructed using traditional bookbinding techniques. The cover of this case folds back to be used as a stand and  it is available in various versatile, functional, vibrant colors and designs.
Price: $ 79.95 | Dodocase Spring Summer
4. iLuv OrigamiFolio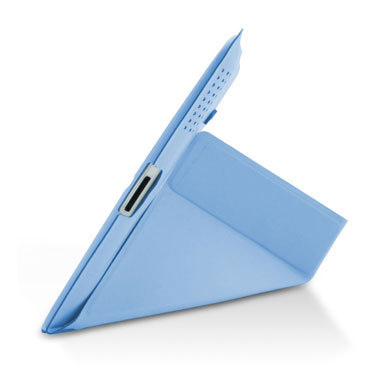 This slim iPad case comes in with Origami-styled stand which enables you to view your iPad in multiple comfortable angles. This magnetic stand also acts as a closure to ensure safety of your precious iPad.
Price: $ 89.99 | iLuv OrigamiFolio
5. iSkin Aura 2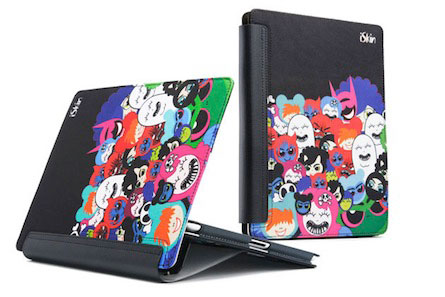 This case has been exclusively designed by  Brazilian artist, Cako Martin in collaboration with iSkin to provide cool, cute and colorful unique looks to your iPad. While doing this the  iSkin Aura 2 does not compromise the functionality and protection aspect.
Price: $99.99 | iSkin Aura 2
6. Scosche Folio Grip P2

This case provides appreciable protection to your iPad with the help of  durable carbon fiber external texture  and internal sueded  lining allows for enhanced protection for your delicate device touchscreen. But that is not the spotlight of this case, the fully functional hand strap and kickstand is.
Price: $49.99  | Scosche Folio Grip P2
7.  Zaggfolio for New iPad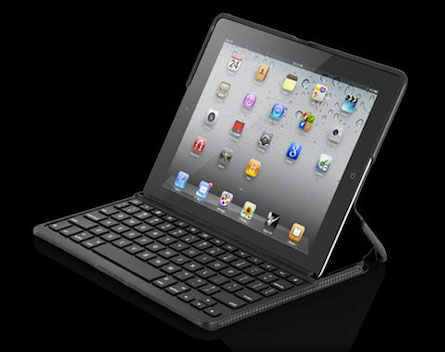 This folio case from Zagg is impressively elegant and equipped with a standard fully functional keyboard. It is exceptionally thin and functions like built-in stand, protection and portability have also been incorporated.
Price: $99.99-$129.99 | Zaggfolio the New iPad
8. iSkin Agent 6 Sling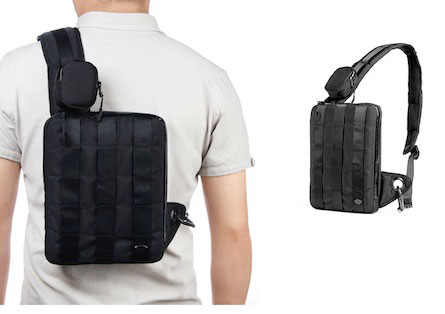 This stylish protective carrying case cushions your iPad with its soft padded interior and its detachable strap helps you to get the most out of travel crisis in a spiffy way.
Price: $79.99 |  iSkin Agent 6 Sling
9. Belkin Cinema Stripe Folio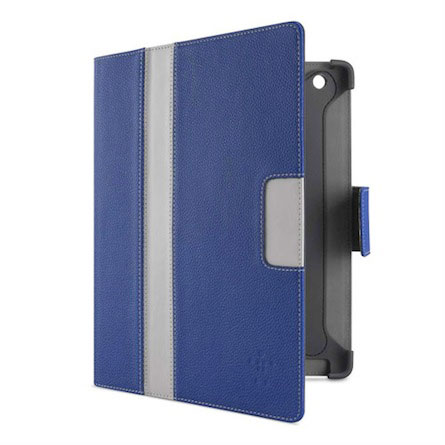 This is available in three adorable colors with a sport stripe. It provides decent protection and like all other cases helps you view your iPad in comfortable positions with the help of its fully adjustable stand.
Price: $49.99 | Belkin Cinema Stripe Folio
10. Gumdrop Drop Tech Series Case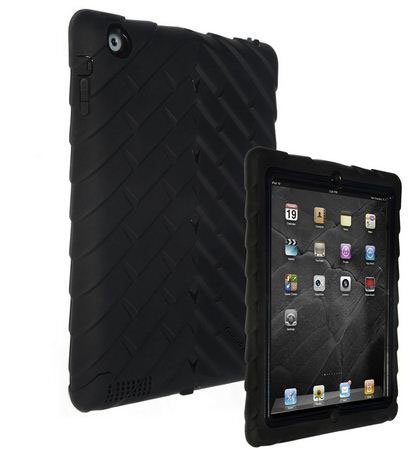 This affordable iPad case from Gumdrop equips you iPad with shock absorption, drop protection, extreme ruggedness and hard-core readiness for all adventures. It provides complete protection and even covers the ports and screen plus the rubber corners make up for extra ruggedness.
Price: $59.95 | Gumdrop Drop Tech Series Case
 11. BodyGuardz Armor Carbon Fiber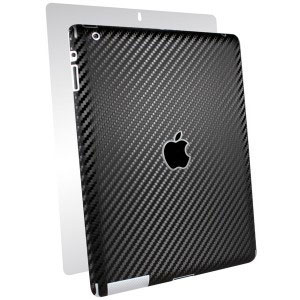 Bodyuardz is famous for their ultimate screen protection and this time they have incorporated Carbon fiber, a strong and light weight material skin to provide end to end protection. Although, it is more of a Skin than a case but it provides protection and functionality of a typical case and comes in 3 different colors.
Price: $29.95  | BodyGuardz Armor Carbon Fiber
12. Muzeto Outback Waxed Canvas
This rugged bag is made from cotton canvas, tanned and waxed for durability. With its shoulder strap and extra pockets you are able to stay on top of your day-to-day life.
Price: From $149 | Muzeto Outback Waxed Canvas
13. iLuv Roller Sleeve

You iPad sits in safely in this case with its secure zippered closure and its unique roll-style stand provides various viewing and typing angles.
Price: $ 59.99 | iLuv Roller Sleeve For New iPad
14. Griffin Survivor New iPad Case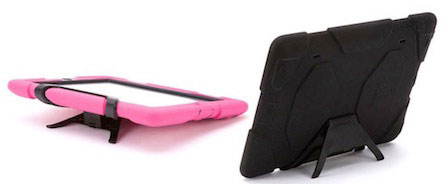 With its elegant looks and sturdy inside out protection you are able to  give your iPad best of both worlds. The case is tested and proved to be resistant against dirt, sand, rain, shock, vibration and a host of other environmental factors.
Price:  $79.99 | Griffin Survivor New iPad Case
15. Targus Business Folio New iPad Case

Made from premium quality Faux leather this functional and protective case comes in two different patterns. It features magnetic closure and sufficient space for cards, ID's, stylus and notepad and other wallet. The case also maneuvers into a fully functional and comfortable hands free stand.
Price: $49.99 | Targus Business Folio
We hope you liked this post about cool new iPad cases. If should also check iPad retina wallpapers and cool iPad cases. You should also check expensive iPad cases and best cydia apps. You can also download best cydia apps for iPad.