We have always been fans of jailbreaking our iPhone 4s to get the most out of it. After jailbreaking, you can almost do anything with your iPhone using the endless Cydia apps available. Cydia tweaks available in the Cydia app can turn your device into something it should have been. You can use FaceTime over 3G, use coverflow mode for apps and even change stock theme of your iPhone 4s of any other iOS device.
There is a bit of a problem though, there are thousands of Cydia apps and tweaks available. You can't possibly go through all of them to choose what you actually need on your device. We have done that for you. We have collected 10 best of the best cydia apps for iPhone 4s that you can install today and make the most out of your Apple iPhone.
You might also like our posts regarding retina wallpapers and best iPhone 4s cases.
3G Unrestrictor 5
This powerful cydia app can be used to overcome apple's 20 mb 3G restrictions, and to make most of your unlimited 3G plan. The app gives you a feel as if you are on Wi-Fi and you can make facetime calls, watch HD videos, upload photos, download a number of apps from the app store, download music or videos from iTunes and much much more. This powerful app will cost you not more than $4 from cydia.
Activator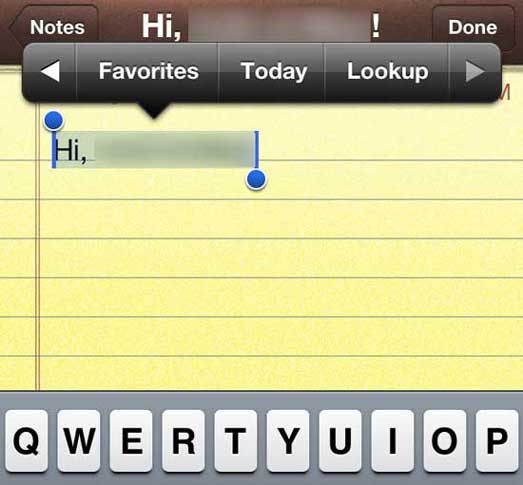 The app acts a key to unlock all the shortcut poosibilities on your iphone 4s. The app lets you set up custom activation gestures and commands for almost anything on your device. You can fire up the music controls with a pinch gesture on your Springboard.The app can also be used to assign some stock actions for controlling the basic aspects of iOS.You will be glad to know the app can be downloaded for free in cydia.
SBSettings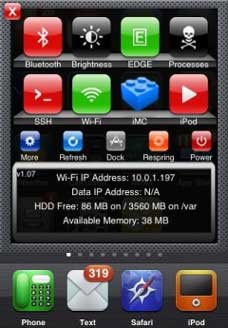 Thinking of a reson to jailbreak, here it is. SBSetting is one of the most powerfull app for iphone 4s.The app allows you to control many of the seetings of your device either directly by itself or with the help of the addons which can be downloaded. The app gives you quick access to wi-fi, Bluetooth, 3G and other settings on your iphone 4s without actually going to the default iOS setting app. With this app you can quickly change your important device settings. You may find it hard to belive but this magical app available for free in cydia.
biteSMS 6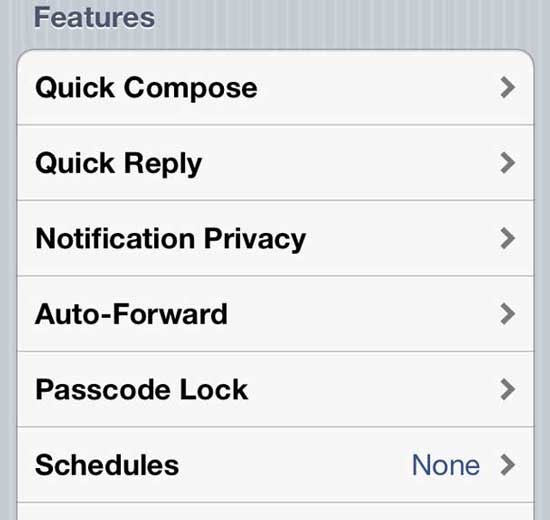 This app is great replacement to your default iOS messaging system.This app includes a number of features such as quick compose , quick reply to the incoming messages, quick call, smileys, character counter, sms counter and much much more. Bitesms is the best possible way to sms on your iphone 4s.With this app you can send sms at cheaper rates if your service provider provides you costly sms packages.Free trial of bitesms is available and full version can be downloaded for not more trhan than $9.
iFile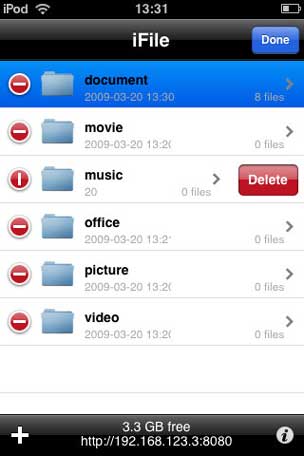 The app acts as a finder for your iphone 4s.the ifile provides users with number of functionalities such as creating and deleting folders, copy and cut files, play songs and videos with the built-in media player. The app can also be used to manually installing cydia apps transferred from PC. Setting owner's permission can also be achieved through by a feature available in iFile.It would not be wrong to say that with this powerfull app almost anything can be done.
Springtomize 2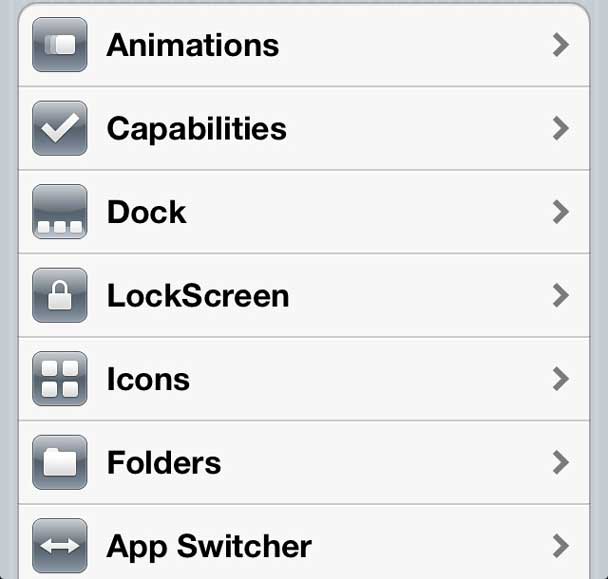 With this app literally everything can be customized on your iphone 4s or ipad 2. This app is the combination of many of the jailbreak tweaks that have been in the spotlight over the years.With this app you can change the number of icons in your dock.The content ofurstaus bar,behaviour of your iOS folders.,various animations,and much more.The app is available in Cydia for $2.99
IntelliScreenX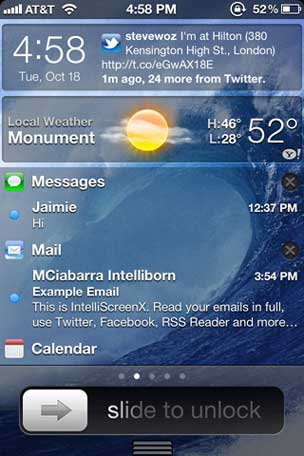 IntelliScreenX tweak is a great replacement to iOS 5 notication center.The app provides much more features compared to the default iOS 5 notication center.It takes iOS 5 notication center to the next level.The app provides you with a number of exceptional features.This great app will give you a glimpse of almost all your critical data such as your next meeting, weather report, Email, Calender, Facebook, Twitter Feed, News, Text Messages and more.This app is is available for $9.99 from Cydia.
WinterBoard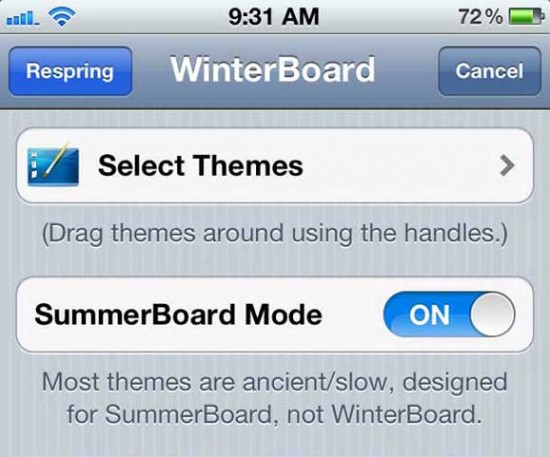 Winterboard is a great cydia app to have.The app helps you adding beauty and style to your iphone 4s or ipad 2.Once installed the app will open door to hundreds of beautiful themes available in cydia,sound modifications and other artwork related tweaks that can be easily downloaded from cydia.The app adds elegance to your iphone 4s.The app can be downloaded easily from cydia.
[highlight color="eg. yellow, black"]Also Check: 10 Best WinterBoard Themes[/highlight]
Action Menu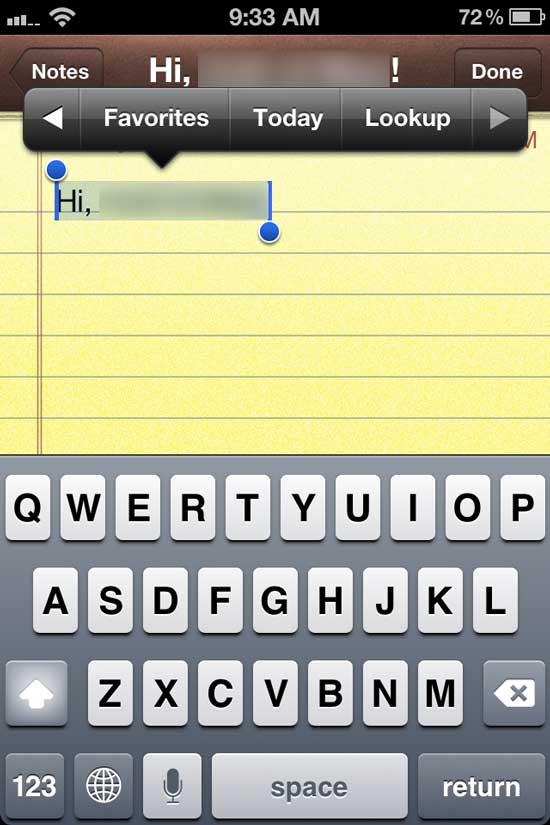 This wonderfull app helps you to scroll,dial, favourtites and many more actions with every application on your device. This app enhances your default iOS copy/paste menu with many added features and options. You can use action menu to tweet highlighted sections of text, look up definitions quickly, see your clipboard history, and much more. You get Action Menu for free, the Plus Pack is available for $2.99 with added enhancements.
InfiniDock and OverFlow
Infinidock is one of the best dock scrolling and customization tool. With Apple you are allowed to have only 4 icons at your dock .However,With InfiniDock you can add as many icons as you want in Dock and and further you can roll the icons over up to 5 screens,Number of icons per page can also be set with the help of this app. With the help of the Overflow tweak you can add Coverflow animation effect to your Dock which helps you to give a new life to your dock icons.
We have more Cydia awesomeness in store. You can check our list of over 100 best cydia apps. Since you already have an iPhone 4s, you may also like to try our posts about designer iPhone 4s cases, iPhone 4s Wallpapers and trendy iPhone 4s cases.