Apple has changed brilliantly the tablet market and has brought a revolution by making iPad a near replacement for a Desktop/Laptop.  The only place where it seems to have constrained  the functionality is during heavy typing. Touchscreen devices have always been a headache for writing purpose and the keyboard manufaturers  know this very well and have created a panacea for this ailment. Many top keyboard manufacturers have developed Bluetooth keyboards for both tablets as well as smartphones at a reasonable price.
1. Logitech Bluetooth Keyboard for iPad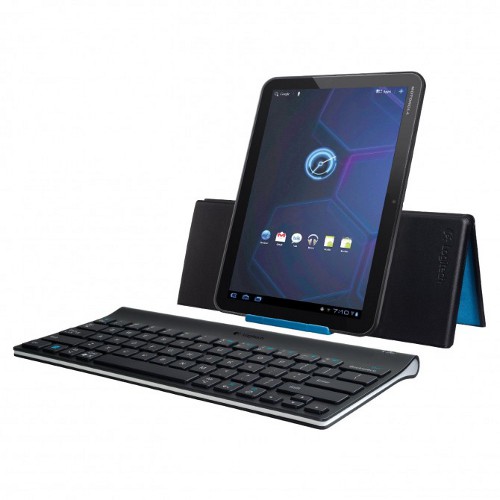 This iPad case is one of  the most versatile and functional Bluetooth keyboard available for iPad. The Keyboard is not just a fluid, highly responsive but also its unique case design helps you protect the keyboard on the go and also folds to give a comfortable iPad stand.   The low profile keyboard magically helps you transforms your iPad into a laptop for maximum productivity and also comes with plenty of other additional exclusive media keys……. read on…
Price: $65.39 | Logitech Bluetooth Keyboard for iPad
2. Apple Wireless Keyboard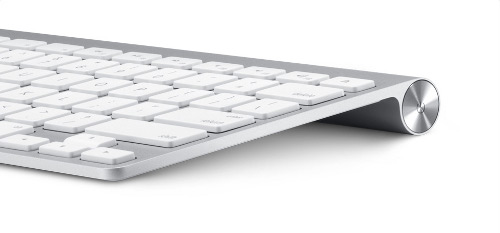 When it comes to exquisite design and prodigious functionality, automatically, the thought of Apple comes into our mind. This Apple wireless keyboard connects to your iPad or Mac via standard wireless Bluetooth. The keyboard is appreciably slim, low profile and magnificent piece of art enclosed in an anodized aluminum with crisp, responsive keys. Although, this keyboard runs on a AA battery, it effectively manages to give maximum typing experience due to its smart on-off technology, that automatically shuts your iPad keyboard off when not in use and vice versa.
Price: $69.00 | Apple Wireless Keyboard
3. Targus Bluetooth Wireless Keyboard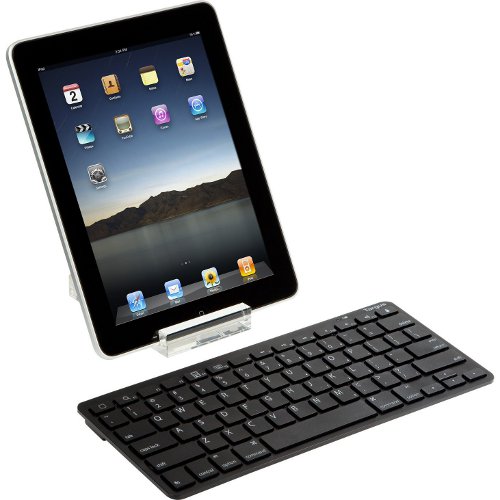 This easy to set-up and appreciably responsive keyboard from Targus helps type on your iPad over wireless Bluetooth connection at ease and with tactility and high precision. The keyboard features Scissor Key arrangement which is the efficient key arrangement that is utilized for Laptop's for efficient and smooth long hour writings. Moreover, the keyboard is slim for better portability and is also ergonomic for protection against strains and fatigue.
Price: $48.99  | Targus Bluetooth Wireless Keyboard 
4. Menotek Flexible Bluetooth Waterproof Mini Keyboard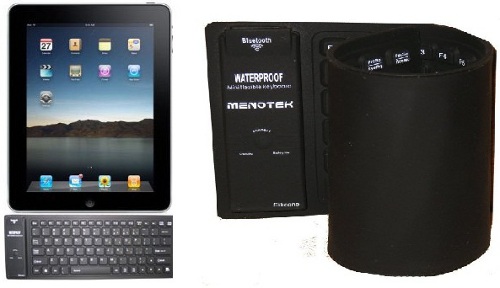 This unique wireless Bluetooth keyboard for iPad from Menotek is reasonably priced and durable. The unique feature of this keyboard is that it is fold-able which enhances its portability aspect. It is easy to install and is appreciably efficient in terms of typing , considering its cost effectiveness. Overall, the keyboard looks fine with your iPad and provides a comfortable writing experience and portability.
Price: $24.99 | Menotek Flexible Bluetooth Waterproof Mini Keyboard 
5. The Logitech Keyboard Case by ZAGG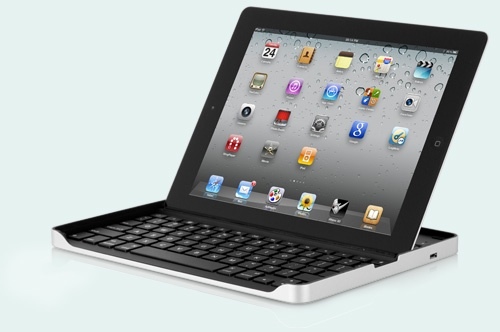 Albeit, this Bluetooth keyboard from Logitech belongs to a separate class but this case is too awesome and deserves a mentioned in this post. The keyboard is efficiently functional, tactile, durable and responsive while it is externally made from anodized aluminum to match the already ingenious design of your precious iPad. Your iPad sits safely in this case with aircraft grade aluminum externally and military grade high-density padding  internally.
Price: $98.40 | The Logitech Keyboard Case by ZAGG
You might also want to check iPad keyboard cases, cool iPad cases and iPad retina wallpapers. If you just bought your iDevice, you check check tips for iPad and designer iPad cases too.