We use our smartphones for a lot of works, from creating and reading documents, sending mails to taking pictures. Sometimes printing is one of the common stuff we want with our phone. It could be printing our favorite picture or taking prints of your important docs, everyone at some point of time needs a tool to print stuffs from their mobile devices.
You might also want to check our earlier posts about Designer iPad cases and cool iPad cases everyone should checkout. If you want to make the most out of your Windows Phone 7, you can read our articles about how to optimize Windows Phone 7 battery life and use Yahoo messenger on Windows Phones.
Printing your stuffs with RoboPrint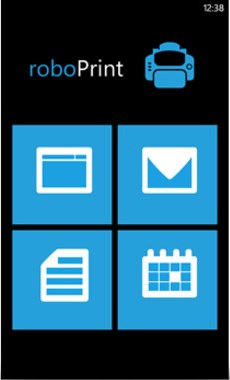 Robo print is an app available for Windows Phone users, which will help users to print contents from their windows phone. Like other apps you don't need your phone to be connected through a WiFi rather you will need an internet connection available with your phone and the printer.
This app allows you to create several different profiles for you home, office or any other printers, so that you don't need to sync them, each time you print something. This app doesn't need your printer to be available locally, you only need to make sure that they are connected with the internet and you can print virtually from anywhere.
This app provides you with a free window host application, that you will need to install into the computer you will be using to print your stuffs. Using this app then connect to your windows phone, then browse for the file and choose the file you want to print. The connection is done wirelessly with the help of internet.
Features
Allows you to print your email.
It also allows you to connect with multiple computers with the same phone.
You can use any connection type for printing, i.e. 3G, 4G, WiFi etc.
Can create several profiles for easy printing.
Printing with Active Print Traveler
Active print traveler is a third party application that allows you to print directly from your windows mobile.
First go to the active print traveler website and download the application. You can either download the application on your computer or then transfer it to your phone or you can directly download it on your phone itself. You can download Active Print Traveler.
Now, register online with the site, in order to get your user name and password, which you will need in order to print your phone contents.
Put active print's travel helper application in a USB drive.
Connect your phone with your computer (data connection). Launch the app on your windows mobile device. The application will ask you "where you would like to print from?". The app allow you to choose from, camera photos, album photos, any file stored on your phone's memory, contacts etc.
Once you choose the file you want to print, an option box will appear asking you to select the number of copies you want to print and the orientation of the file, i.e. landscape or portrait.
Select the desired options. Now the application will ask you to login using your user name and password. Fill the details and login.
Now connect USB drive containing active print helper app to your computer. Launch the helper application. The application will also ask you to login. Use the same username and password to login.
Click on the print and it will send the file to the printer for printing.
Hope this suffices your printing needs on your Windows Phone 7.